Rosenie lives in Lokari, one of the small neighborhoods that dot the northeast corner of Tomond, near the Dominican border. She's been a widow for some time now, raising her three children on her own. Before she joined the CLM program life was, she says, difficult. "It was hard to keep the children in school." She managed with a small business selling groceries that she would buy on credit. Sometimes she'd have to sell on credit, too, which could lead to trouble paying the merchants she bought from when the time to replenish her merchandise came. She also talks about not having enough food to eat. "Sometimes I'd have food for a day's meal, and I'd have to make it last for two days or three."
But those struggles are not what is most on her mind when she talks of the past. "They humiliated me. People around me wouldn't talk to me because I was too poor. I live near my family, but they humiliated me too."
When she joined CLM, she chose goats and a pig as her enterprises, and though she has seen only minimal growth from her goats – the two goats that CLM gave her are now three – her pig did well. It had a first litter of eight piglets. Neighbors killed three of them, saying that they were eating their crops. So, she quickly sold the other five to avoid further losses.
She decided to throw the income from the sale of the piglets into her farming. The timing was right for her to plant peanuts. In fact, she removed the capital that she had built up in her growing commerce and threw that into her peanut crop as well. Now she has a large crop moving towards readiness for harvest. She and her children still struggle with day-to-day expenses, but she is excited about the progress she will be able to make once she can sell her harvest.
But when talking of her bad years, she emphasizes her humiliation, and what means most to her now is the sense she now has that she's no longer alone. "I have friends now, the other CLM members, but other people too. They see that my life has changed."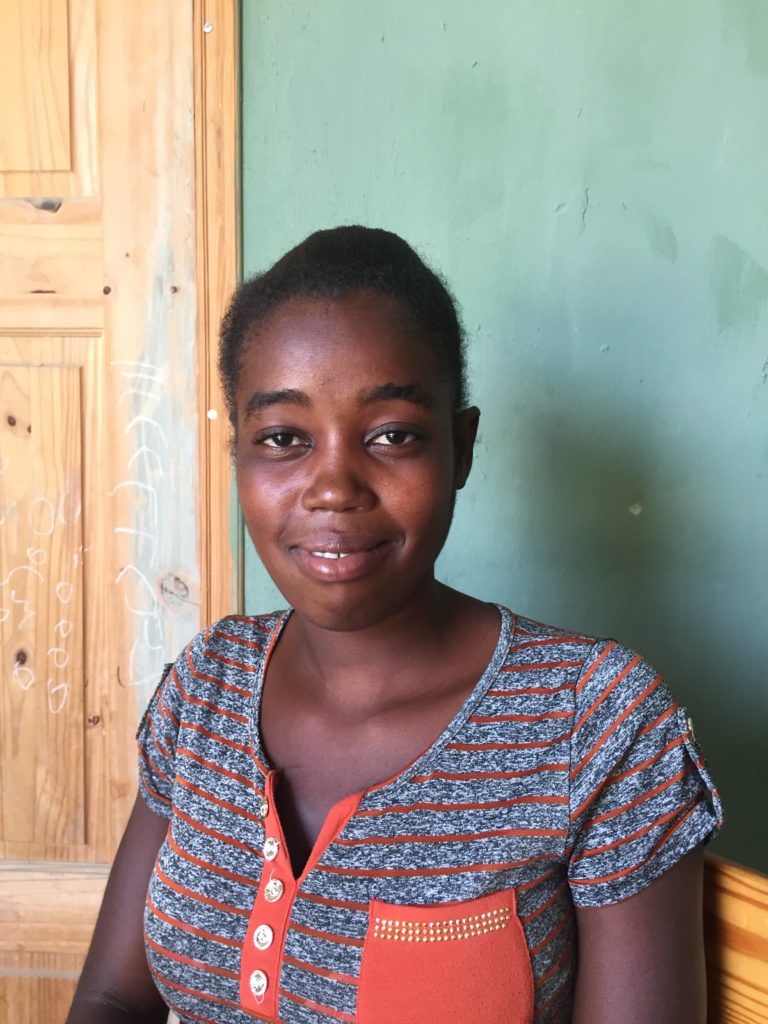 The CLM program has shown a consistent ability to help women improve their lives. Ongoing research is designed to show how dramatic and how lasting those improvements are and to help the program's staff learn how they can do a better job. But there are some women who are able to use the program to make a decisive transformation, not just an improvement. Christela is one of them.
She's just 22, and she had one young child when she joined the program. She lived with the child's father, Chedner, and his two younger siblings in a shack on land that Chedner's family had given him. Chedner supported them all. Christela's young in-laws would help with chores, but neither they nor she were earning any income. Chedner would travel back and forth between their home in Lolimon, in far northeastern Tomond, and the Dominican Republic, where he'd do any farm work he'd find. "He couldn't stick around. He'd go off to work in the DR, but then come back with little to show for it," Christela explains.
His mother, too, became a CLM member, which is just to say that she didn't have the resources to help the couple or her other children either. Though Chedner went to school, she couldn't help him continue, and she had to stop sending her other children as well.
Like Rosenie, Christela and Chedner chose goats and a pig. But whereas Rosenie's goats have stagnated, Christela's are producing. She now has six. When her pig recently showed signs that it might be sick, she and Chedner decided to sell it right away. They're using the money to buy another goat. "Chedner's smart," Christela brags. "He pays attention to the animals, and when one of them looks sick, he calls my case manager, Manno. Then we decide whether to sell it and replace it with another. We talk together, and we decide together."
The couple managed their cash stipend carefully, and it enabled them to make weekly deposits into their savings and loan association. That, in turn, made it possible for them to borrow money to invest in a first peanut harvest. Christela and Chedner worked hard together in their field, and the harvest was strong. They were able to put together income from that harvest with savings from their association to buy a small cow.
The key to all the changes in their lives has been the way the family's participation in the program has made it possible for Chedner to stay at home. "He finds work. We have money so we can farm, and he has the livestock to manage." And Christela foresees further progress. "We'll work even harder. We'll take care of what we have. We'll work together." Christela is excited about sending their baby to school for the first time in September. "She's not three yet, but she speaks clearly. She's definitely going to go."