Louna Lamandier is a young woman who lives with her husband and their little girl at the entrance to Kapab, on the ridge that separates the neighborhood from Lonsi and the road to downtown Laskawobas. The yard in front of her home offers broad views of the Artibonit River below.
She was a school girl, and she reached the fifth grade, but had to drop out when her father became ill and could no longer send her. She started a small business selling used clothes, but gave it up when she had her baby, and never had the money to get it started again. The couple has been living on the odd jobs that her husband Wala could find. He generally works as a mason's helper.
When she joined the program, she asked to receive goats, and her case manager gave her two. She and Wala have been taking good care of them for the most part, though they missed the first anti-parasite campaign. Their case manager will have to bring the medications to their home now, and it's urgent. One of their goats seems to have some sort of internal bug. She bought a third goat with savings from her weekly stipend. When Wala finally received some long-due money from a job he had done, they bought a fourth. That one was already pregnant, and the couple now has five, including its small kid.
The program also gave her money to go back into business, and things are going well. She started with 4000 gourds. She buys a pile of used clothes in Mibalè or in Laskawobas, and then sells it, either in smaller piles or in individual pieces. "I take the best pieces and I walk around downtown, selling them one by one." Her original investment has doubled. She last bought for 8000 gourds. And she's already used some of its profit to buy chickens as well.
Like all members of CLM, Louna is in a VSLA, a Village Savings and Loans Association. But when she saw how it worked, she stopped participating. This is very unusual. Almost all CLM members are pleased with the chance that VSLAs offer to save money and to take out small loans.
And Louna likes the idea as well, but VSLA members can buy between one and five shares in the association at each weekly meeting. In Louna's VSLA, share's cost 50 gourds. These meetings are open, organized to foster transparency. But that means that all your fellow members know how many shares you buy each week, and Louna doesn't want that. She would not want her neighbors to know if she only had enough to buy one or two shares. She says she will join next year, when they start a new cycle and she feels able to buy five shares every week.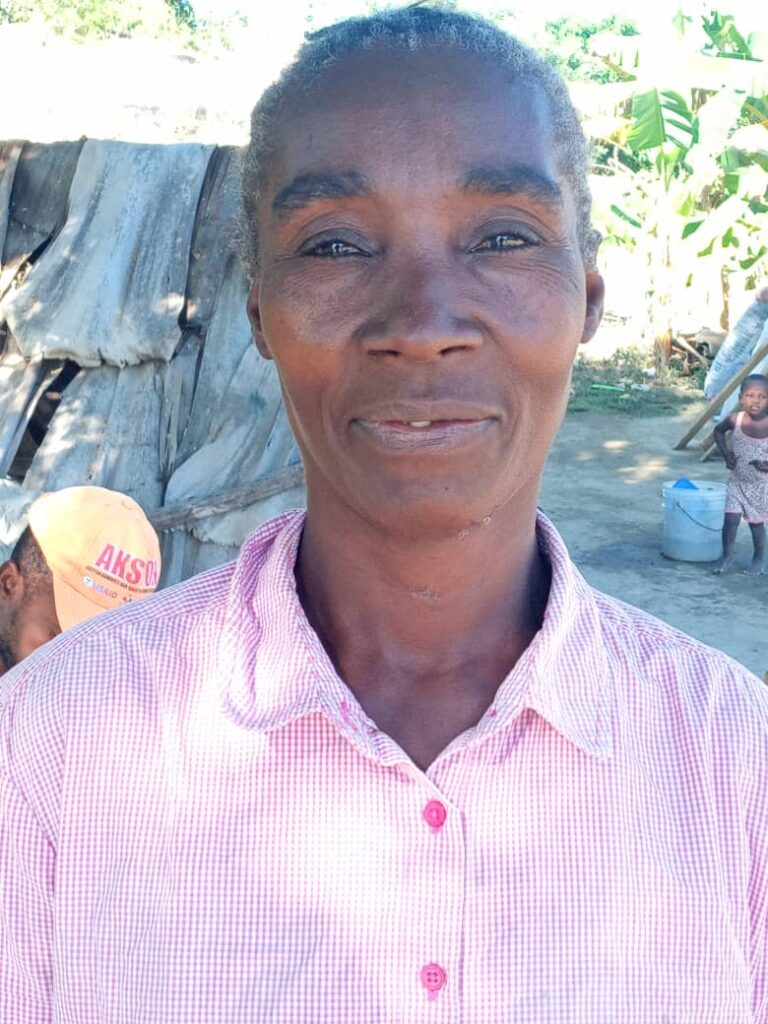 Mariciane Céus is a lively, 49-year-old women. She has seven children, and five of them live with her and her husband, Frankel. Their home is on a small, bare hill, down close to the riverside.
She and Frankel have managed for years by counting one their harvests. Mariciane also would sell fish, going to the river to meet fishermen at two or three in the morning, and carrying their catch to Laskawobas for sale. But she stopped. "It is too early. It's too much to carry. I'm not young any more. I can't do it."
They have always worked to send their children to school, though at the start of this year they only were able to send two . And even those two have been sitting at home since the beginning of their winter vacation. They can't return to school, because neither has a usable book bag.
With her weekly cash stipend, this would be an easy problem to solve, but Mariciane has had another expense to worry about. She's throwing everything she can save into building materials for her new home. She and Frankel want a big house. The one they are planning will be nearly twice as big as what the support the CLM program provides is designed for.
But Mariciane is determined. "I can't build a small house. I have to have space for visitors. I can't promise them a comfortable place to sleep, but they have to have a spot where they can lie down." Just last week she was visited by a child's godmother, he husband, and children, and Mariciane was unhappy about the arrangements she could make.
She asked for goats and turkeys as her enterprises, and they are doing well, though they haven't had offspring yet. It is challenging, however. Kapab might seem green, but their is a curious lack of grass for goats to eat. One has to constantly scavenge leaves from the trees in the area.
She has plans for her animals. As they increase in value, her first goal is to set one aside for her oldest daughter, who is struggling to get by in the Dominican Republic. "She and her husband have trouble finding work over there. I want her to know that if she comes back, she'll have at least something that's hers that she can get started with."
After that, she hopes to be able to buy a mule. She doesn't feel up to carrying heavy loads anymore, so getting a pack animal is the key to getting herself back into business, selling her own produce and what she can buy in the area at the local market. Her plan is to use the money she'll have saved in a year of her VSLA. It won't be enough, but she may be able to complete what she needs by selling a harvest.
Darline is one of Mariciane's daughters. She's 21, and she has two young children, ages one and three. Neither father helps her support his child. Everything is up to her. She used to have a small business, selling in the market in Laskawobas, but, when she became pregnant, the money ran out. She and her kids have been dependent on her parents ever since.
Like her mother, she chose goats and turkeys as her enterprises, so the yard around their house is full of animals. Her older son and his uncle, her mother's youngest boys, spend much of their time running around with the turkeys. One of Darline's has already has four chicks behind it. If all four grow to maturity, they will give Darline a good start.
She doesn't share her mother's ambitious plan to build a large, new home. Darline is aiming for just one small room. Even that may be challenging without a partner to help her accumulate the materials she needs. She's started to buy lumber with her weekly stipend, however, and she remains hopeful. They have already purchased some of the extra sheets of roofing tin they will need, and they think that they'll be able to get the rest by taking the few good sheets left on their current house.
She would like to get back into business, and thinks she should be able to do so either with savings from her stipend of with a loan from her VSLA. But she's limited. "I should sell in the local market, but unless I have someone to leave my children with, I can't. I'll probably start my business right here, selling in front of my home."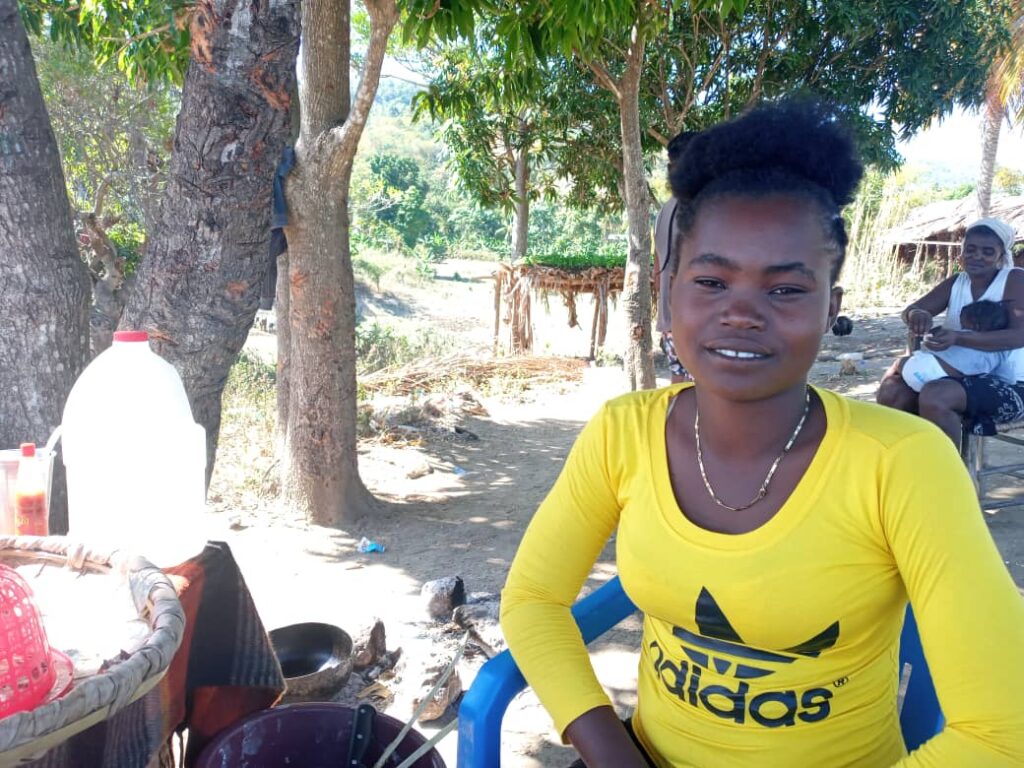 Natacha Antoine lives across the main path from Mariciane and Darline, closer down towards the river. She's nineteen, and both she and her younger sister are in the program. She and her husband have a young girl. The younger sister has two children already.
She chose goats and a pig, and she hasn't had much luck with livestock so far. When her pig started to look sick, she sold it right away to be butchered. She only got 2000 gourds, but it was a lot better than getting nothing. She wasn't able to get anything at all out of the goat that died.
With the encouragement of her case manager, she started a small business in front of her home. She sells snacks, like crackers, friend dumplings, and akasan, a beverage made from corn that's popular for breakfast. The business is going well. She began with 1000 gourds that her husband gave her from his farming income, and it's already worth double that much.
She and her husband are working on preparing the materials to build a home. Right now, Natacha lives with her parents, and her husband lives with his. But, like Mariciane, they want a big house, or at least Natacha's husband does. His reasoning is not the same as Mariciane's, though. He wants space in the house that can serve as a storage shed for his farming tools and also for his harvests. Natacha is willing to go along with him, even though she knows that it will mean extra investment and, so, extra work for them both.
She is very excited to be part of a VSLA. She made it to the ninth grade, so she is more than capable of being one of its secretaries. She hopes to have the discipline to save 13,000 gourds in the first year. That's the most she could possibly save. And she already knows that she wants to use the money to buy a horse. It won't be enough, but if her business continues to grow and some of her livestock starts to succeed, she should be able to find the rest of what she will need.