Jonise doesn't know how old she is. When I asked her, she said she was 24, but the neighbor she now lives with, a woman who must be in her mid-30s, said that it just could not be true. She named another young woman whom they both know and whom Jonise was born after, and said that she knew that woman to be 21. She told me that Jonise must be something like 18 or 20 years old. Here she is with her case manager, Benson.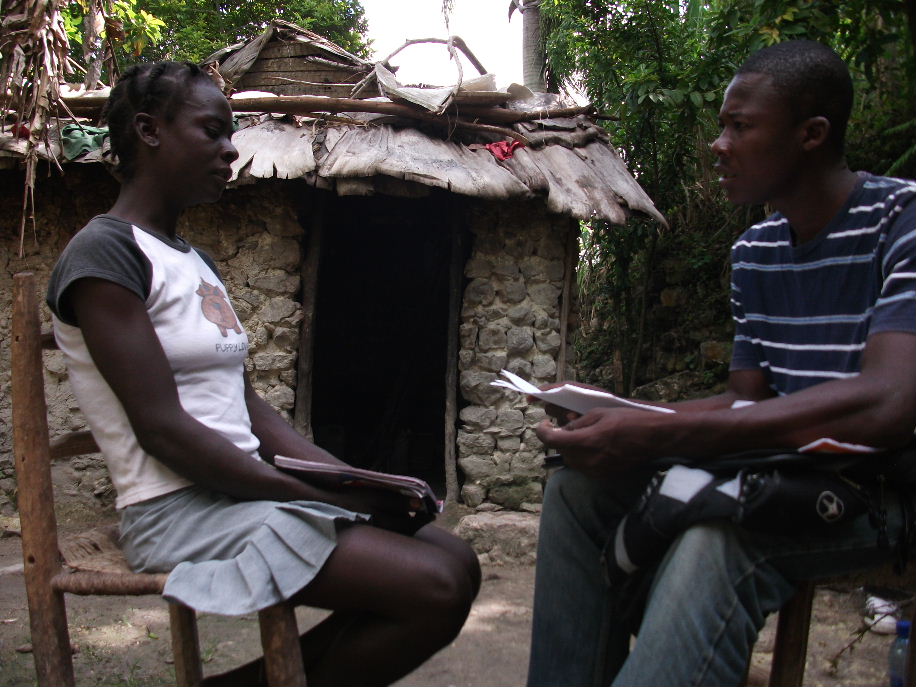 She doesn't know how old her children are either, but her neighbor said that her son is about five, and her daughter about three.
Jonise is by no means a typical CLM member, if there is such a person. When I refer to her "neighbor," I'm stretching the word. The woman is actually a fellow CLM-member who decided to take Jonise in, to give her a temporary home. Jonise's own situation was difficult. She had been living with her children's father, in a house on his mother's land, when he decided he'd had enough of her. He threw her out. Her neighbor became fond of her while they were in enterprise training together, and when she saw her out in the street, she invited her into her home. That helped Jonise a lot. Jonise has a cousin who has since made a small piece of land available, and now her children's father is building her a little shack to live in. The day I saw her, she was excited because he had finally agreed to give her their two kids.
Jonise and Benson will have a lot of work to do, because Jonise is going to have a hard time developing ways to support herself. In Creole, they say "li pa konn lajan," or "she doesn't know money." Typically, that can refer to two different cases, either to someone who can't do the simple math required to make change or to someone who cannot distinguish between bills of different denominations.
We know that Jonise has the first problem. We'll know next week whether she has the second as well. Benson is using little stones to try to teach her subtraction. We don't yet know wheter she'll make progress or how long it will take. Next week, he will give her the 300-gourd food stipend in a combination of 50- and 100-gourd notes. I've asked him to spend some extra time with her studying the differences between the two bills if she has trouble.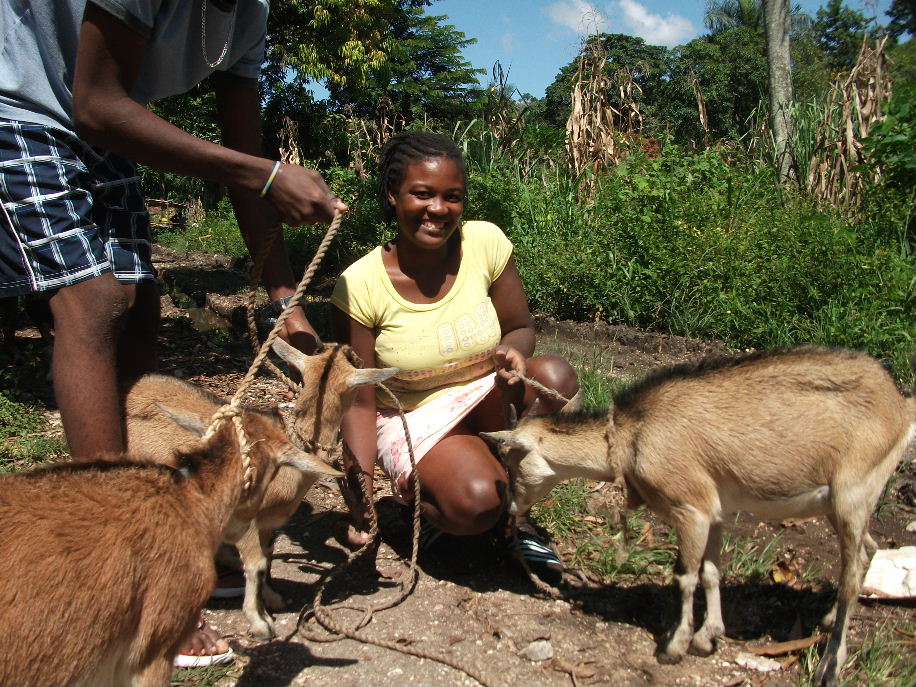 Not every new member seems likely to have such a hard, hard time. Some take to CLM like fish take to water, showing energy and discipline that were always apparently inside them, just waiting for a chance to get to work. Gladys is a little like that.
She's a 19-year-old mother of two girls, ages five and two. She can read and write some. She was in the third grade when she got pregnant, and her parents never sent her back to school, but she seems to have remembered a lot of what she learned. That's her in the picture above, with her three new goats.
Her case manager is Titon, and she promises to make his work relatively easy. When she finished her training in goat rearing, she built a little shed for her goats right away. It's not a typical part of Haitian husbandry, but it protects them from rain, which can seriously affect a goat's health and productivity, so we try to insist that each of our members build one. Some resist us. It seems so unnecessary to them. But not to Gladys.
As a reward, we made sure she was one of the first to get goats when we started distributing them in Bay Tourib. We hope it will help her and her fellow CLM members stay focused on getting things done right.
---
Jonise and Gladys do not have much in common except for the town they live in and the unhappy, life-changing fact that they had children when they were very, very young. Our CLM team is now doing what we can to give each of them a chance to move on with their lives. They present us with very different and, at least apparently, very unequal challenges. But to sustain the remarkable level of success we've enjoyed so far, we'll have to find effective ways to work with each.