Since it was established in 2007, the CLM program has worked exclusively in the countryside. That was consistent with Fonkoze's original focus on rural areas, but also with the history of CLM's parent program, the graduation program developed by BRAC, in Bangladesh. It also focused initially on the rural poor.
This focus had consequences for the program's design. Its selection process depends on a fundamental fact about rural areas: neighbors know one another well. The enterprises CLM helps families develop have been principally the sort that work in rural areas: animal husbandry, small commerce, and farming. And those are just two of the ways the program has reflected its rural focus.
But Fonkoze knows – as BRAC knew as well – that extreme poverty exists in cities, too. So Fonkoze is now piloting an urban version of the program in Jeremi, in southwestern Haiti. After six days of training ended on Saturday, 200 new families joined the program from five poor, seaside neighborhoods.
Lancie Vixima lives in Kamanyòl. She has eight children, but just five still live with her and the father of the youngest four of those five. The oldest of the five has been raised by her partner as one of his own children. She's a 14-year-old deaf girl who now has her own baby. Since the baby's father provides no support, Lancie is responsible for her grandchild, too.
Lancie's husband used to fish, and she sold used sneakers and schoolbags. But the husband suffered a hernia about a year ago, and had to give up his work. That put more pressure on Lancie's commerce than it could bear. The expenses involved in getting him care, combined with his inability to contribute, ate up the capital her business depended on. It no longer exists.
To earn the little bit of income she needs to feed her kids, Lancie shells peanuts for women who sell them roasted. A typical job can involve as many as ten cans of nuts and takes her two-three days. She's generally paid 150-200 gourds, or about $2. That's enough money to buy 3-4 cups of rice at current prices, if that is all she buys. But as big as her household is, it doesn't go far. And the work is difficult for her because she has only one good arm. The other is very little help.
She's excited about getting started in the program. "They taught us a lot about managing a commerce." And she knows what she wants to do with the money she will earn once she starts. "If I make 500 gourds, I need to save 50. And I need to start sending my kids to school again. Four of them used to go, but I didn't have the money to send them last year."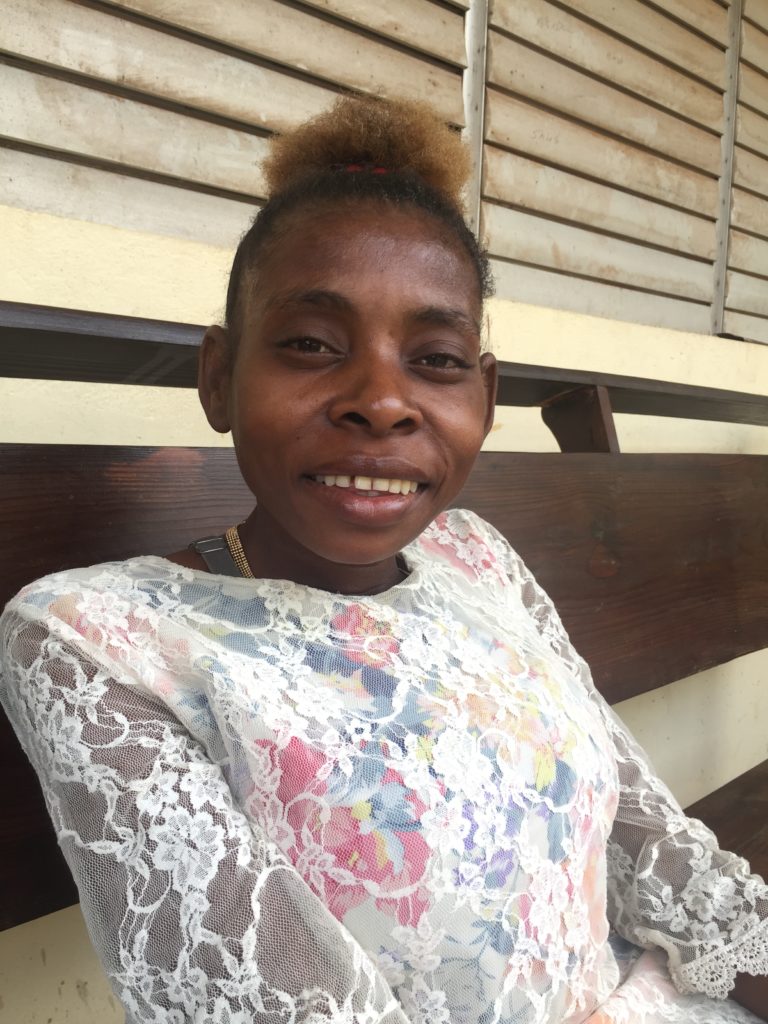 Margalitha Lissaint lives alone in Kotfè with her 10-month-old baby. She's 28. The child's father abandoned them before Margalitha gave birth. A tiny woman – well under five feet tall – with a back bent by scoliosis, Margalitha just recently moved with her baby out of her mother's home.
Even before her child was born, Margalitha was struggling to support herself. She tried businesses selling prepared meals or fried snacks along one of the alleys that runs through her neighborhood. But she couldn't keep it business going because she would sell on credit and then her customers wouldn't pay. "They'd swear at me when I tried to collect." Margalitha knows that she shouldn't have given credit in the first place, but in a poor neighborhood like hers, refusing isn't easy. "The people who ask you are your neighbors, and when you're hungry too, you can't say 'No.'"
She's anxious to use the resources CLM will give her to start her business again. "I won't be able to sell on credit anymore. I have a child I'm responsible for." She wants to go back to selling fried snacks, but also basic groceries. And she'd like to add a side business selling used clothes. Her mother is in the CLM program as well, and she thinks she can count on her help, especially when she needs a babysitter.
And she'll need the help. She made it into secondary school before her mother's inability to pay forced her to give up her studies, and she now hopes that being part of CLM will enable her to return.
"I need to support my baby, but I need to save money, too. That way, if the business shrinks I'll have something I can invest to make it grow again."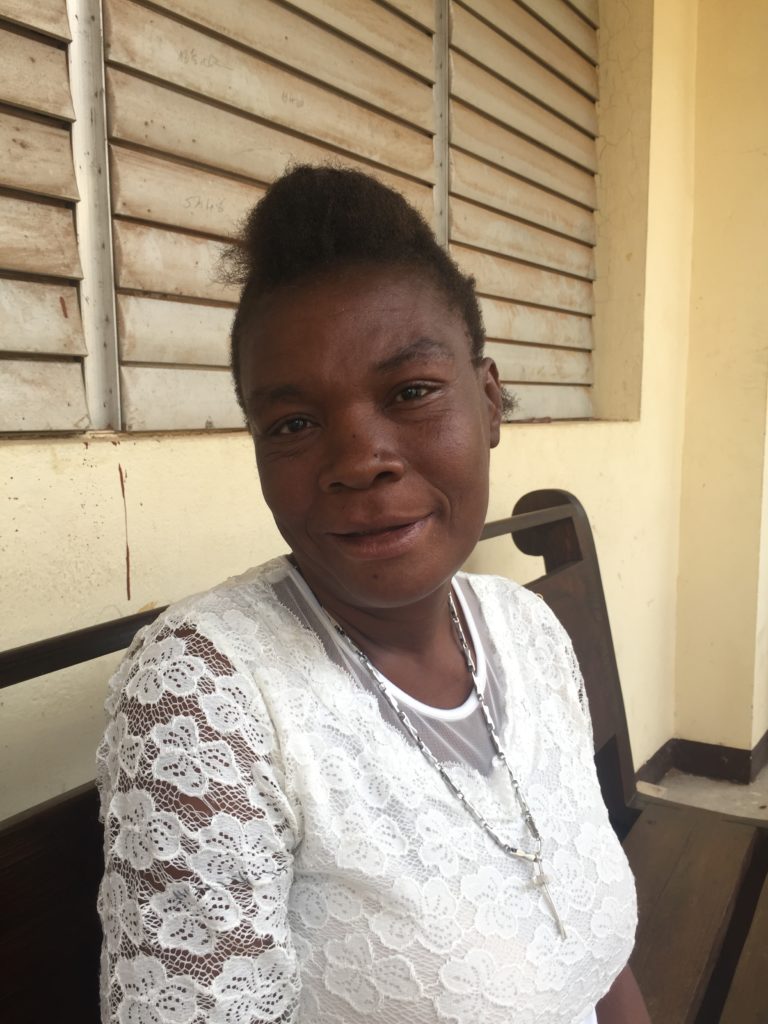 Meloude St. Vil and her husband live with their six children, ages five to 13, in a neighborhood called Dèyè Distriyèl. Her husband does whatever odd jobs he can find, often scavenging scraps of iron that he can sell to recyclers. Meloude sometimes finds someone willing to give her their laundry to do. Neither has any regular income.
Until Hurricane Matthew passed through Jeremi in 2016, the family lived in a small house with a solid roof, but the hurricane's category-five winds blew the house down. She and her husband collected what they could of the roofing material and used it to put up a new set of make-shift walls. That lasted until an unexpected windstorm blew the house apart Friday night.
She and her husband support their kids with his little jobs and her occasional laundry, but it's gotten much harder. "More people are doing those things now."
She's started to work out her plan to establish a more regular income. She wants to get up early in the morning and sell prepared breakfasts. She figures that she can use the business to feed her children before they go to school. She'll finish selling early in the day, and then move to the market. She'll sell basic groceries there.
She thinks that, combined, the two business can help her out. She needs to feed her children, but knows that it's also important to save. "I have to put 50 gourds somewhere now and again so I'll have something if the house needs repairs or if one of the kids gets sick."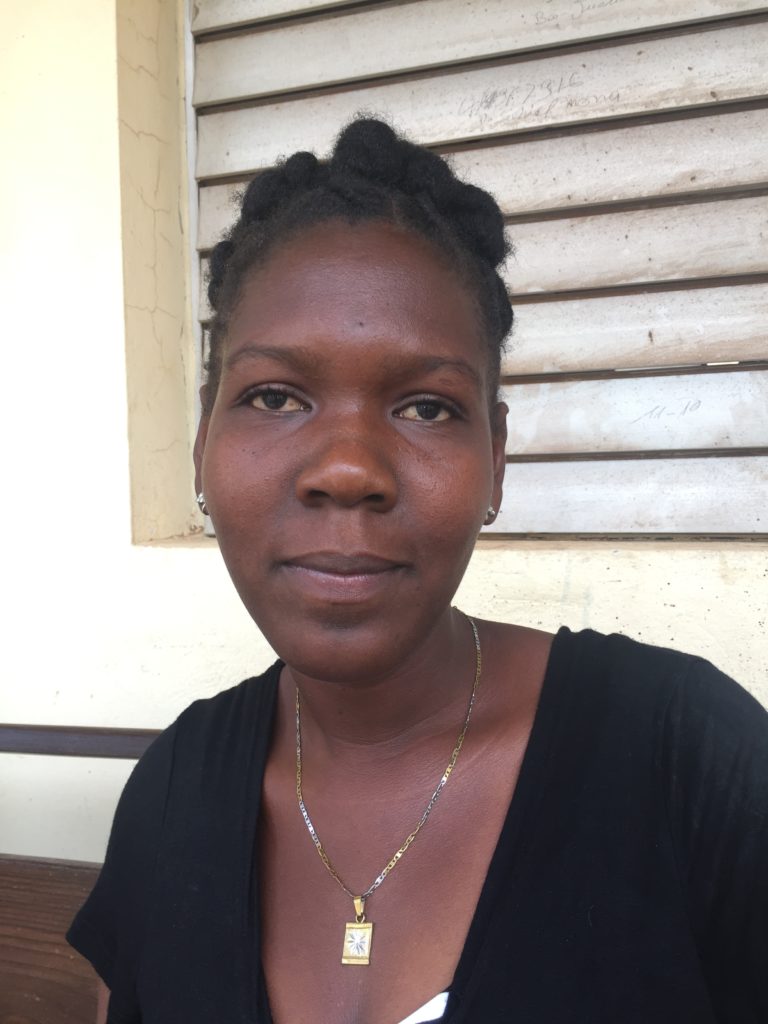 Sonya Etienne lives with her husband and their two children, ages four and nine, in Nan Site. 
Her husband is willing to work hard, but he has no skills. He depends on finding masons willing to take him as an assistant. He carries mortar, rocks, cement, or water, whatever they will pay him to do. But the work is irregular. He can go days at a time without finding anything. And he went for a while without being able to work at all. He was sick.
So, the family depended entirely on Sonya's business selling charcoal for cooking. She has a lot of experience with it. She generally buys a sack or two and divides it into bags that give someone what they might need for just a day or two. Sales are reliably profitable even if there are occasional small losses. "Sometimes you open a sack and most of the charcoal has been ground down into pieces that are too small. Then you lose money on that sack."
Paying for her husband's healthcare while feeding the household without his help proved to be too much for her business, and it recently disappeared. She's excited to get started again, however, and was happy with the lessons about small commerce that her CLM training provided. She learned some things about avoiding counterfeit money that she believes will be valuable. But there was more, as well. "They said you should sell what you know, and I know charcoal." A charcoal business is important to her because it means that she always has some to cook her own food. She'd like to add a side business selling cookies and crackers to schoolkids and another selling cellphone minutes. She doesn't foresee any trouble managing all three at once.
She believes in saving, and has been using a local savings structure for years. Someone with means collects savings every day: one Haitian dollar, which is five gourds, on the first day of the month, two on the second, three on the third, etc., all the way to the 30thor 31st. At the end of the month, you receive 450 Haitian dollars, or 2250 gourds minus a 50-gourd fee. If you miss payments, you get back what you have deposited, minus the same fee.
Savings are especially important because her home is a rental. She and her husband have been paying 10,000 gourds per year. That's almost $110. It is much more money than they can earn in a single shot. Their lease is up in September, and the landlord has already warned them that the rent will increase to 12,500 for the coming year.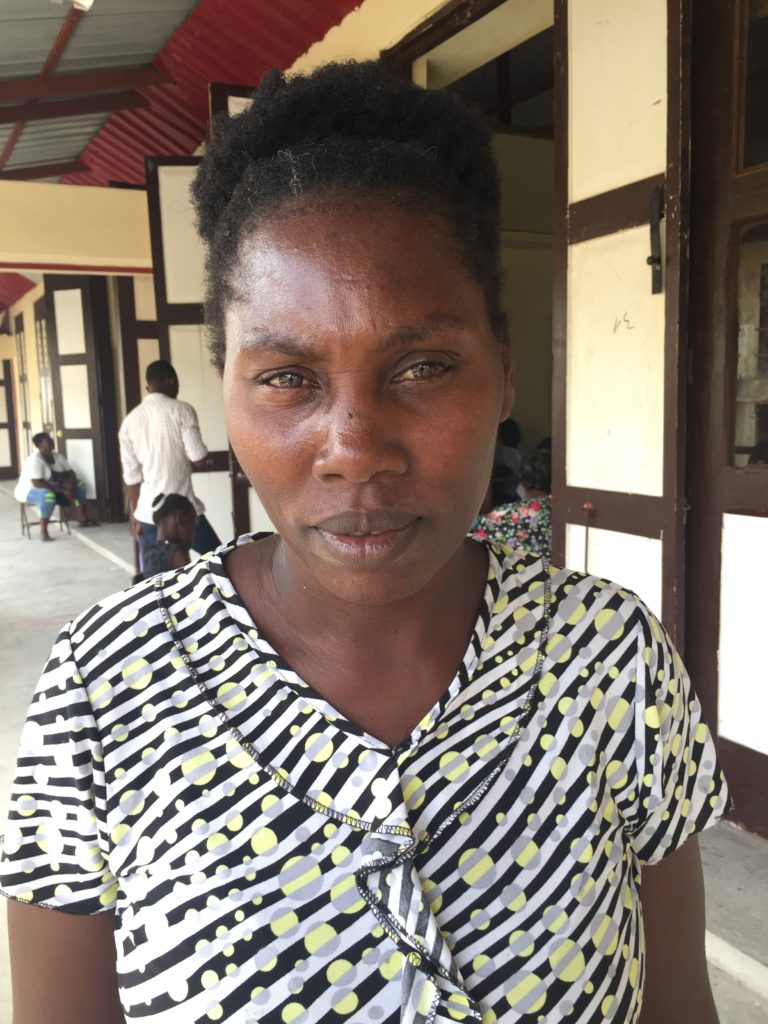 Marie Milise Mistaire lives in Lapwent. She's had nine children with six different men, but she lost one of the kids. She's been alone with her kids since the last man died. Six of the children live with her. Her oldest girl has been living with her uncle out in the countryside ever since the younger woman's stepmother, whom she had been living with, put her out of the house. Marie also has a nine-year-old with severe disabilities who lives with a sort of foster family. The family lives near a school for handicapped children, and they took a liking to the boy. Marie pays for the school, but they take care of the boy for her.
She used to make a pretty good living selling fish. She would buy a big thermos-chest full from local fishermen and take it for sale to the market. On some days, she would see that the market was too flooded with fish. Then she would separate here merchandise into small loads and carry them on her head through the residential areas of town. It might take three or four trips to sell a full day's load, but she would usually sell out. But if she had any she couldn't sell, she would dry it out and sell it later. She was successful. "I could put aside 500 gourds of the profit every day, even after I took out what I needed for my family."
But taking care of her late husband before he died ate up all her capital. Her business no longer exists. She's been living off charity from neighbors and friends.
She's excited to be part of the program, and she's ready to go back into the fish business. "I will do what I know." And she is confident she will succeed. "You don't buy something to sell it at a loss." She is already thinking of building up savings. "When the CLM team sees my savings account, they'll know I worked hard. I think I can come in first place for savings."
But she is thinking of other things as well, of all the things her house needs: a bed, chairs. "When they first came to my house, they had to sit on my water jugs. I want to buy chairs so I can offer them a place to sit. I had a big pile of dirty laundry because I didn't have the money to buy soap. If they see that my life doesn't change, they'll think that their investment was wasted."