Gislaine lives with her partner Jonel and their two small children in Wòch Pab, a small community just south of the main road the stretches out from downtown Laskawobas towards Pouli. The side road to Wòch Pab is a narrow, rocky path that crosses a small river. Motorcycles can make the trip if their driver is willing to ford the water.
Before the couple joined the program, Jonel was the family's primary support. With almost no resources to work with, he made what he could by hauling rocks out of the river, crushing them into gravel with a small hammer, and selling the gravel by the truckload. It might take a month to produce a load he could sell for five or six thousand gourds. When their money ran out, Gislaine would start buying groceries on credit. Merchants were willing to sell to her because they saw they way Jonel would work, so they believed they would be paid eventually.
Her first contact with the CLM team was when staff came through during the selection process announcing that they were undertaking a campaign to vaccinate local livestock free of charge. It is a ploy the team sometimes uses to identify who owns the livestock in an area. Gislaine remembers how unhappy she was to have to say that she didn't own any. "We didn't have anything. Not even a chicken." It embarrassed her. "That night I told Jonel how it made me feel. He just said that that's how it is."
When she joined the program, she asked for goats and a pig. She received two goats, and one had a kid, which made three. She was then able to buy a fourth goat, which also had a kid, so now she has five. She also received a pig, a small sow, and it had two healthy boars. The sow is pregnant again, and she is fattening up the boars, getting them ready for sale to a butcher.
But she also wanted to get into small commerce. "The CLM team kept talking about how important it was to have commerce." She had experience already. She used to purchase a sack of passion fruit in the market and then sell it in small, single serving piles. But she had long run out of the money she needed to keep that business going.
As a member of the savings group that Fonkoze established for CLM members in her community, she was entitled to borrow up to three times what she had saved, so she took out a 7,500-gourd loan, and went back into business. She does not focus only on passion fruit. She buys whatever she can find. She makes her purchase when she arrives at the market first thing in the morning, and she tries to sell out the same day. She works at two markets, the one in Laskawobas and the one at Kwafè.
She's earned enough from the business to repay her loan, ensure that her weekly contributions to her savings club continue, manage her children's lives, and buy her fourth goat. Jonel still works hard making gravel, but she is the primary earner now. She added to the business with a second loan of 15,000 gourds, which she also repaid. When the group's one-year cycle ended and everyone collected their savings, she withdrew 25,500 gourds. She added it to other money she had available, and she bought a cow for 65,000 gourds.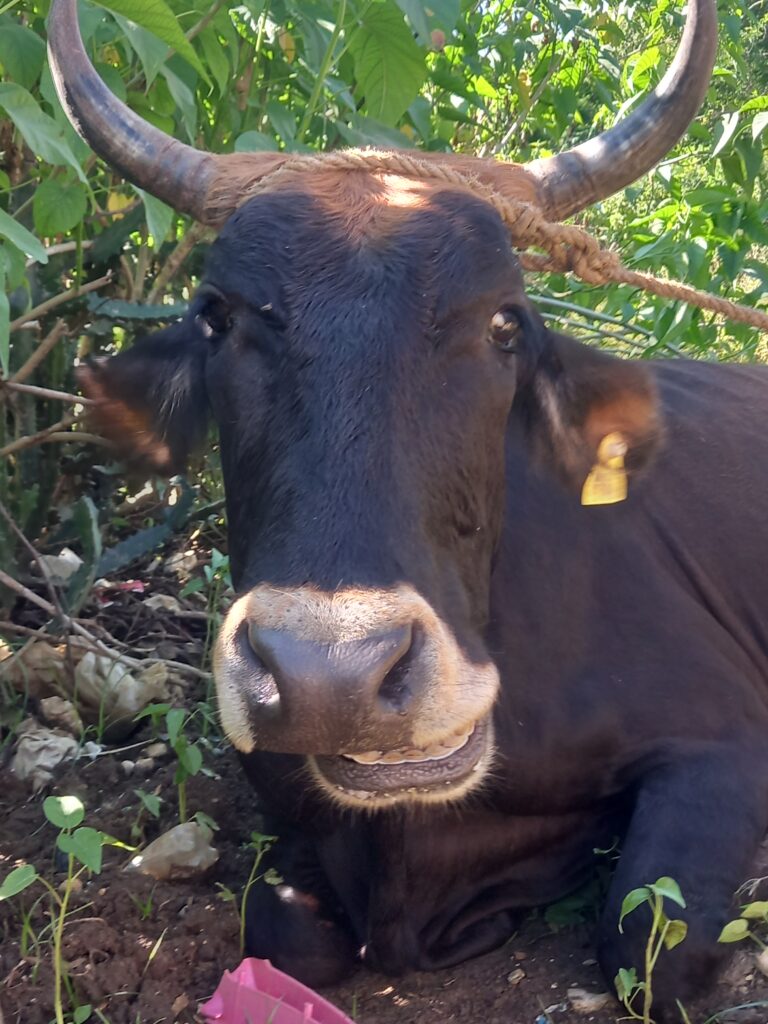 The source of that extra money is also interesting. CLM members receive construction materials to repair their home or build a new one. But the home that she and Jonel shared already met the program's minimum requirements. She thought about using the funds to improve it. She could have covered the dirt floor with cement. But the land it sits on does not belong to them. It is rented. She did not want to invest in a home which, in a sense, would never be hers. So she arranged with the CLM team to give her the equivalent in cash instead, and that's how she bought her cow.
Her further plan is clear. She dreams that she and Jonel will someday buy their own land. That is why buying a cow seemed like a good idea to her. "If someone around here wants to sell some land, they will see my cow and ask whether I am interested because the cow shows that I have means."
Lorimène lives farther down the main road from downtown, in Pouli. She and her husband Daniel live with their young boy, but also with Lorimène's daughter from a previous relationship and the daughter's two young kids.
Lorimène is not from the area. She comes from Sivòl, a mountainous part of Boukankare near the border that separates the Central Plateau from the Artibonit. She left that area to live with a cousin when her first partner died. The man's family took their four older children. The cousin eventually came to Laskawobas, and Lorimène met Daniel, whom she recently married.
They were living on very little when they first got together. Daniel would sell his labor working in other families' fields. Occasionally, Lorimène would earn something doing lighter work, like shelling peanuts. "We didn't have anything. We were living badly."
When she joined CLM, she asked the program to buy her goats, and she received two. At first things went poorly. One of the goats had a kid, but both it and the kid quickly became sick. The kid died, and she rushed to sell the nanny, even taking a loss, before it died too. Her other goat never became pregnant. It never even went into heat. Figuring that something was wrong with it, she sold it too. She used the money from the sale to buy another goat, and this third goat has prospered. It has already had consecutive litters of two kids each, and the first two kids are now also pregnant.
Like Gislaine, she also wanted to establish a business. She borrowed 7,000 gourds from her savings group, and started to sell friend snacks in front of the church that sits between her home and the main road.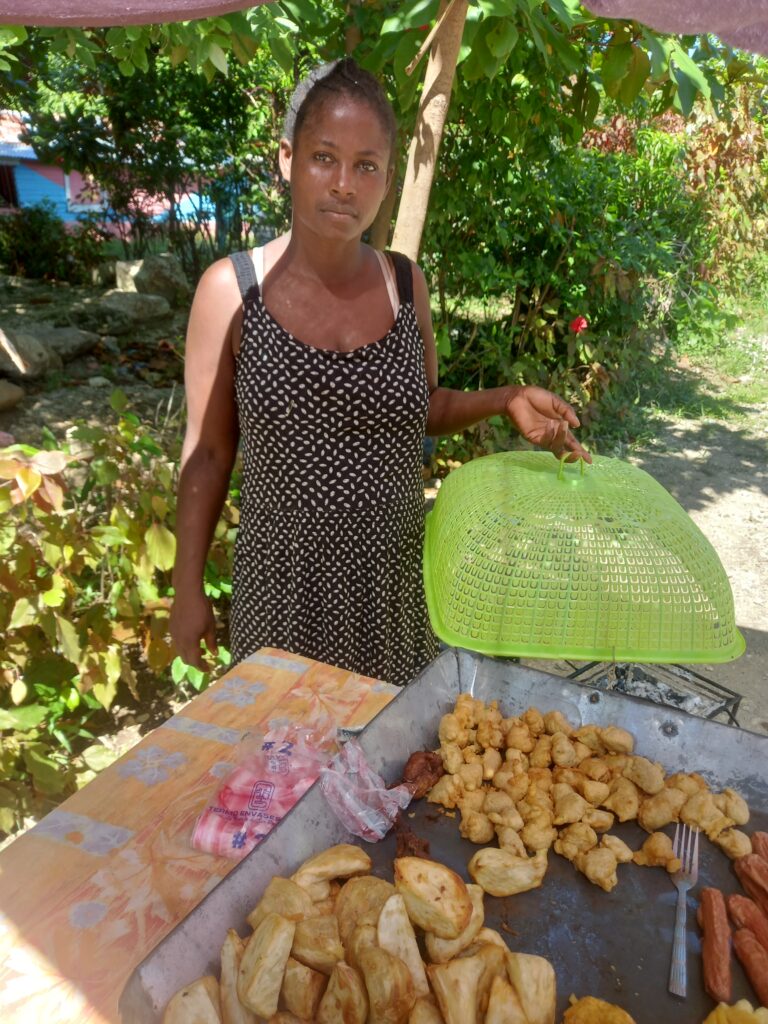 She sells sweet potatoes, hotdogs, pressed breadfruit, and the small balls of seasoned fried dough called "marinad." She is a little bit discouraged these days, though. Prices are high, and people have less money to spend, so the business is not really prospering. She cannot yet decide whether she wants to continue. She was able to start a small second business selling used clothes. After she and Daniel were married, one of his children gave her a first load of merchandise so she could start. "Even if I just earn coffee money, it is worth it."
She and her family are now in a new home. "My husband has older children, and some of his land is really theirs, but he said my boy can have this plot, and that's where we built our new house."
She knows she's made some progress. She feels blessed to have a healthy, productive goat. But she wants to make more. Yet she says that she "doesn't see the path" yet. She is not even sure how to define the progress she wants to make. She will need more help from her case manager in the coming weeks and months to help her build her vision.