Mariane is a single mother of two boys who lives well off the main road that leads north from Gwomòn. Neither of the boys' fathers help her with them. "I have to be everything," she says.
When she joined the CLM program, she was supporting them with an interesting job. A wealthier neighbor had a severely handicapped teenager. The young man had been living in Pòtoprens, but his parents had trouble getting him the constant, comprehensive care he needed. He could not move on his own or even speak. So they moved him back to the countryside, and looked for a full-time caretaker. Mariane got the job. She would get to the young man's home early every morning, get him up, bathe him, feed him, and care for him through the day. In the evening, she went back to her two little boys.
She had to give up her small commerce to take that job because it took up all her time. "I thought getting money every month would be better for me." But the salary was small, just 4000 gourds per month. That's less than $40. She struggled to pay her children's school fees. And she had very little time to spend with them.
Things began to change when she joined the CLM program. She chose to receive capital for small commerce and goats, and has made progress with both. Her case manager bought two goats for her, and with the two kids they've had so far, that would have brought her to four. But she has come much farther than that. Profit from her business has enabled her to buy three more, some of which have also had young, so she now owns 11. She also purchased a small pig.
Her business is straightforward. The market in downtown Gwomòn is very active. There are three main market days each week. Mariane buys a large jug of cooking oil early in the morning on each of the days. She separates it into small soft-drink bottles, and walks around town, selling the small bottles of oil out of a tub that she carries on her head. The regular price for bottle of oil is 250 gourds, but she sells them for 225. She could sell for the higher price, but wouldn't sell them as quickly. "I sell out at a single market, and make 500 gourds each day. At 250 gourds, it might take me two or even three markets to finish selling."
She has clear plans. She expects to continue to manage her household with her commerce. Meanwhile, she'll use her livestock to make other investments. She hopes to sell some goats soon to buy a cow. She hopes to raise the cow so that she'll eventually be able to buy land. She is okay where she is right now. With the program's help, she built a small new house for herself and her boys on her mother's land. But she would like to buy land herself. "It is better when you have your own."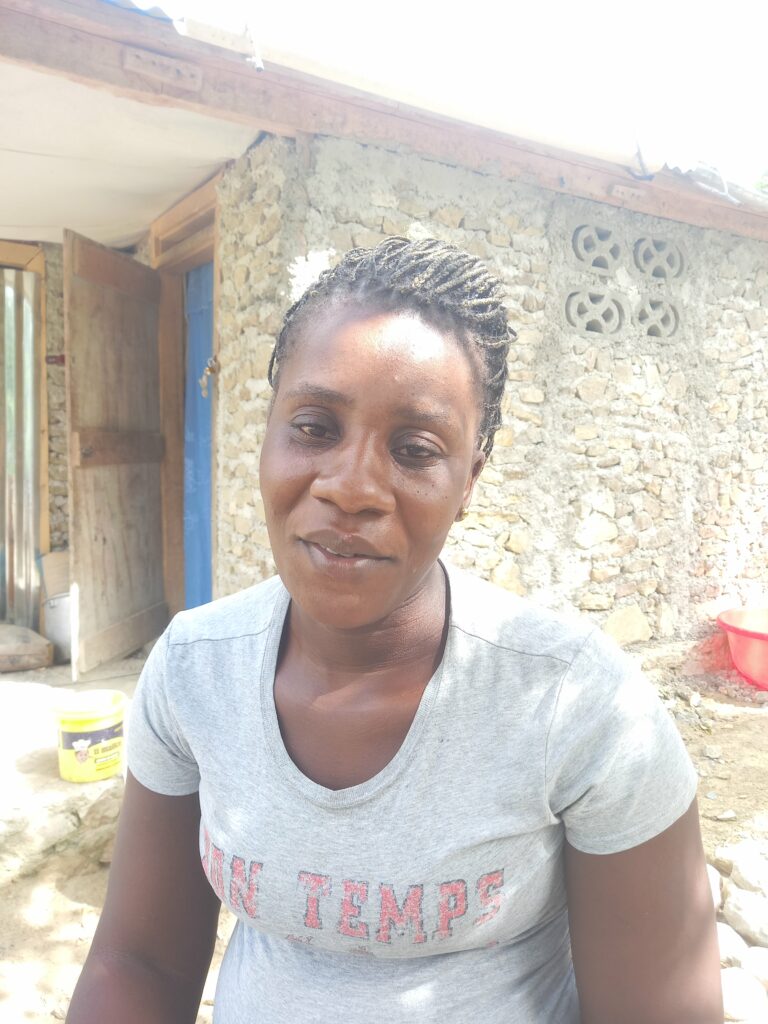 Louirana lives in Zarat, close to the main road out of Gwomòn. She has two girls, and the girl's father lives nearby, but they cannot count on him. "He found another woman."
When the man was still with her, the family was making progress. Louirana had begun work on a house, buying materials with profit from her own business and her partner's contributions. But by the time she joined CLM, work on her house hadn't been progressing for a long time. She was struggling to support herself and her girls with a small commerce, selling used clothing, but had very little capital to work with, just a few hundred gourd she made now and again by selling one of the chickens she kept in her yard, all descendants of a hen a friend had given her.
The program gave her two goats, and she now has three. One of the two had a healthy kid. The other had twins, but they did not survive. She is also keeping a goat for a neighbor. When it has kids, she'll be entitled to one as payment. She does not, however, have big plans for her animals. She seems to think of them as savings. She can sell one if she has a sudden need for money or to send her girls to school.
Her main focus, however, is her commerce. If you ask many CLM members what their commerce is, they won't be able to tell you. They'll say that they go to the market with their capital looking for something that they think they can sell, and then they buy it. They don't have a fixed business.
But like Mariane, Louirana is different. She has found a very specific niche. She buys used sheets and blankets from used clothing merchants and sells them individually. She says that if she's careful she can buy them for 500 gourds each and sell them for as much as 1000. It depends on her eye for the product and her knowledge of the market. She says that her business would have grown already if not for the money she's had to take out of it to complete work on her home.
She credits her older sister for teaching her how to run a business. "Our mother died when I was young. I moved in with my sister, and she would take me to the market with her when I wasn't in school." She did not get very far in school, but learned a lot about buying and selling. And she is passing on her sister's gift to her. Whenever her older daughter Loudjina, who's ten, is out of school, she gives her some money to buy cookies and crackers, which Loudjina sells to children in the neighborhood. Louirana smiles as she explains that Loudjina doesn't like sitting around. When asked to explain why she likes commerce, the girl's answer is simple. "I like to make money."