Emania's first four months in the CLM program have been eventful, almost disastrous.
One day in late February, her baby was sick and she arranged through the CLM nurse, Lavila, to take him to the hospital in Gwomòn, just down the road from where they live. Partners in Health does not have a facility in the area, and the local hospital charges fees for most services. Fonkoze will cover those fees if Lavila informs the hospital that the member's visit is covered. The hospital then bills Fonkoze. The baby saw a doctor, received medication, and Emania took him home.
That evening, her mother was preparing a meal by the light of a kerosene lamp, and the baby fell backward into the lamp. He was badly burned. Emania rushed him to the hospital. The hospital staff then called Lavila, to confirm payment for services. Once Lavila confirmed payment, staff at the hospital could get to work, but they quickly saw that the case was beyond them anyway, so they referred the child to the larger hospital in Gonayiv, the much bigger city down the road.
But in Gonayiv, doctors had to say that they didn't have the facilities to treat a serious burn either, so they put the baby and his mother in an ambulance and sent them to the Partners in Health hospital in Mibalè, a good three hours or more away. Even Mibalè, however, lacks a burn center, so after offering a little basic first aide staff there put the pair in another ambulance. This time they were sent to the Doctors without Borders burn center in Port au Prince.
Emania and the boy spent more than a month at the facility. He received a couple of skin grafts. But he also needed blood. With Emania's most likely donors, her family, a long way off in Gwomòn, CLM staff travelled to the hospital from Mibalè to donate. The boy is now at home and recovering well.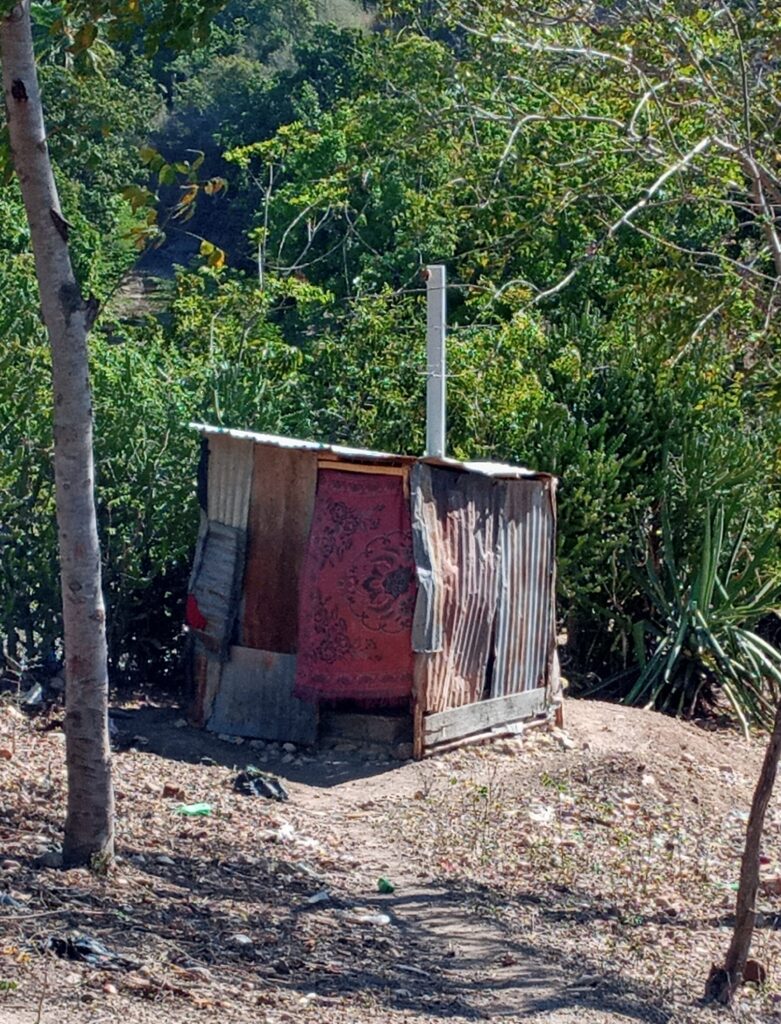 And despite the interruption in her work, Emania is moving forward. She completed construction of her latrine and the repair of her home. This latter task was made easier by the fact that she merely fixed up her mother's home, which was severely damaged in the earthquake of 2018. The two single women live together. "The walls had holes so big that you could have walked by and stolen one of the kids right through them."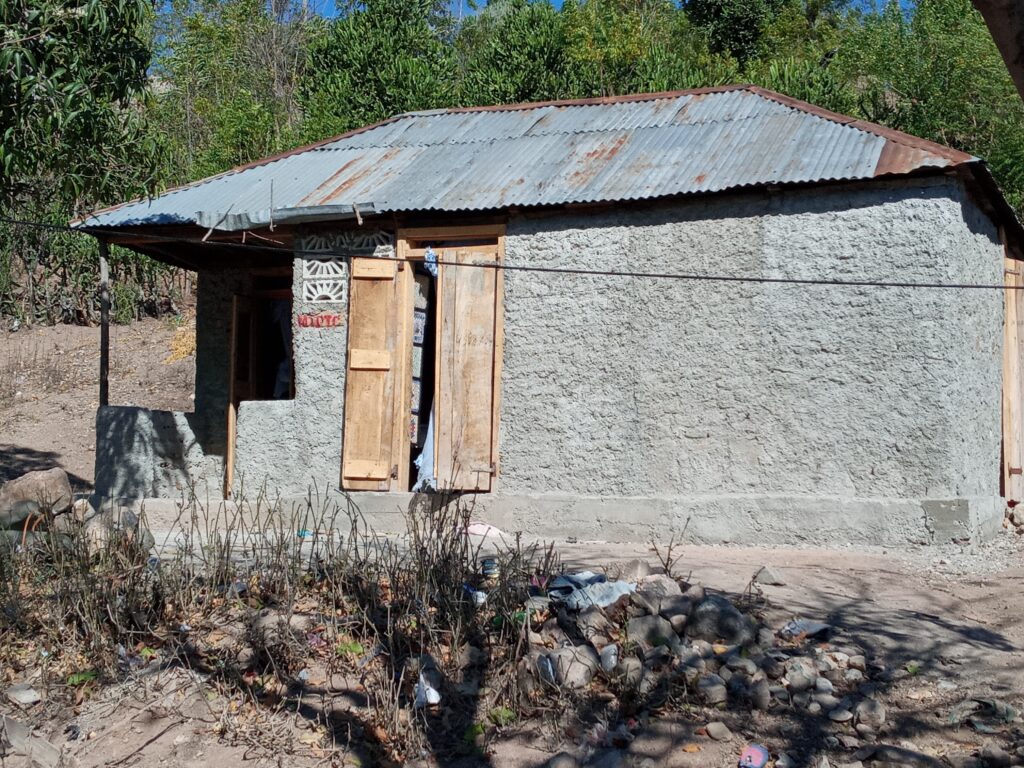 Her biggest challenge right now is building an income. She asked the program for two goats and a sheep, and has received the goats. But none of that livestock will bring in regular income anytime soon. And things are only going to get harder for her and her mom. Her sister recently moved into to a room in the house with her kids after splitting up with the children's father. It isn't yet clear to the CLM team what resources that other sister brings to the household, or whether she brings any.
And Emania presents challenges to her case manager, Pétion, and to the CLM team as well. He and the team did nothing for her that they would not have done for any CLM member. But Emania appears to believe that she is able to get special treatment by pursuing help vigorously. Pétion's heard other CLM members say that she told them that they can get what they want from Pétion if they "fè l cho." That means "if they make him hot," which is a way of saying, "by nagging." Emania is apparently telling CLM members to nag Pétion to get what they want.
The attitude is positive in the sense that it shows she credits herself for the help that she's getting. We want CLM members to see themselves as agents. But it is hard to Pétion to find out that a member looks at him that way. Though perhaps he can take comfort in the attitude displayed by the members who told him what Emania has said.