Lawa is a hilly neighborhood of Moulen, Gwomòn's seventh communal section. "Hilly" doesn't really capture the feel of the place. The hills are not high, but they are steep and closely packed around rock-lined ravines. Small, mostly straw-roofed homes dot both the tops of the hills and any small, flat area that cuts into one of the slopes. The few dirt roads that cross the section keep their distance from Lawa. Motorcycles can get part way there by using the flat parts of one of the ravines, but the closest approach for a motorcycle still leaves a long hike.
Jeanna (featured in the photo above) lives in a small house in a cluster of homes on one of the small peaks. Her mother and sister, who are also new CLM members, live in two of the others. She is 29, and she and her husband Nelseau have six children. They would have seven, but they lost one of their twins.
She did not grow up in Lawa. The fourth of her parents' twelve children, she was sent to Gonayiv to live with one of her father's cousins. The family sent her to school for a couple of years, but when she turned 14, she asked to come home. She was unhappy in Gonayiv. "I didn't feel at home. They hit me too much, and the boys were starting to bother me." So, she returned to Lawa, and joined her parents' already-crowded and struggling household. When Nelseau offered her a home of her own, it seemed like a good idea. She had known him since they were young children, before she moved away.
She describes Nelseau as a hard-working farmer on unproductive land. What's worse: the land he farms does not belong to them. He's a sharecropper, so he always owes the landowner half of his harvest.
Jeanna became the household's main income-earner. She would go to Senmak, an important coastal city on the highway that leads towards Pòtoprens, sometimes for a month at a time, staying with a younger sister. With only 75 gourds of business capital, she could buy a small sack of bags of water, already iced. She'd carry the sack around the busy streets of Senmak on her head until she sold out, and then she would buy another sack. She might sell as many as four or five on a hot day, making 25 gourds on each sack. Late in the day, she'd take all the water money and buy kerosene, which would sell well in the early evening to people needing it for cooking fuel or lamps. That would earn her another 75-100 gourds. Once a week, she would send provisions home on a direct truck from Senmak to Moulen, and Nelseau would meet the truck and carry the provisions home.
But her frequent pregnancies mean that she often misses months at a time, staying at home for the end of the pregnancy and her babies' first six months. During those periods, the family really struggles. If the period of her inactivity doesn't happen to coincide with a harvest, the family is especially badly off.
She is nursing a baby now, and has been since shortly before she was selected for the program. She says it will be her last. She's not sure yet what she wants to achieve as a CLM member, but she thinks she can use the livestock she receives to send her children to school. She has two who attend right now. They are only in the second grade, though, because they often lose time. Sometimes the school sends them home because Jeanna and Nelseau owe too much money. Sometimes Jeanna keeps them at home to take care of the younger kids. Her one hope for the program is for her children. "I want to be useful to them, to send them to school."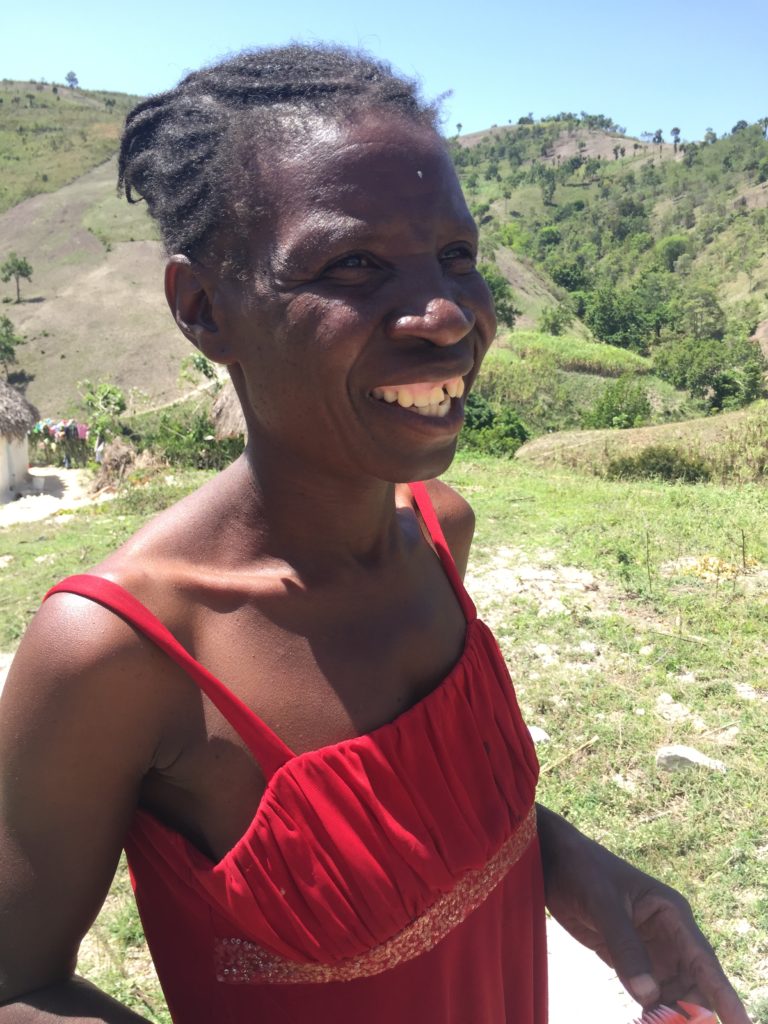 Even a relatively small area like Lawa can have even smaller spaces, each with its own name. Clothilde Jean lives in Ravin Volò, or Thieves' Ravine. "I'm not sure who the thieves were," she explains with a laugh. She moved to the area about twenty years ago from another part of Moulen, just beyond the hills across the ravine, when she moved in with her husband. "I'm not from here, but I don't think I'll be leaving the area now."
She's 42, and she and her husband had ten children, though just six of them survive. He left her a widow in 2017. The oldest four of her remaining six children have moved out since their father died. Two moved out as soon as he died. "We had family members who asked me for two of them." It's common practice in Haiti for a family in Haiti that has some means to bring children into the household to help with chores. Sometimes they do so with a commitment to take care of the children, sometimes just to exploit them. Clothilde thinks that hers are being treated well. But the two other children simply left to try to make their own way. The youngest two children still live with her, but she cannot afford to send the older girl to school. The younger girl isn't ready yet.
Clothilde does what she can for the kids by farming. She plants corn and pigeon peas on the land that slopes down from her home towards the bottom of the ravine. She even has a small plot of beans. But she is otherwise limited because she can't leave her young children alone, and she doesn't see what options are available in Lawa itself. "There's no way to do commerce here." There just isn't enough money for people to buy anything.
Her upbringing was unusual. She lost her mother when she was just 15 months old, and she was raised by a single dad. He had no other children with him, so it was just the two of them in the house. "He had friends, but he never wanted to give me to a stepmother. He did everything for me. He even did my hair. When he went into the fields, he took me along." He died just after her first children were born.
She has high hopes for her time in the program, though she hasn't yet identified a clear goal. "Even if you just have a chicken, if the chicken hatches four eggs, you've made progress." And she explains, "If you keep yourself under control and you know what you're doing, you can make a profit." But she knows that no one can work without tools. "You cannot farm without a machete. Schoolchildren can't learn if they don't have books." She's hoping that CLM will give her the tools she needs to move her life forward.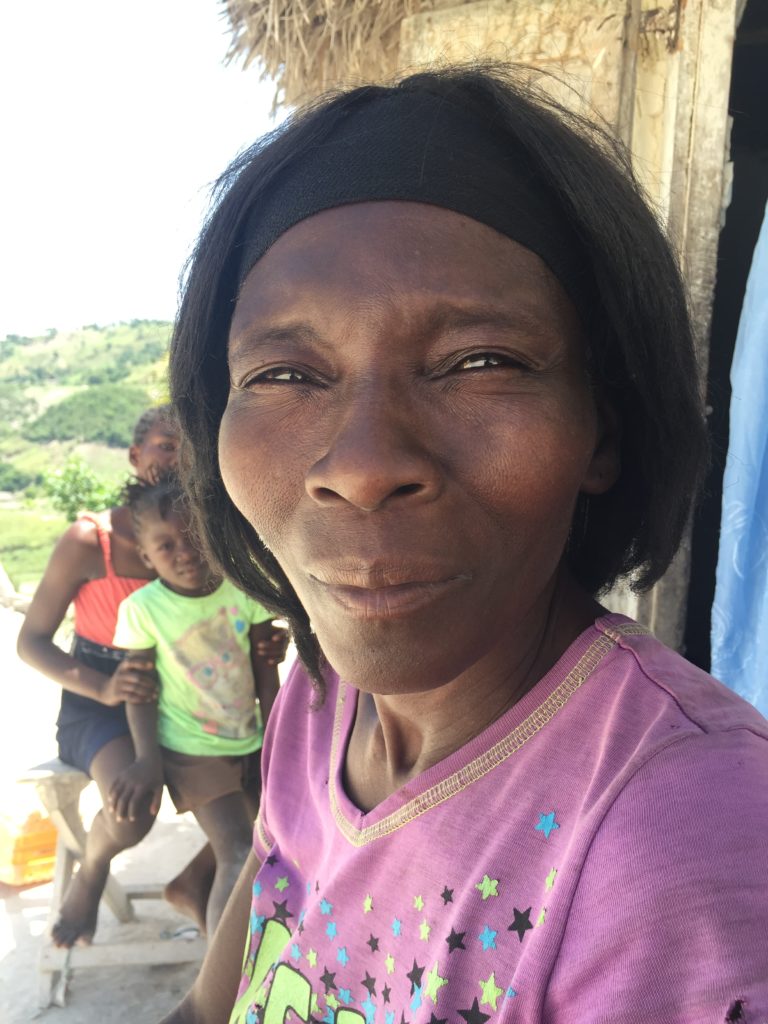 Serana Nicola isn't really Serana Nicola. Her legal ID says "Serana," but she explains that she had the ID made using her sister's birth certificate. Her own certificate was lost. "They used to keep papers with elders. My parents gave my birth certificate to my grandfather for safe keeping. It was lost in a fire." Serana's real name is Itana.
Itana has seven children, but only four live with her. She keeps up with the other three kids, always asking for news of them. They are in school. But she doesn't support them. They depend on the families they live with. She doesn't like the fact that they aren't with her. "If I had the means to support them, I'd call them back. They are growing up, and there's a lot I'd like to give them." The children who live with her no longer go to school. "I can't pay for school. I can't buy shoes. I can't buy books."
Her husband used to contribute a lot to the household through his farming, but he's been sick and unable to work for years. "Every morning, I have to figure out what I can feed him. Every afternoon, I have to figure it out again. If someone gives my 50 gourds, I can go out and look for medicine to buy for him."
At least she can when she isn't struggling just to buy food. She often buys on credit, and owes money to many of the merchants in the area. She waits for the occasional 50-gourd gift from a friend, and uses it to pay down what she owes. "Feeding my family is my biggest problem."