Rosemène Elsaint lives in Gwayal, one of the small neighborhoods in Pouli, a broad area of southeastern Laskowobas. She has seven children, and about four years ago they returned to her mother's house. Her husband had died, and she did not know what else to do.
Her family had been living in Delma, the populous residential town immediately north of Pòtoprens. Her husband worked construction, sometimes as a mason and sometimes as a supervisor. She managed a small grocery business, though she would also go to the countryside to purchase loads of produce at harvest and bring them to Pòtoprens for sale. The family was living reasonably well. Her commerce was reliable, but any time she needed extra cash, she could count on her husband to add to what she had.
After her husband passed away, her business had to bear the burden of all her household expenses, and it quickly evaporated. Back at her mother's home, she joined a traditional Haitian savings club, called a "sòl." Its members would make weekly contributions, and each week one member would receive the whole pot. Her friends saw her problems, and they helped her by letting her take the pot first each time through the cycle. Her sòl was thus an interest-free loan. She came to depend on the money to keep a small business afloat. She's buy produce from farmers, and sell it in retail-sized lots. "I walk around the neighborhood selling, carrying my merchandise in a basket, and I'd sell in the market two days a week." It helped her keep her seven children fed. By this time, her mother too was more of a dependent than a source of additional support.
She chose to invest the resources that CLM provided in goats and chickens, and her case manager bought her two goats. The chickens she purchased with the rest of the money died. The larger of the two goats is now pregnant.
The program also established a savings and loan association for her and other members, and she's making good use of it. She no longer depends on the kindness of the fellow members of her sòl. She runs her business with money she borrows from the association. Her first loan was for 4500 gourds, a little less than $35 at the current exchange rate. She paid it back easily and took a second for 12,000. "When I have more money, I can buy more merchandise and make more money."
She doesn't feel as though she's made real progress yet. Her business is more or less what it was when she used the sòl. "At least I have some goats now."
But she has a plan. She wants to return to being a Madan Sara. That is what Haitians call the merchants who buy commodities wholesale in the countryside and ship them for sale to the cities. She thinks she'll need about 30,000 gourds to start.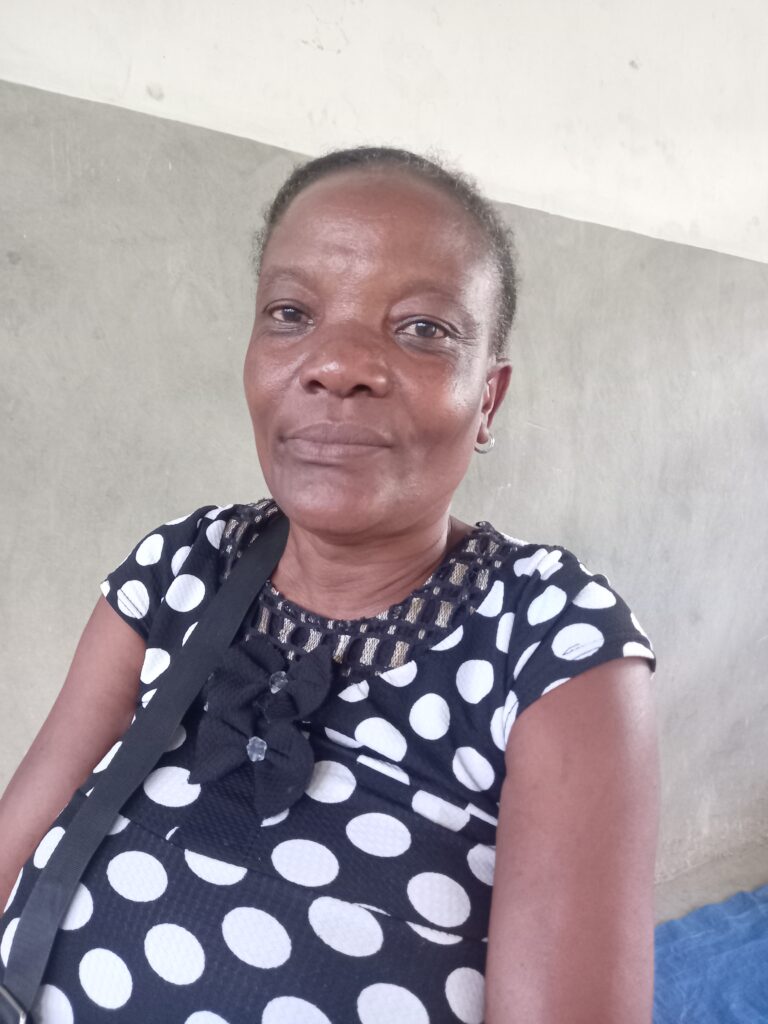 Jocelyne Michel lives in Montas. She lived in a house on her father's land, but couldn't get on with her sister-in-law. She chose to rent a plot for her home down the road. "I get along with my family, but it was much too hard when we lived right next to each other." She's been renting the same spot for six years for 5000 gourds a year. She and her children's father separated long ago. "He wasn't any help. He would waste any money I managed to save. He lives with another woman now."
She would support her kids with a business that changed depending on the season. During harvest, she would buy produce from the farms along the mountainside just south of her neighborhood, and bring it to market for sale. When there was no produce to be found, she'd buy flour, oil, and seasonings, and make fried dough to sell by the side of the road.
But with all five children depending entirely on her, and school fees increasing over the years, her business was dwindling. By the time the CLM selection team came through her neighborhood, she had just enough capital left to buy a mamit or two of flour at a time — that's a standard Haitian dry measure, about the size of a coffee-can — just enough to make a day or so or snacks. "I couldn't save anything anymore, and it was hard to pay for school." She was buying for 500 gourds at a time, so she only made about 200 gourds each time.
Like Rosemène, she's made good use of her savings and loan association since she joined the program. She used a first loan of 5000 gourds to reestablish her snack business on better grounds. She was able to buy an entire sack of flour, which meant that she had less frequent need to travel downtown to buy. Travel costs are very high in Haiti right now, so saving multiple trips makes a big difference. She paid back that first loan and had enough left over to buy a small pig, even though the business was also funding household expenses.
She immediately took out a second loan, this one for 10,000 gourds. But she knew that she could not just keep growing her snack business, so she added a second business. She bought eight sacks of charcoal for cooking and sold them at considerable profit. "When I was with my husband, it was hard to lay my hands on just 100 gourds because he wasted it all. Now I'm getting ready to borrow 15,000." She plans, for now, just to keep growing her charcoal business.
She likes her association. "It helps us save." She's not sure yet what she'll do with her savings after the association's year-long cycle is over, but she'll have that money, and may have goats she can sell, so she'll need a good investment plan.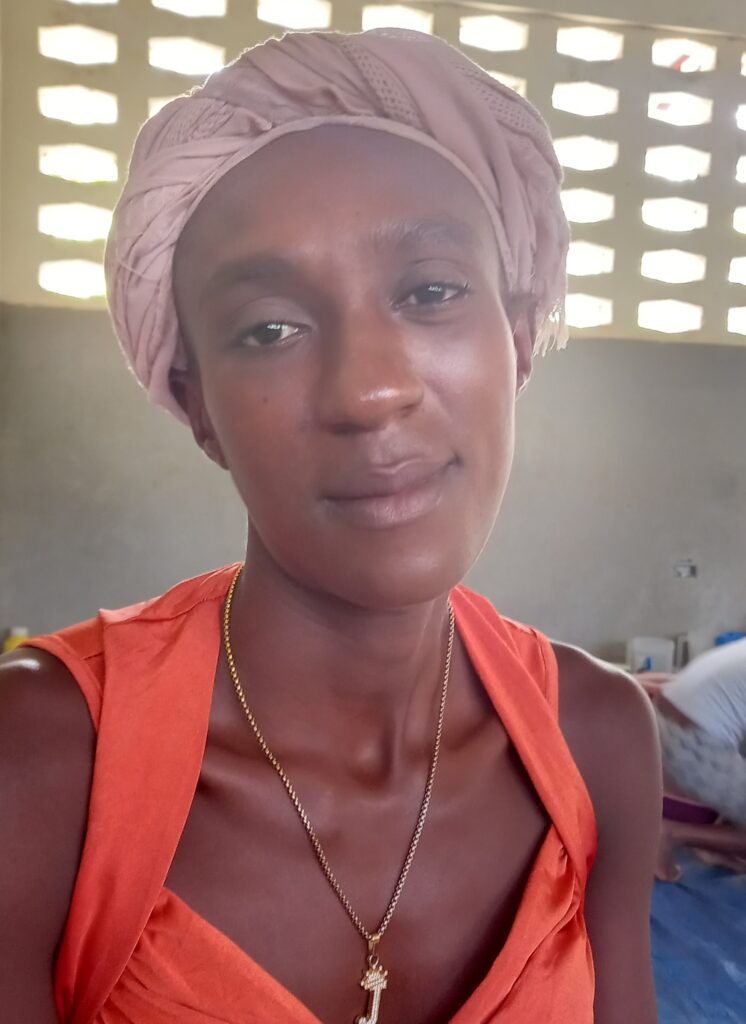 Roseline Jean was born and raised in Gwayal. She and her husband had three children, but the man died in 2018, while she was pregnant with their third. After he died, she supported herself and her kids with small commerce. She counted on neighbors to lend her the couple of thousand gourds she'd need to buy produce, which she brought to market and sold in small piles. She made her purchases directly from farmers on Tuesdays and Fridays, and she brought her merchandise to market on Wednesdays and Saturdays.
She was able to keep her children fed most of the time. She could even send them to school thanks to a school director who allowed her to pay their tuition a little at a time. Before her husband passed away, he helped out by farming. When he died, she lost that source of income and had to sell the couple's land to pay for his funeral. Even then, she still had debt, which she paid by taking work as a maid.
She had to move in with a second partner just to get herself and her children out of the street, but this second man works in the Dominican Republic, so she doesn't see him much and he doesn't help very much either. "He took me with my children, but I don't have a child with him yet, so he isn't very motivated."
She chose to receive goats from her case manager, and though one of them died, the other is now pregnant. She is taking care of herself and her kids with a business she established with money she borrowed from her savings and loan association. She borrowed 5000 gourds, and now sells fried snacks. She made the first repayment, but has two more to go.
She is struggling. Her baby caught typhoid, and it both cost her some money but also kept her from working for a few days.
She is not sure yet how she will grow her business if this first one continues to succeed. But she hopes to use her business and her livestock to eventually buy a cow because a cow is the first step towards buying a pice of land. She would like to have her own land again.