I took the camera with me to Hinche for the weekend trip I took there with Papouch. Here are a few photos.
The first thing on Papouch's mind when we arrived in Hinche on Friday was to find out where he could attend church on Saturday. He is a devout Seventh Day Adventist, so Saturday is the Sabbath for him. Here he is in from of the Adventist Temple. Later, we returned because he wanted me to take a picture of him inside the Temple as well.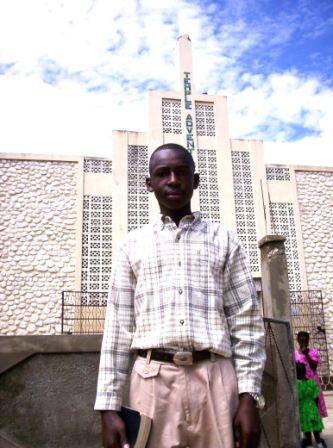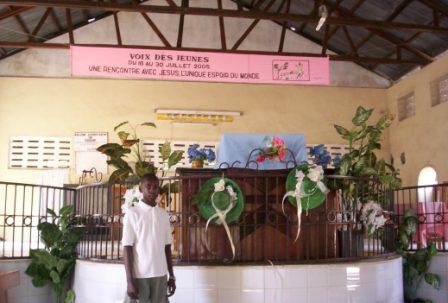 Later that day Ronal took us on a tour of Hinche. On of the most striking buildings is the new cathedral, with its high domed ceiling. Here Papouch reaches for it. The paintings on the ceiling depict traditional religious scenes such as one might find in any Catholic church. In the Hinche cathedral, however the figures are dark-skinned.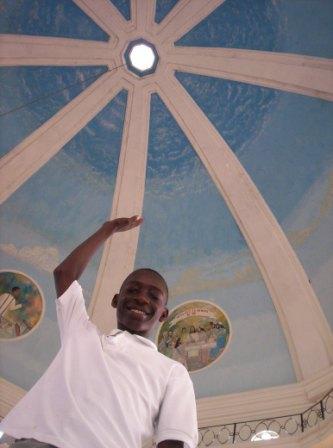 The tour included a quick trip to the airfield as well. This is where our plane landed. The shack you can see in the background is the closest thing to any sort of shelter. It's a place to wait for an arriving plane, protected from the sun.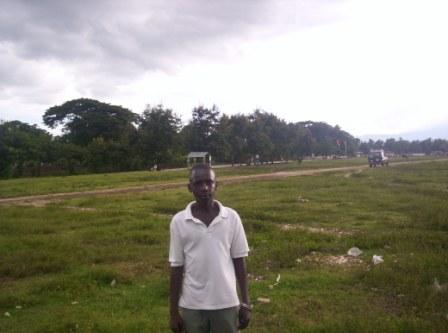 Sunday afternoon we were off on bicycles, headed for the waterfall at Bassin Zim. Papouch was delighted with the chance to ride around. He has a bicycle in Ka Glo, but there's little he can do with it except ride in small circles around the yard.
Here Papouch is in front ofthe waterfall. We were told to keep a safe distance and we did. It is said that the falls occasionally take someone under.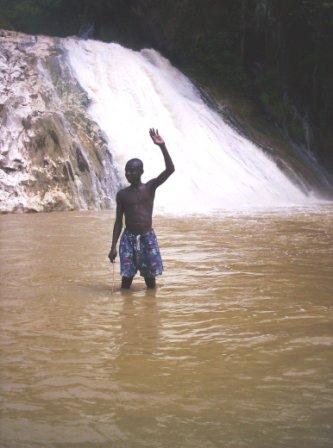 Our guides were Felix and Ronal, two of Saul's younger brothers. Felix, on the left works for World Vision. Ronal is a tailor looking for work. He'd really like to study theology and become a pastor.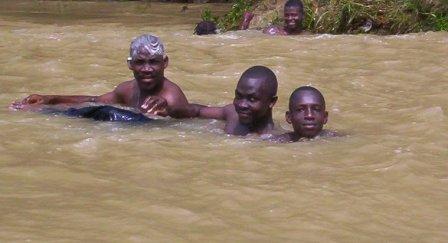 In the midst of our fun the falls were visited by a large contingent of UN peacekeepers fom Nepal. They came as sightseers, heavily armed one.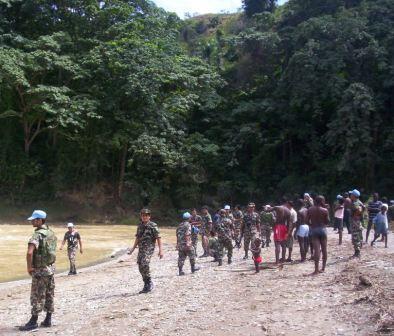 When Papouch joked that he'd like to have his picture taken with one of them, I went ahead and asked. The guy was very nice about it. Soon Ronal decided to follow Papouch's example.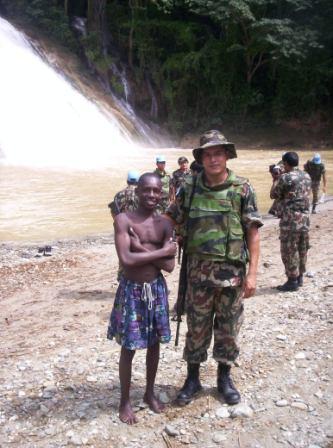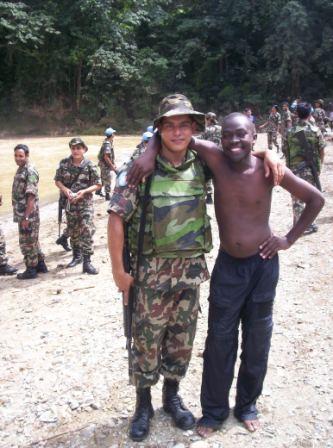 Oddly enough, before they left the peacekeepers passed out dozens of fresh loaves of sliced white bread to all the Haitians that were at the falls.
When we got back to Madanm Marinot's house, Papouch was pretty beat. But he was very pleased with the day's events. He gave his loaf of bread to Nannan and Vivi, Madanm Marinot's two daughters who had been spoiling him with food and attention all weekend.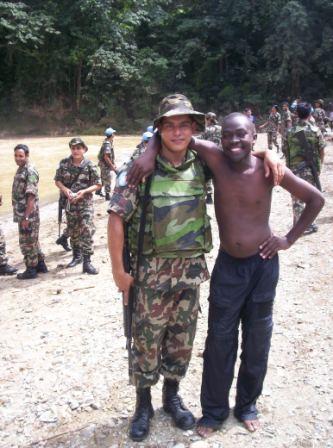 To read more about the trip, click PriviLege