Here are some photos of a recent meeting in Fayette, at the foot of the hills outside of Dabòn. The folks attending are almost all long-time Wonn Refleksyon practitioners. About a year ago, we decided we needed to start getting together once in awhile to talk about the way we do our work. Some joker suggested that what we would be doing is "revivifying" our movement, and the name stuck. The meeting was the fourth in the series.
The gatherings have been led by Abélard, here sitting on the left.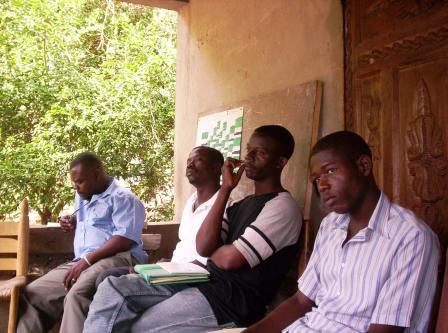 He's from Dabòn. He's been working with us since Erik and I went to Haiti in August 1999. He participated in the group we organized that fall at the Faculté des Sciences Humaines, the Social Sciences branch of Haiti's national university. Next to him are Wilio, another experienced group leader from Dabòn, and next to Wilio is Ezner. Ezner participated in the first Wonn Refleksyon workshop held in Haiti, back in 1997. He is a teacher and a literacy activist from Lagonav. He caused some excitement at the beginning of the meeting by talking to the group about the new way his team is using Haitian proverbs to hold Wonn Refleksyon discussions in literacy centers. Next to Ezner is Ismael. He's a young member of the group I'm working with in Cité Soleil. His group chose him to represent them at the meeting. He was worried that he'd be in over his head, meeting with adults who have been doing work for years that he's just started, but he and I were both pleased by how well he fit himself in.
Pòtoprens was well represented at the Fayette meeting. The three women here are Malia, Kerline, and Eraminthe. They are members of Kofaviv who participate in the group that meets at their office every Tuesday, but they also lead their own groups as well. The boy on the left saw we were meeting and decided to join us. He didn't say anything all day, but seemed to enjoy himself.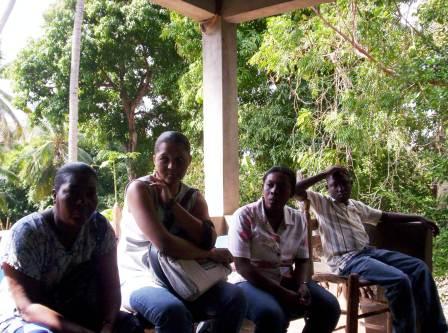 After Abélard led an initial discussion, we broke for a coffee break. There was coffee and bread, but also thick, cinnamon-laced Haitian hot chocolate. Abèlard, Kerline, and Eraminthe are enjoying the chance to chat.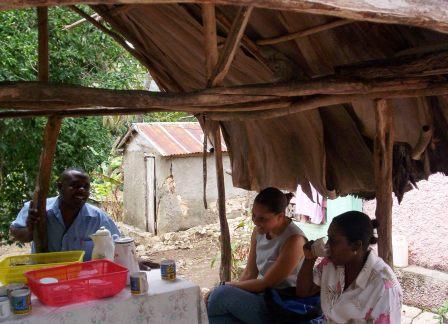 We spent much of the day working in small groups, talking about the challenges we're facing as we work with the various groups we lead. Here, Thomas, a veterinary worker who lives and works in the mountains, a two-hour hike from Fayette, and Edith, a lab technician from Potoprens, are discussing one of our central problems: How to help a group of people who've learned to listen to one another politely begin to challenge one another, so that the dialogue can really deepen. Getting the group to listen quietly has often meant encouraging them to just listen, to believe that everyone has a right to her own, or his own, opinion. But real learning requires more of an exchange. And the transition from one ambience to the other is challenging for the leader trying to help make it happen.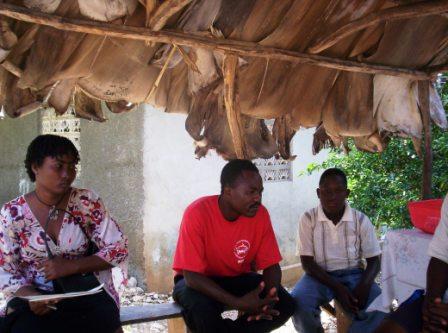 Kerline is talking about the group she leads with Abélard, Frémy, and me in Petyonvil. Participants are employees of a large, Irish NGO, Concern Worldwide.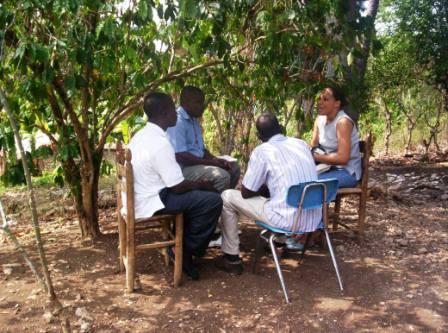 Gerald, seated on the right, is a community activist from Fayette. He was our host at the meeting. He and some friends opened a primary school this year for kids in the area whose parents can't afford to send them. They realized that, as long as there are large numbers of children in their area who are not in school, their work in adult literacy will never end.
Their starting budget for the school this year was $0. Not only do they work in the school every day without getting paid, but the hired a kindergarten teacher to work with the smallest children. They pay her salary out of their own pockets. Malia and Eraminthe having been running a school for rape victims' children for several years. Our meeting give the three of them the chance to compare notes. They spoke about how thy use Wonn Refleksyon at their schools.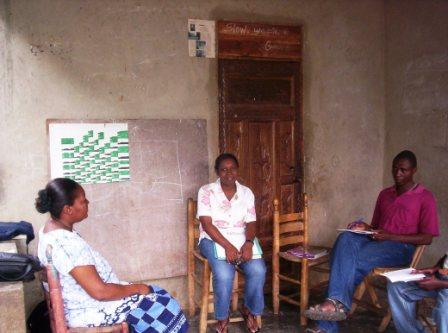 Fayette is an interesting place. It is a well-watered valley, still thick with trees, many of them mangos. But even there, you do not have to look far to see the environmental problems that Haiti faces. Just behind the home we met in, are mountains that are almost bare. Nearly all the trees have been removed, and soil erosion must follow.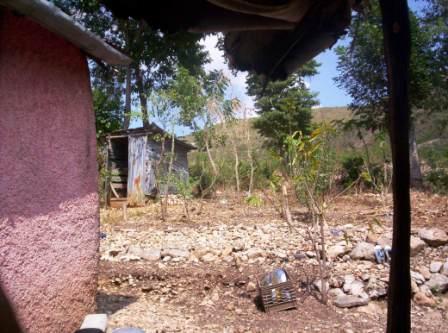 Wonn Refleksyon won't plant trees, and it won't recover soil. But the habit of dialogue that it develops may be one way to help Haitians face the enormous challenges that are everywhere around them.