These are photos from a recent outing to Tomazo, a small town on the eastern side of the plain that extends north and east from Potoprens. Tomazo is on the shore of a good-sized lake, which was the outing's objective.
The idea for the day was Elie's.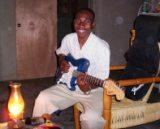 Elie has lived at his aunt's house in Ka Glo since his mother died, in 1998. He's the youngest of his parents four surviving children, and the older brothers live with their father down the hill in Metivye. The father is a stonemason, but he can't work anymore because advanced glaucoma has all but blinded him. When the mother died, the family's sense was that Elie needed a mother figure, so he was sent away. We've been neighbors ever since.
He had been trying to get me to go to the lake with him and his brothers for a couple of years. It never seemed to work out. But he took the second of the two high school graduation exams this year, and we all decided that he should use that as an excuse to take a break from books and chores and spend a day having fun. So he and his brothers planned a day's excusion. Here he is with two of the brothers, Maxène and Josue: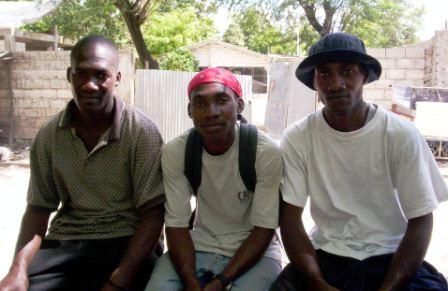 Maxène is on the left. He's the oldest by quite a bit. Two siblings born between him and Josue died as young children. He works for the Haitian water authority. They send a team that he's part of around Petyonvil to open and close the pipes that determine which neighborhoods get water service when. Josue is a carpenter, a skilled cabinetmaker. The third brother, Apocalypse, is a fourth-grade teacher, and electrician, and a plumber. He was busy working the day we went to Tomazo.
We got to Tomazo midmorning. It involved bouncing from pick-up truck to bus — lots of sitting in tight spaces. The station in Tomazo is right next to the market, and it was market day there when we arrived.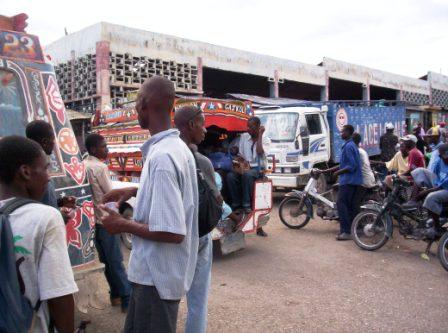 From there, we walked to a farmer's house where fresh milk, straight from the cow that day, was waiting.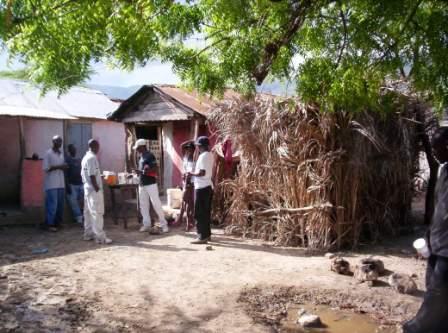 The milk had been ordered in advance, four gallons of it, served hot with sugar and cinnamin. In addition to Elie, his brothers, and me, there were a couple of his cousins from Ka Glo, my neighbor Ti Papouch, and my friend Dr. Job. There were about ten of them, guys between 14 and 37, so there was no amount of food and drink they couldnt have disposed of.
There was a nice walk from downtown Tomazo to the lake.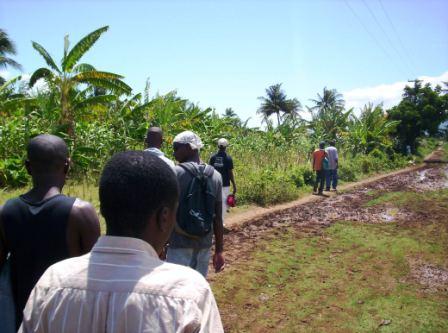 The lake is beautiful. Its very shallow, so the water is rather warm. Right next to it is a spring of fresh, ice-cold water. So you can swim all you want then rinse off. The spring water was perfectly drinkable. Here is Ti Papouch, just before changing to go for a dip.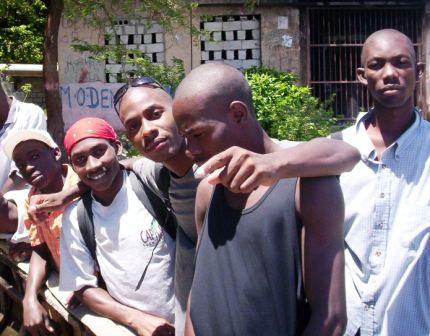 And here they are walking along the water.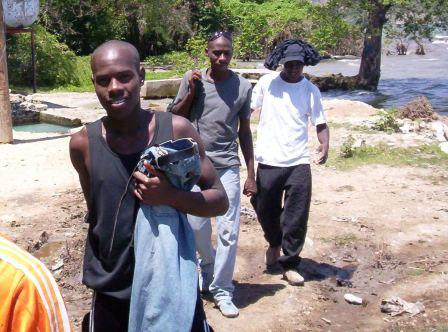 Here's Elie. He asked me to take this picture of him right at the water's edge.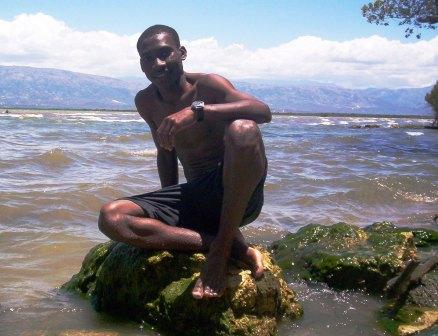 Here they are almost ready to leave.From the left, thats Ti Papouch, Elie, his cousin Lylson, Frantzcy, and Dr. Job.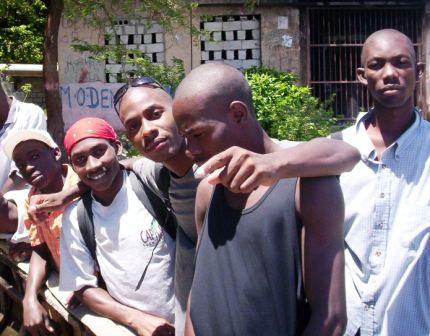 After swimming our fill and then bathing in the spring, we went back to the house where we had drunk the milk that morning for an afternoon meal of beans and rice. There was fish sauce for those who were interested. From there we returned to the station to cach a bus home. Here Ti Papouch is waiting with the youngest of our band, another Elie. This other Elie is known as Elie Clebert because Clebert is his dad's first name.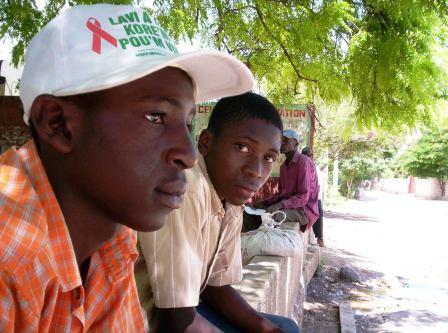 Here's a last picture of Elie. He very much hopes that he's passed the exam. If he has, he wants to spend the next seven years studying medicine. If not, he wants to take a course in electronics. He says that he wants to fix things: people if he can study medicine, radios if he can't.