Clotude, Jeanna, Itana, and their neighbors have been part of the CLM program for about five months. A lot has happened since they joined, for them and for Haiti. But the situation in Haiti has meant that some of the things that would normally happen in CLM members' first months in the program have been delayed.
Two difficulties have combined to make provision of some of the supports that CLM offers families difficult. On one hand, gas has been hard to come by. In Gwomòn, it's been expensive when available at all. As the Haitian government's debt to international fuel suppliers has increased, the suppliers have cut deliveries to Haiti. And even after fuel arrives in Haiti, distribution is complicated. Some retailers have discovered that they can make more money by selling from gas pumps to street venders, who then sell gallons – often diluted – at inflated prices. Fuel that sells at 224 gourds per gallon – currently about $2.43 – has been selling for 700-750 gourds in Gwomòn, with occasional spikes both there and elsewhere that reach yet higher.
On the other, demonstrations and other manifestations of the political conflict have been more frequent, more sustained, and more intense in the last months. Protesters block roads, sometimes violently. Small groups of frustrated Haitians will also sometimes block the road to collect a toll before allowing travelers to pass. You don't really know, from day to day, whether one will be able to get where one plans to go.
But after arriving in Gwomòn from Mibalè on Sunday, I went to Lawa with the CLM team there on Tuesday. They went as a group because they had scheduled a meeting with CLM members and the community leaders whom the members had selected to join the Village Assistance Committee. They would establish the committee, explaining its role in detail, and then have members vote in its leadership and set the date of its first meeting.
Though we arrived an hour before the scheduled meeting time, some of the CLM members were already there. Among them was Clotude's oldest daughter. When we asked why she was there, she told us that Clotude wouldn't be coming. She had had an accident that very morning, so she sent her teenage daughter in her place. Clotude had been working on the fence around her small piece of land, and something got into her eye. The team wanted to make sure she was alright, and I needed to speak with her, so we left the cockfighting ring, where the meeting would be held, and hiked the additional 20 minutes to find Clotude.
Clotude's fencing, like much of the fencing in rural Haiti, consists of candelabra cacti. These succulents are easy to grow and easy to propagate from cuttings. In relatively short order, a family can establish a barrier that is hard to penetrate, even for wayward goats.
But the plant contains a sticky, milky liquid, which is mildly toxic and slightly corrosive. In handling her fencing, Clotude got some into her eye. It's a dangerous situation if she doesn't rinse it quickly and thoroughly. The liquid can form a film that could interfere with her vision permanently. Her case manager called the staff nurse, Lavila, and we gave her, on Lavila's advice, a plastic water bottle that we had with us. We showed her and a neighbor we found with her how to pierce its cap and then squeeze the bottle to produce a forceful stream of water to rinse out her eye. We will know when the case manager, Enold, returns next week whether it worked.
She and I also had some time to chat, though she didn't want me to take a picture. (The photo above is from an earlier visit.) We spoke first about the economic activities that she has asked Fonkoze to transfer to her. She said she chose goats, sheep, and small commerce.
We generally transfer only two different activities, and Clotude had initially requested goats and a pig. But then she had second thoughts about the pig. "If you have a pig, you have to buy feed. You have to have resources. Pig feed has gotten expensive."
So, she asked Fonkoze to buy her a sheep instead of the pig. They run about the same price. Sheep are more like goats. Both require only minimal care. "If you struggle with them," Clotude explained, "they'll provide offspring quickly. You just make sure each one can find something to eat, you make sure it has water, and you keep it out of the rain." Clotude has received one of the two goats we will be providing and the sheep, and both her animals seem to be flourishing.
Clotude's plan for small commerce depends on the savings club that her case manager set up for her and several women who live relatively close. Each week, all the women contribute, and one of them gets the whole pot. The arrangement is called a sòl, and it is extremely popular in Haiti. Each of the members of Clotude's sòl gets 2000 gourds, which is now a little less than $23, and Clotude's plan is to invest her payout in groceries that she can sell out of her home.
She knows that it will be a tough business. When you sell food staples from a home in the countryside, neighbors will ask to buy on credit. "Credit means I can sell more quickly, but neighbors might not pay for a week, two weeks, even three. But you think about how you used to buy with credit to save your own kids, and it's not as though customers don't want to pay you."
She hasn't been able to start her business yet, however, and the problem is that she hasn't yet received her sòl money. The CLM team has fallen behind with its weekly stipend payments to some of the members in Gwomòn. The problem is that there were two quick changes in case manager. The original case manager resigned. It took some time to replace her, but the team did so. The second case manager was then surprised with a job offer close to her home less than a month after she started working for CLM, so she resigned, too. She's been replaced by an experienced case manager, but it's taking some time to catch up with all the bookkeeping. The supervisor responsible for Gwomòn expects to work things out next week.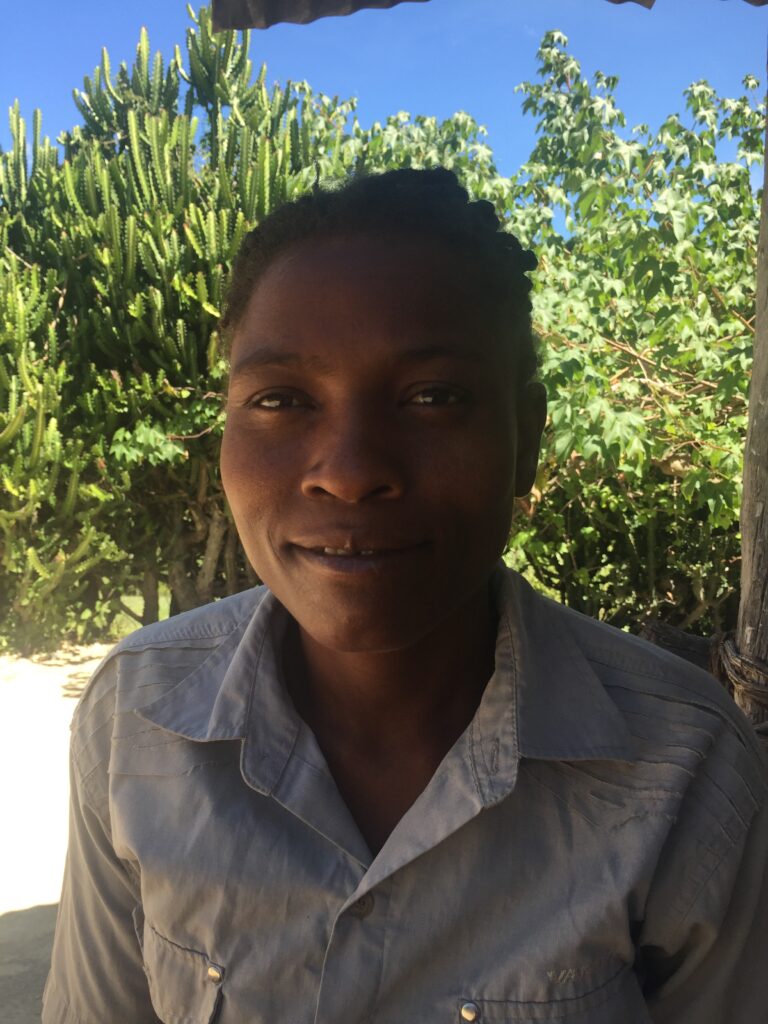 Jeanna also asked the program for two goats and a pig, and she too decided to take a sheep instead of the pig. She's happy with the decision, though a little bit nervous. Neither she nor anyone in her family has ever raised sheep, so she feels as though there's stuff she doesn't know. She thinks that her sheep might be pregnant. She's had neighbors tell her that it is. But she isn't sure.
She knows her goat is pregnant. It was pregnant when she received it. But she's almost six months into the program, and she's only received one. She knows she is supposed to get two, and she doesn't know when she'll get the other one.
Distribution of assets is running behind. Protests and gas shortages have made getting transportation to make large livestock purchases difficult in the last months. In addition, protests in Pòtoprens, almost halfway across the country from Gwomòn, interfere with any of the activities in Gwomòn that depend on cash. Fonkoze's accountants are in Pòtoprens, and if they cannot get to the office, they can't transfer cash into the accounts that field staff can access. But the needed transfers have now been made, and the team expects to finish purchasing and distributing livestock and other assets soon.
Jeanna is excited about installing a latrine in her yard and repairing the home she shares with her husband, Nelso, and their kids. She and Nelso have been working hard to assemble the lumber they'll need early, so the house can go up quickly. Like Clotude, she wonders when she'll finally receive the sòl payment that she is due, though she isn't entirely sure how she will spend it.
Itana hasn't been feeling well. She's been sore, she hasn't slept well, and she's had little appetite. Nurse Lavila, the CLM nurse in Gwomòn saw her recently and gave her some pills, which helped. But she isn't sure what they are. Itana did said that Lavila had been coming to see her every month, and Lavila explained that Itana is on her list of members with high blood pressure. She went by to check Itana's pressure and to give Itana her medication. She also gave her some ibuprofen. She doesn't think Itana's issues require anything more serious, but she'll keep an eye on her.
Like Clotude and Jeanna, Itana asked for two goats and a sheep after initially requesting a pig. "A pig is like a child. You can't wake up in the morning without giving it something. I don't want a pig I'm responsible for to go hungry." Unlike the other women, she has received all her livestock.
But she's finding the sheep puzzling. She hasn't raised them before, and she's trying to make sure she mates hers if it's in heat. "I've taken it to the ram two or three times already, but I'm trying to figure out whether it needs to go again. I'll probably just go again this afternoon."
She also is waiting to receive her sòl payment. She had planned to invest it in small commerce, but she changed her mind. "People just won't pay you." She's decided instead to use the money to help buy the lumber she'll need to build a new house. She adds that the other women have wood that they can use, but that she will have to buy all that she needs.
She wants to build one as big as she can with the 22 sheets of roofing that the CLM program will provide. When I explain that she could make things easier on herself by building a smaller house, she explains her reasoning. "If people come to see me, I want to have a place to put them." With so many of her children living away from home, her hope as she says this is clear. She adds that once she has finished her house, she'll look to establish a small commerce.