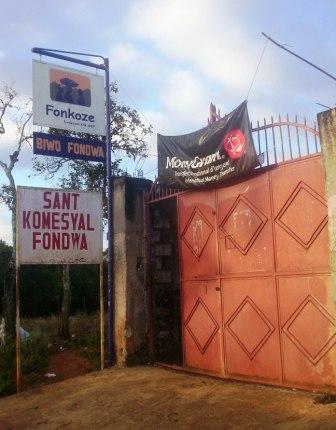 It's a little bit misleading to say that Fonkoze runs literacy programs for its clients. You get much closer to the truth by saying that it offers a range of educational programs that complement its banking services.
To be even more precise: Fonkoze is in the business of helping its credit clients organize themselves into permanent solidarity groups that have live-long learning at their core. One of learning modules that Fonkoze offers is basic literacy, but it also offers modules that develop business skills and awareness of health issues. Modules focusing on human rights and on environmental protection are forthcoming.
I spent much of the first part of the week in Fondwa, a rural area in the mountains between Léogane and Jacmel. It was my first chance to participate in a workshop to prepare teachers for the business skills module.
Fonkoze runs its educational programs as cheaply as it can. So, for example, it doesn't pay to rent space for workshops or, for that matter, space for credit centers or study groups to meet in. Rony, the Fonkoze field educator responsible for organizing the workshop borrowed a front porch for a week.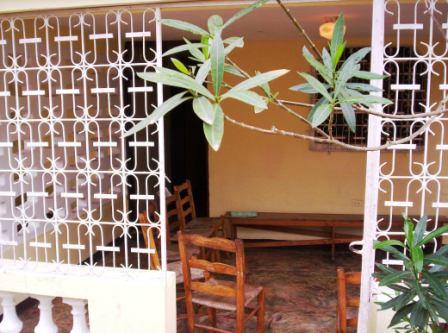 It was cramped, but perfectly serviceable. Here is Rony getting his notes together early Monday morning. He started with Fonkoze as a credit client in the mid-'90s. He then jumped at the chance to teach basic literacy when Fonkoze offered it in his area. Eventually, he was hired to train other teachers and to support and supervize their work.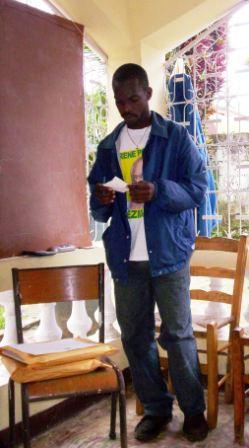 The principle that guides both the workshops and the modules is that education should always begin with what learners know. This is always true, but may be especially important when the learners are adults. Rony started the week, therefore, by asking participants to meet in small groups to discuss there own understandings of business. They were asked what a business is, what businesses are for, and what sorts of businesses there are. Here one group is hard at work. The teachers-to-be in this group are talking with Nelson Cyprien. He's Fonkoze's administrator for education. His previous experience at Fonkoze was strictly administrative, so he was excited to have the chance to finally see something of what the work in the field is like.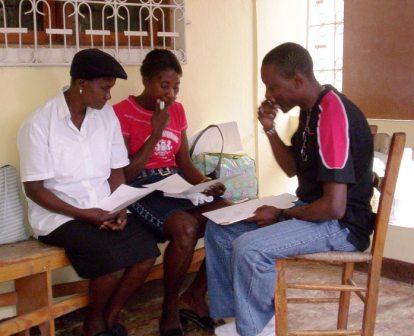 Here, one of the small groups reports its answers to the group as a whole.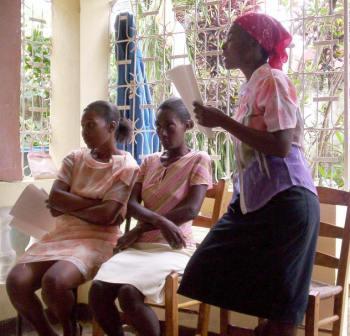 Such reports are important for at least three reasons. First, they are a chance to exchange thoughts. Second, they provide some participants with the chance to speak in front of others. Third, they give each group the sense that it is not speaking in a vacuum, that there is an audience that will listen to what it has to say.
There are times during the workshop when Rony simply had to explain something. He's good at the blackboard: clear, yet soft-spoken.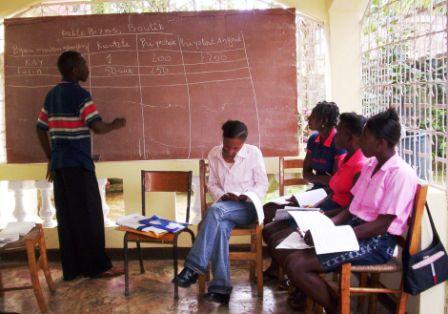 The participants listened attentively.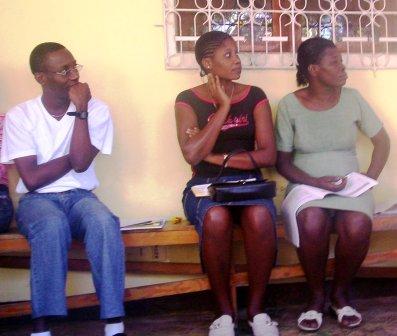 And they were comfortable, even animated, in asking their questions and making their points.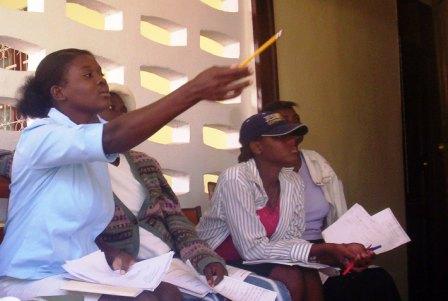 There is a real emphasis on teamwork, however. So after Rony offered an explanation he always set participants to work in small groups to figure out problems from the book that they'd be using with their own students.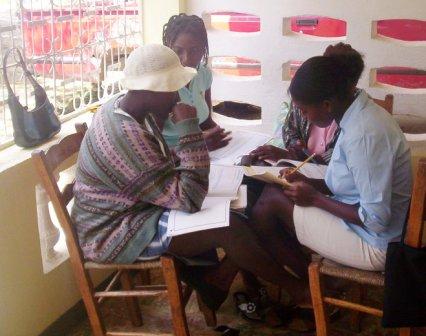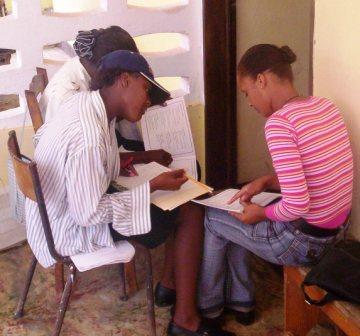 It was only Wednesday when I left the group, and participants were already eagerly volunteering to go to the blackboard to share their answers.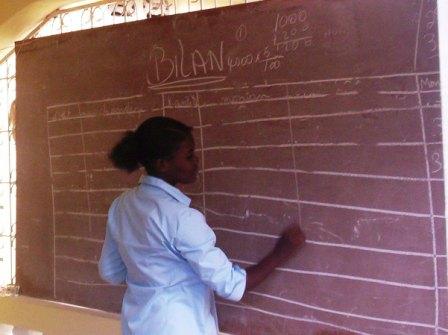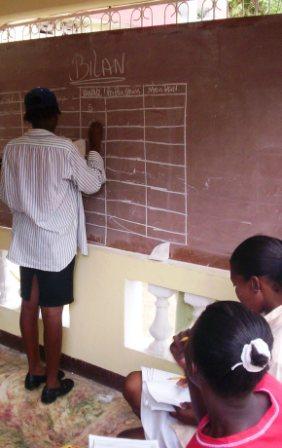 The module they will lead lasts four months, so we'll know by the end of June how effective they were at working with their fellow credit center members. But the eagerness they showed in these first days of their preparation speaks well for their future as teachers.