One of the objectives that the Matènwa Community Learning Center sets for itelf is to share its vision for education with others around the island of Lagonav and elsewhere – both within Haiti and beyond. So when I called its Principal, Abner Sauveur, that the youth group I have been meeting with in Cité Soleil dream of organizing a school for the kids in their neighborhood who are unable to go to school, he was intrigued. We decided to invite the group to send two of its members for a week's fact-finding trip to the school in Maténwa.
The group chose its Coordinator and Assistant Coordinator, Salomé and Stanley. Here they are in front of the school. Stanley is on the left. They're calling the guys back in Cité Soleil to let them know that they got to Matènwa safely, after a bus ride ride to Karyès, a boat trip to Ansagalè, and then a long ride up to Matènwa on the back of a pick-up truck.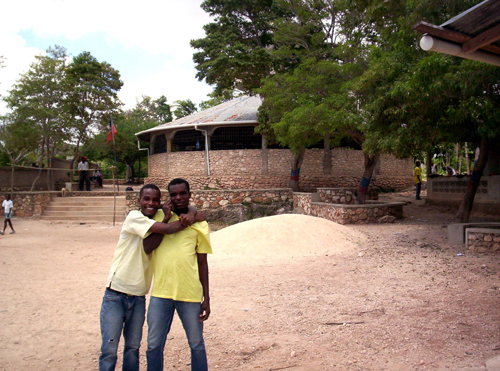 The most important teacher for them to watch was Robert because he's the school's excellent first-grade teacher and first-grade is the one class the guys would certainly need to be offering.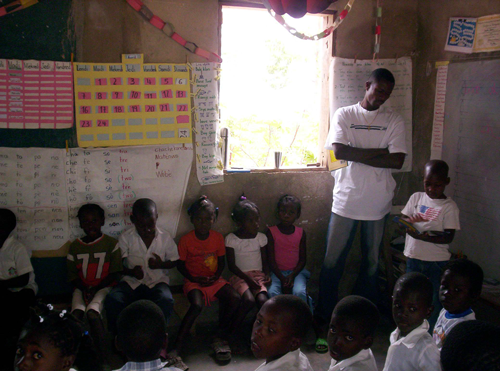 But they didn't think it made sense for them to spend the whole week in his class. They watched him closely as he worked with his kds to develop their basic reading and math skills, but they wanted to watch other teachers, too. They spent a good deal of time in second-grade as well. They were especially struck by the way Millienne, the second-grade teacher, gets her kids working independently as she provides individual attention to students who need it.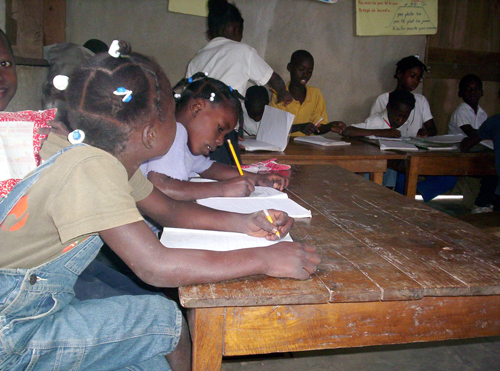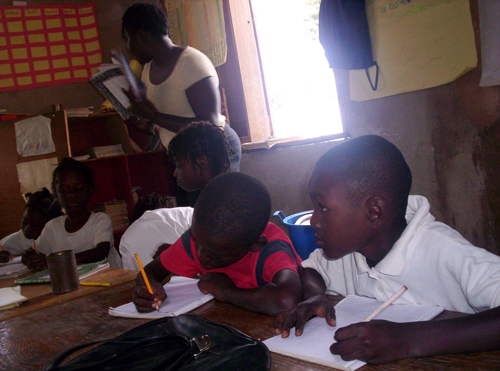 They were also struck by the school's overall ambience. It's very informal, especially by Haitian standards. The fact that mothers can bring toddlers to school and let them wander around means that they can pursue their own educations. This is my godson, Ricky. His mother, Lisyan, is an adult woman who chose to go back to school a couple of years ago after having learned to read in a school-sponsored literacy program. She's now in the fourth grade.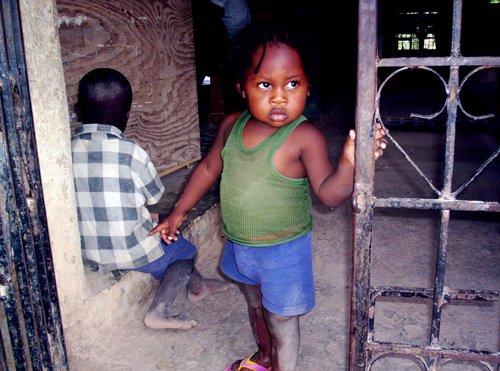 Going to Matènwa meant more than just visiting the school. There were morning visits to have coffee with Anita, Abner's 80-something-year-old mother-in-law. She makes coffee for me whenever I visit Matènwa, in such lavish quantities that the whole faculty drinks with me. She seemed pleased to have two young men sitting around her fire for her to pay attention to.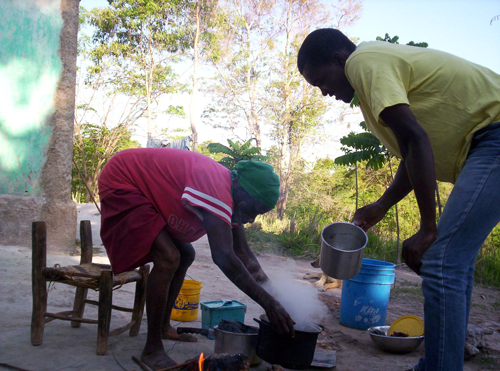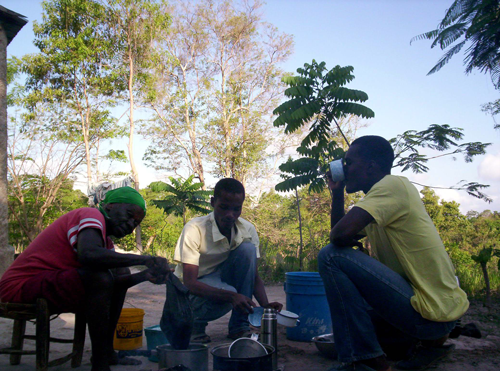 One of the school's emphases is gardening. It keeps its own large vegetable garden, which enables it to offer students and staff three meals each week. One of the days we were there, the guys took their meal with Vana's third-grade class.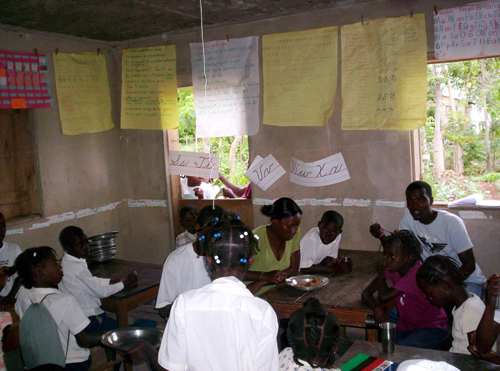 But they also spent an afternoon with the school's gardening assistant, Elijen, in his own large garden. This was a new experience for the guys, who have grown up in a very urban slum.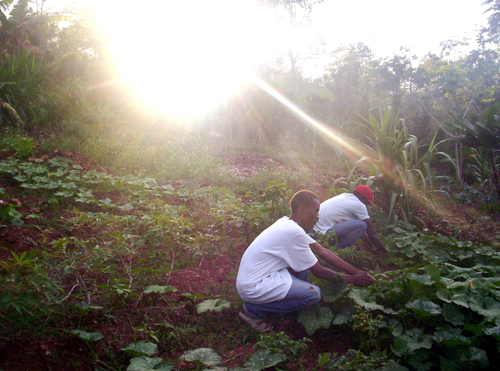 They were so struck by Elijen's work, both at school and at home, that they left thinking about how much they could accomplish by clearing a couple of the garbage-strewn abandoned lots near them and planting vegetables there.
They got to see some of the island's fauna. This photo of a giant centipede was taken in the house the three of us stayed in. It was over a foot long and had a diameter of nearly an inch.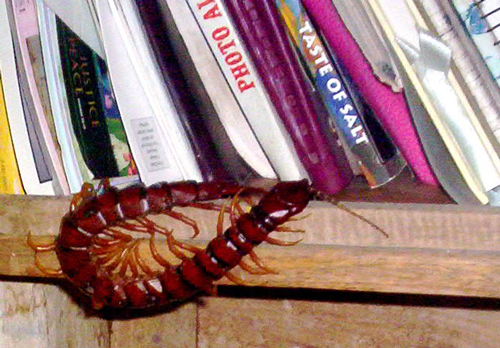 The guys also see some of the school's outreach work on Lagonav. Abner and Millienne have been providing training in the use of Wonn Refleksyon for the Lagonav office of Concern, a large international NGO, even as Frémy and I have worked with their offices in Pètyonvil and Sodo. The guys participated in the week's session in Ansagalè.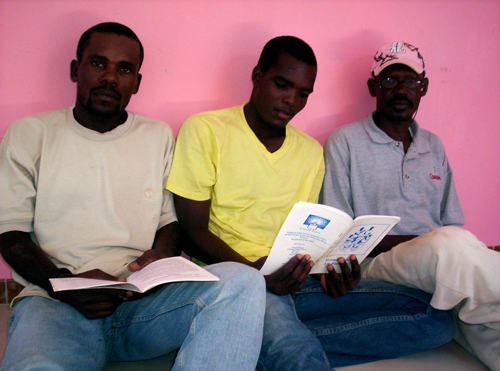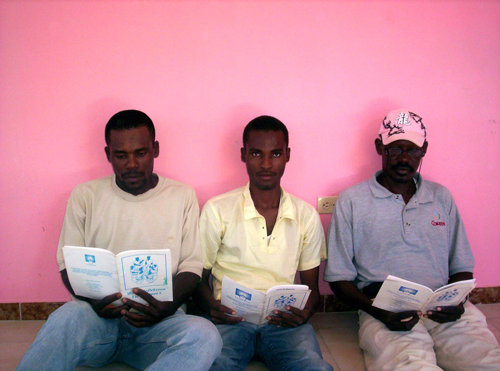 After the session, they had some time to sit and talk with Abner.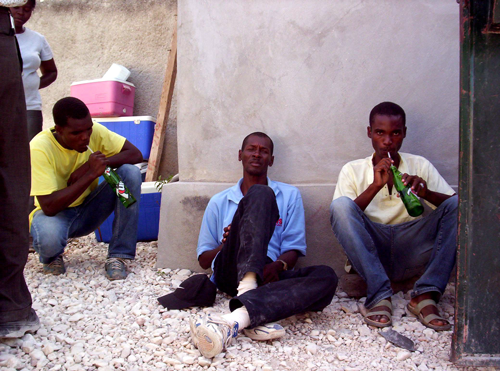 It was a great week for the guys, and they hope that the school will continue to help them as they work to get their school started.
The school, for its part, seems anxious to help. Abner already made a return visit to Cité Soleil to speak with the rest of the youth group.
Here the guys are at the end of the week with the whole primary-school faculty. I took the photo at the end of the final discussion we had at the school. The teachers had lots of questions about Cité Soleil. It's a place they are accustomed to be frightened of. Its reputation for gang violence and other crime is strong throughout Haiti.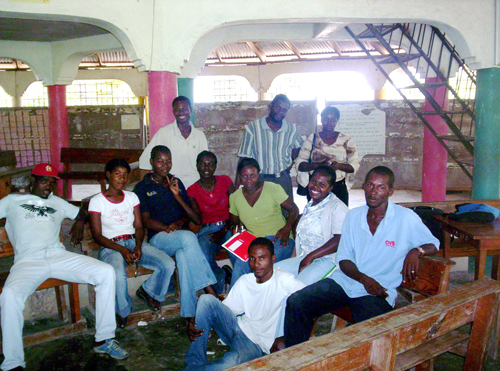 If nothing else, the visit left the guys with lots to think about.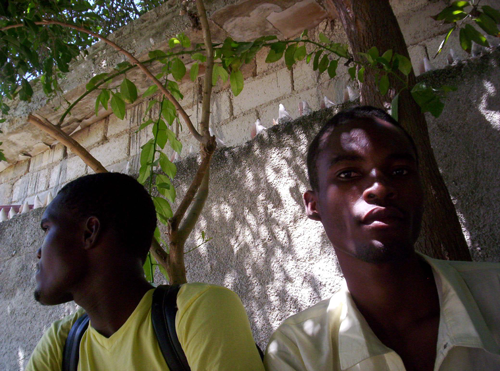 Note: Many of the pictures in this report were taken by Salomé and Stanley.