One of Fonkoze's most successful branches is the one in Lavale, a rural town outside of the city of Jakmèl. To say that the branch is "in Lavale" is true, but it doesn't tell the real story. The branch serves credit customers throughout a large region in southern Haiti. Credit agents on motorcycles ride over two hours to get to centers as far away as Bainet and Côte de Fer.
These photos are from a recent visit to a credit center in the hills outside of Bainet, in a very small community called Montoban.
The trip to Montoban, through the mountains around Lavale and Bainet, was beautiful.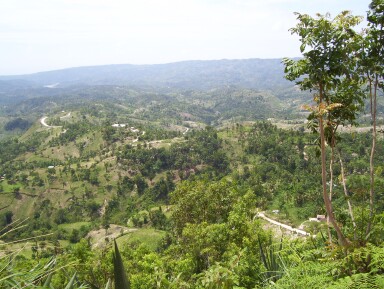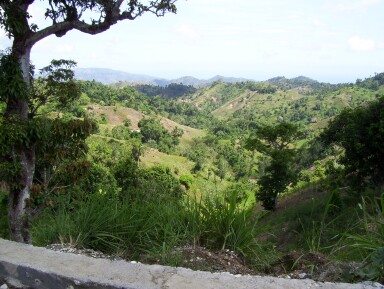 Here is the center. It meets inside a church/schoolhouse. There are roughly 85 members, each of them a businesswoman who supports her family with the enterprise her Fonkoze loans enable her to build.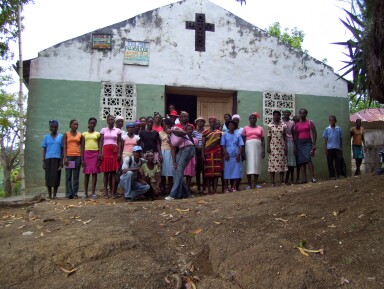 Like all Fonkoze credit centers, the one in Montoban is led by a center chief, a woman elected by her fellow members to help Fonkoze's staff coordinate center activities. My visit was not part of a scheduled meeting, and the message that we were coming was never delivered. But she heard our motorcycles and rushed down to meet us. Within five minutes, she had procured a megaphone, and was calling her women to meet. Within 15 minutes 25 women were there. By the time we left a 45 minutes later, there were over 40 women present and others were still arriving.
Here's the Montoban center chief, flanked by the Fonkoze staff members who serve her center: her credit agent and her education coordinator. She was pretty remarkable.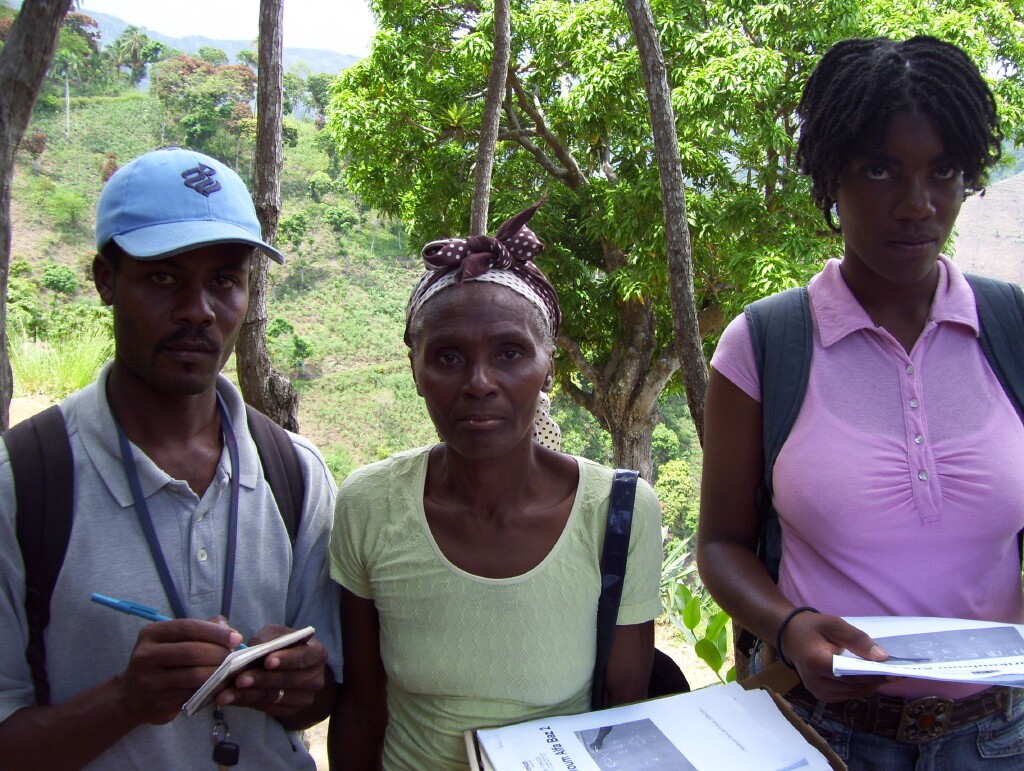 I spoke with the women about the educational programs they're receiving right now from Fonkoze. Here's a photo of their most recent literacy lesson up on the blackboard.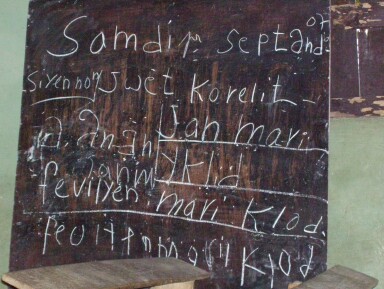 I did some interviews with participants. I spoke to Madlèn, for example.
Here's my write-up of what she had to say:
My name is Madlèn. I'm from Montoban, a rural area outside of Bainet. Bainet is a city on Haiti's southern coast.
I am a businesswoman. That's not to say that I have a shop or a store that sits in one place. My business moves. I go to Bainet to buy beans, rice, sugar, cooking oil, and the other things I sell from wholesalers. Then I bring my merchandise to the different rural markets in the area where I live.
I've always needed credit to make my business work, but it used to be that I borrowed from local moneylenders. They would charge 20%, 50%, or even more every month. But a couple of years ago a friend told me about Fonkoze. I joined right away, almost two years ago, and am now on my third loan. It's for 5000 gourds [$143 U.S.]. I'm really seeing a difference in my profits since I joined Fonkoze.
When the woman we elected as chief of our credit center said there would be literacy classes, I was very excited. I never learned to read and write. I really hated having to just make a cross and leave a thumbprint when they ask me to sign my name.
So I joined the literacy class. We finished one session and are now in the middle of a second. I was so pleased when I took my last loan and signed my own name on the contract.
My children are happy to see me go to school. They're proud that their mother is learning, and they want to help. But I like doing my homework myself. Learning to read and write is something I'm doing for myself.
I hope that I can continue learning in our credit center. I think it will help me make my business grow. Thank you Fonkoze.
Here's her signature:

It is not easy for Fonkoze staff to get everywhere they serve, and Montoban was a rough ride. Here's a short video that can give you some idea. The ride was about two hours, over mountains, across rivers, and through other difficult terrain. I'm on the back motorcycle with the credit agent. He's shouting advice to the literacy coordinator, Manise, who's on the front motorcycle. She's just now learning to ride.