Byeneme is a small community in Sodo, one of the communes along the southern border of Haiti's Central Plateau. It sits near the ridge that divides the commune from the plain that encompasses Pòtoprens, and offers a panoramic view of the valley to the north, which includes downtown Sodo and downtown Mibalè, too. The road into Byeneme does not pass through Sodo. The only direct route to the downtown area is a footpath straight down the hill. The road in runs, instead, along the ridge from National Route 3, in Fon Cheval.
The CLM program launched in Byenmeme in 2011, as part of its initial scale-up. The single case manager assigned to the area worked there one day a week with about a dozen families. It was a separate little population of members, disconnected geographically from the rest of their cohort. They graduated as part of a group of 300 families in downtown Sodo in March 2012.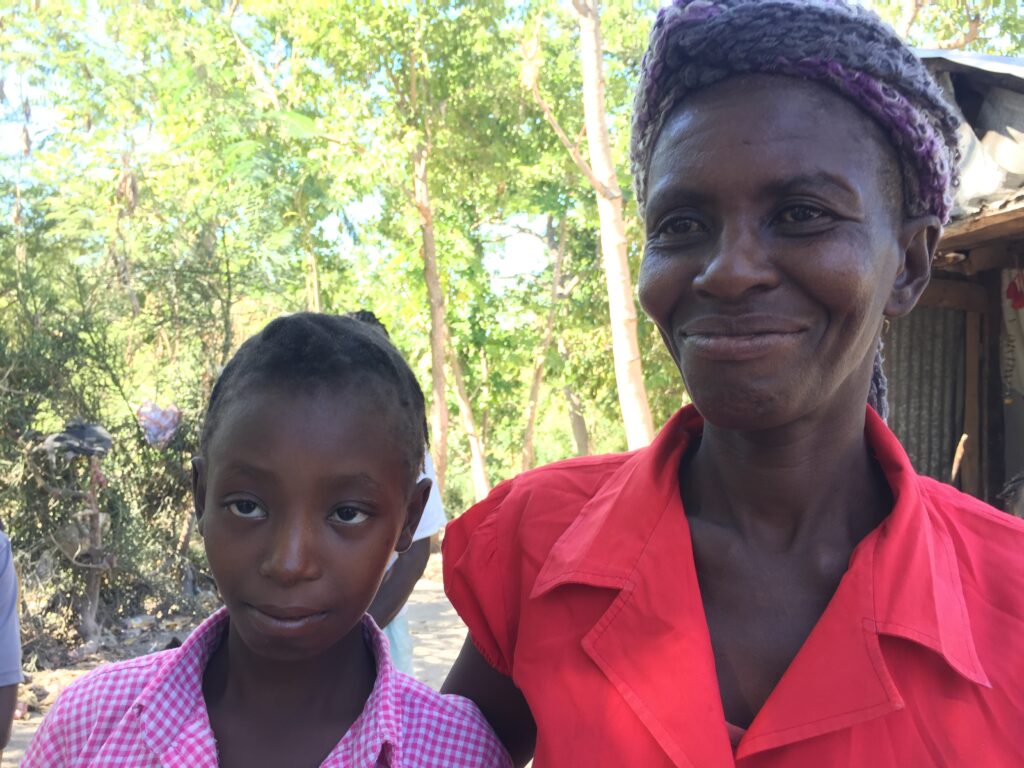 Joisimène Bernard was a member of the cohort. At the time, she, her husband, and their children were really struggling. She wasn't able to send the kids to school consistently, and the family lived in a shack covered only with a tarp.
The couple was excited to be able to build a new house. They received roofing tin, cement, and money to hire a builder from Fonkoze, but they wanted a larger house, so her husband went off to Delma, the populous residential suburb just north of Pòtoprens, and found whatever odd jobs he could so that they could double the amount of roofing tin they had to work with and, so, build an additional room.
Joisimène received goats and small commerce from the program. The goats never really prospered, but her commerce took off. She would buy produce — anything in season — at three different local markets: Dalon, Ti Sekèy, and Labasti. She kept 2000 gourds or so in the business. Then she'd haul her merchandise for sale in the large, residential areas near the capital. It was a reliable business, and it allowed her to grow. She saved some of her profit in her Fonkoze savings account until she had enough to buy a small cow. The cow grew and eventually had a calf. Then it got sick and died, leaving her with a healthy heifer. She's hoping that, with patient care, it will eventually take its mother's place and provide her calves.
The commerce was working well until the political troubles that developed in Haiti over the past year made it difficult. Prices for the kind of merchandise she would buy increased more quickly than her capital did, and at the same time transportation strikes and blockages increased the cost and the difficulty of getting merchandise to Pòtoprens.
So she gave it up. She saw that she needed to keep working, however, so she came up with another plan. With as little as 500 gourds — less than $5 — she can go down to Mibalè and buy bread, which sells well in her community. She can sell it for 1200 to 1300 gourds. So it's profitable, even when she pays 250 for transportation. She doesn't make a lot of money, but it's enough to send her kids to school and keep them fed. "Children are different from adults. If they get nothing to eat, they complain."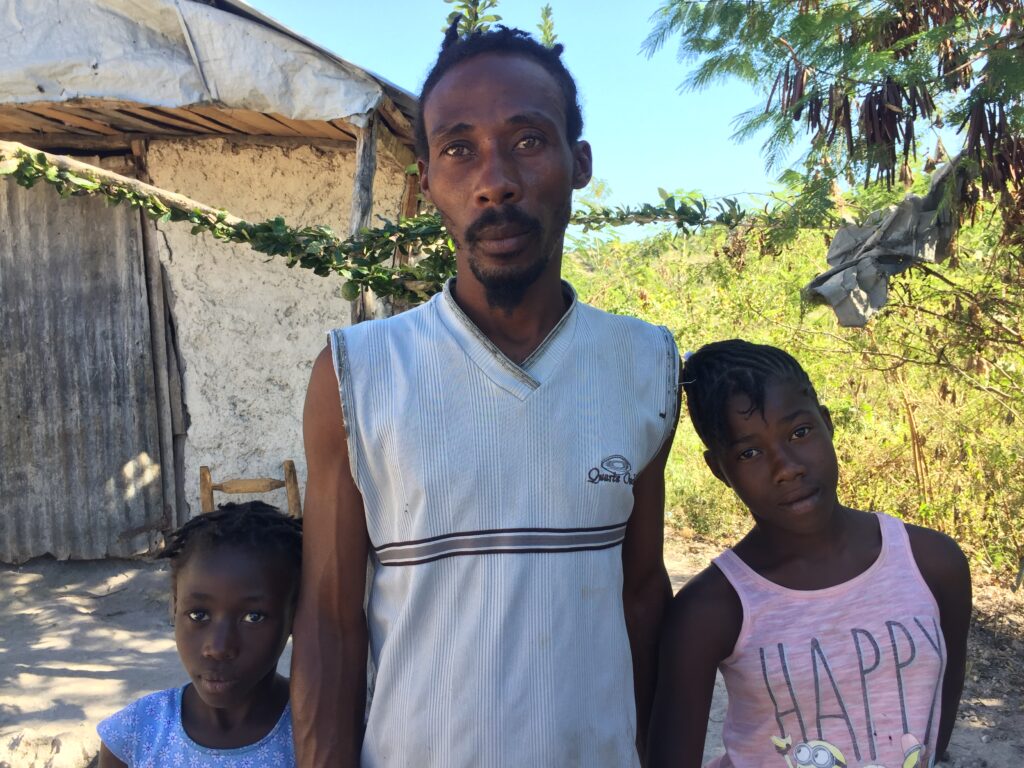 Wideline Pierre and her husband, Louinèl Maxi, were part of the cohort as well. They, too, chose goats and small commerce, but Wideline's business was less successful than Joisimène's. She sold basic groceries in Byeneme. Things like rice, oil, seasoning, etc. But such businesses are extremely hard to sustain. Neighbors buy on credit, and they don't always pay. Eventually Wideline gave up. The capital she had left wasn't enough to continue.
But in a sense, it wasn't important to the couple. They have a strong partnership, and were used to depending more on what Louinèl could bring in. He would travel from Byeneme to Delma every Sunday afternoon and work there until Saturday, when he'd return home with his earnings. He would do construction jobs when he could find them, but he was never very particular. When he couldn't find a job, he would hang out at the stations where riders get on and off the pick-up trucks that provide most of Pòtoprens's public transportation, and hire himself out as a porter.
But in the last couple of years, things have gotten harder. Louinèl hasn't been well. He's had stomach problems that he hasn't been able to shake. He can't eat much of anything. His family makes him a watery soup out of stale bread and greens. For someone in his line of work, nothing is more important than physical strength, and he hasn't been able to keep his strength up.
So Louinèl and Wideline had to change the way they do things. Wideline and the youngest of their six children moved to Pòtoprens to live principally with the child's godmother. Wideline found work as a maid. She gets paid at the end of every month, and come up to Byeneme for a couple of days at home.
The new way of life works for the couple in a sense. Their children are healthy and well-fed, and they attend school, things the were a struggle before Wideline joined CLM. But their life isn't what they'd like it to be. Louinèl explains, "You're never really doing well when you're working for someone else."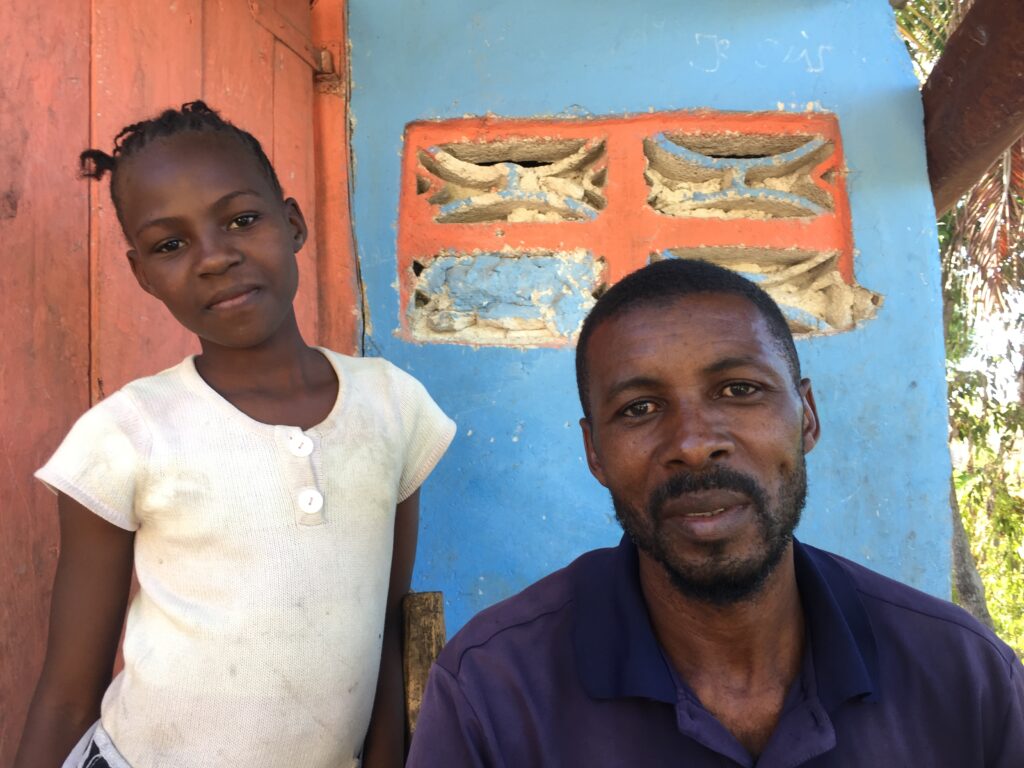 Like Wideline, Marie Lourde Ciléus is hard to find in Byeneme. Her husband, Beauvilus, is more stable there. But her story is quite different from Wideline's. Marie Lourde is a merchant.
Every Monday, she travels north from Byeneme to a large rural market in Difayi. Farmers come to Difayi from all across the mountains of northern Boukankare, and Marie Lourde buys their produce. Then she hauls whatever she's purchased south for sale in the large produce market at Kwabosal, below Pòtoprens. She spends a night at home on the way.
It's a hard life, but life was harder before she joined the program. Beauvilus reports that their children would get sent home from school because the couple couldn't pay school fees. They had a hard time even feeding them, and the children sometimes missed school because there was nothing to eat at home. "We wouldn't even bother to light the fire," he explains.
Even now, life has its ups and down. Their sixth child had to be delivered by Caesarean section, and the expense ate up all the money Marie Lourde had in her business.
Beauvilus himself had always been a farmer. "When I was young, my parents didn't think it was important for me to learn a trade." But farming in Byeneme has been increasingly difficult. Water is scarce in the area, and millet, which had long been the most important staple in the region, was eliminated by the same disease that eliminated it throughout Haiti. Beauvilus now plants a little corn, and a few pigeon peas, but it's not a living.
Marie Lourdes success as a business women, however, comes with advantages. When she was ready to go back to work after having their child, she talked to a merchant she travels with. The women who run such businesses in Haiti are called "Madan Sara." It's a name they share with a highly social species of bird known especially for making a lot of noise as they chatter with one another.
Marie Lourdes and the other Madan Sara talked, and the woman agreed to lend her the money she would need to return to business. Some weeks it's 5000 gourds, sometimes it's 10,000. It depends on what the other woman has available. But for the other woman, it's worth it to be traveling in business with a trusted friend. It has meant that Marie Lourdes, Beauvilus, and their kids can get by as Marie Lourdes rebuilds her own capital.