Emilienne joined the CLM program almost a year and a half ago, and is preparing to graduate in December. She is originally from Zilia, a very rural area tucked in close to downtown Mirebalais, but she spent much of her life in Port au Prince, raising her children together with her husband in Cité Soleil, one of the city's most notorious slums. "There were so many people there, I could always sell something. I'd just set up my business outside my front door."
But crime in Cité Soleil was rising. And then disaster struck. While Emilienne was pregnant with her last child, her husband died. So despite her ability to earn a living in Port au Prince, she decided to move back to Mirebalais. Her oldest children were already off on their own, and she found family members willing to take two of her younger children in. So she moved into a small room in a cousin's house in downtown Mirebalais. She was pregnant, but alone, supporting herself making and selling tablèt, a handmade praline-like candy.
One night, she woke up alone in her room, and knew that her time had come. She had her baby without waking up anyone. "I had my boy, washed him off myself, and cut his umbilical cord. Then I got up, went out, closed the door behind me, and started to make my candy. The next morning, my cousin heard a baby crying in my room, and asked me whether I had had my child."
By the time she joined CLM, she had moved back out to Zilia, with her young boy, Kendy. She was living in a straw shack, on a cousin's land. She supported the two of them by buying a couple of twelve packs of crackers on credit every day, and selling them at the Mirebalais – Port au Prince bus station. She'd pay for the crackers at the end of the day.
She chose goats and small commerce, and got to work. She started working to develop her small commerce while Kendy helped by watching her goats. And they began to flourish. Her goats grew and eventually had kids. But Zilia is a difficult neighborhood. Though it is sparsely populated and even a little remote, it is also very close to downtown Mirebalais. And so it's more subject to crime than more distant areas. She and Kendy lost two goats to theft. Little Kendy was so heartbroken that she was too busy comforting him to worry about the losses.
At the same time, her business started to grow. She continued to sell crackers — with her own money, now — but added other snacks, even cold drinks.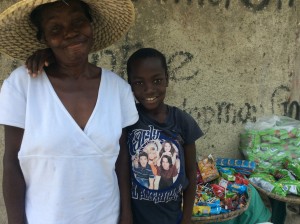 The commerce has been growing. She and Kendy set up the business each morning, before he goes to school.
But it isn't always smooth sailing. Just last week, a young man passed by and tried to steal 50 gourds by reaching his hand into her basket. Fortunately, Kendy saw him. "Kendy ran after the man and grabbed him. The man tried to deny that he had taken the money, but Kendy saw where he put it. He grabbed the guy and wouldn't let go. Kendy made so much noise, that people came up. By-standers tried to hit Kendy to drive him off, but he wouldn't give up. Eventually, the man gave the money back, but I was so mad. Who know's what could have happened to Kendy? And for just 50 gourds."
Emilienne is excited about the progress she's made. "I have a new house, I have livestock, and I have my business. I'm taking good care of Kendy." Her dream is a simple one. "Kendy's everything to me now. I just want to give him the chance to live a good life."