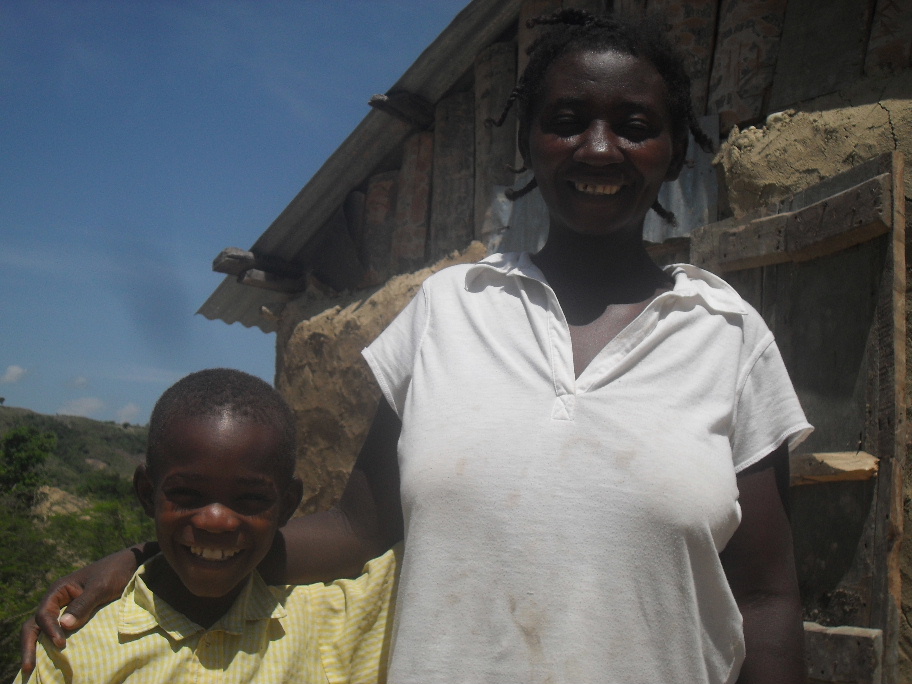 When one speaks with a CLM member who is 17 or 18 months into the program, it is common to hear glowing accounts of "what CLM has done" for them. But Jean Manie's declaration is different, and much stronger. She says, "I can never forget what CLM has done for me. It released me from slavery."
When our staff first met Jean Manie, she was living "a moun." That is to say, she was a restavèk, an unpaid domestic servant in her cousin's home in Chimowo, a rural community along the main road that runs west from central Boukankare to the important market in Feyobyen. She had been living with the cousin for years, having grown up in her aunt's house after her parents died when she was a very young girl. Life with her cousin and her cousin's husband, Moussa, was hard. She would get up every day before dawn to make breakfast for the household. Then she would go into the fields. She worked in Moussa's fields almost every day, unless she was doing the laundry or some other heavy household work.
At the time, Jean Manie was living separated from her young boy, Patrick. Moussa had put Patrick out of his house when he was a toddler, saying that he would feed Jean Manie, but not her son. So Jean Manie sent Patrick to her aunt's house, where she would visit him now and again when she "really missed him." Her first case manager, Sandra, told Jean Manie that CLM could only help her if Patrick was with her. CLM does not work with childless families. So the two of them spoke with Moussa, who was initially interested in the program, and he agreed to let Jean Manie bring Patrick back.
Moussa was enthusiastic because he thought that the program would bring resources into his own household. When he learned that we would be giving Jean Manie goats and a pig, he said they we could just put them together with his and that he would take care of them for her. When he heard that we'd help Jean Manie build a house, he said we could construct it on his land.
Things started to unravel as Moussa began to understand that CLM was a chance for Jean Manie to achieve independence. By that time, Jean Manie had a new case manager, Alancia, and Alancia made sure that Moussa understood that the assets we were giving Jean Manie were for her, not for the household. We tried to put an understandable spin on things: We explained that we thought it important that Jean Manie herself learn to take responsibility. But the message must have been too clear. Moussa wasn't ready to simply send Patrick back to the aunt's house, but he was willing and able to interfere with any progress Jean Manie might make. He would send her out into his fields to do farm work all day, forcing her to leave care of her animals to Patrick, who didn't know how to take of them and too small to do so without direction. Her goats were soon in very bad shape, her pig had piglets, but they died of neglect. The sow died shortly after her young.
Jean Manie was not, however, alone in her struggle. Nor was Alancia the only one anxious to help her. The CLM program establishes village assistance committees in all the communities we work in. They are made up of local leaders who agree to lend a hand as we try to combat the extreme poverty around their homes. We established a committee for the area just east of Feyobyen, and the representative for Chimowo was Claude, a local farmer who also teaches at the little primary school in the area.
Claude attended one of the workshops we offered to committee members, and what he heard made him think of Jean Manie. "They said that I should pay closest attention to the women who have the most problems, and I saw that Jean Manie had big problems." He began encouraging her to take better care of her animals, though he could see that she needed more than mere encouragement. He watched helplessly as the piglets and then the sow died and the goats' condition deteriorated.
Jean Manie's problems increased as she and Alancia started thinking about her house. Alancia vetoed Moussa's idea. She would not allow the house to go up on Moussa's land unless Moussa would deed a little piece of the land to Jean Manie. Ultimately, the land owner is the homeowner, so Jean Manie would have no guarantee unless her house went up on her own land. As Alancia started helping Jean Manie look for someplace to build, it became clear that Moussa would try hard to hold onto her. Alancia got initial agreement from their church's pastor to sign over a very small corner of the church's land to Jean Manie so that she could build. But when Moussa heard, he went to the pastor and threatened to leave the congregation if the pastor followed through with his promise. Rather than lose a relatively wealthy congregant, the pastor apologetically went back on his word.
Things took a turn for the worse one-day when Moussa and his wife sent Jean Manie to Mibalè, where they keep a home for children who are in secondary school. They sent her to do laundry for the kids. At the end of the day, they were angry because they felt that she ruined a new shirt. Not only did they refuse to give her money to pay for her transportation back to Chimowo from Mibalè, but they didn't feed her that day. What's more, they made her pay them for the allegedly ruined shirt. But Jean Manie still had nowhere to go with Patrick. She felt stuck with Moussa and his wife, the only home she knew.
The crisis came when Alancia and Jean Manie arranged for Claude to take over management of her surviving goats. Moussa was so enraged that he threatened to beat Jean Manie. The threat was real. She had been suffering physical abuse since she was a girl.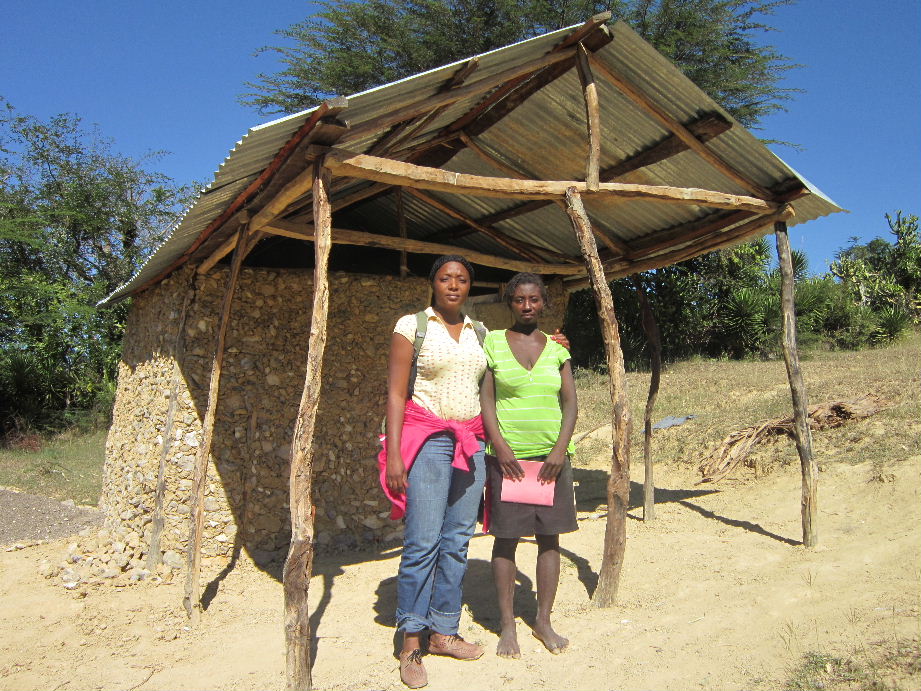 Alancia heard about the threat, and she sent Moussa a counter-threat of her own: If he laid a hand on Jean Manie, he would see what Alancia could do. The threat was vague, but its vagueness itself might have helped it. Alancia is, in any case, a strong and robust, six-foot woman who would tower over a man like Moussa. Rather than call her bluff, he decided to be done with the whole thing, and he threw Jean Manie and Patrick out.
Without a home to return to, they arranged, through Alancia, to move in with a fellow CLM member, who had just finished constructing her home. Tona had two children of her own, but she was willing to give a corner of her one-room house to Jean Manie and Patrick. Idana, another CLM member who lived closer to Moussa's house, finished her house soon after that, and Jean Manie and Patrick moved in with her instead, even though she had four children and a husband in her little home.
None of that, however, offered anything like a permanent solution, and this is where Claude's commitment really began to show. He owns several pieces of land, and decided to deed a small plot to her. It would be just enough to allow her to build a home.
Our program, however, does not simply build homes for its members. We provide roofing material and some money to pay builders, but members themselves have to supply the lumber and the rocks and dirt or palm-wood planks that are used to build up the walls. We think it's critical for member families to have to work hard for the progress they make. But Jean Manie really had no resources at all to work with. Her assets were in bad shape. They hadn't yet created any new wealth for her to invest in lumber or other materials. And she had no other land where she could find the lumber she'd need.
So Claude cut the lumber for Jean Manie on his own land, and helped her carry it to the small plot he had given her for her house. The plot itself had the dirt and rocks she would need for walls. Jean Manie had to prepare food for the workman who did the building, which was a real expense by her standards, but it was also a contribution she was capable of. She also hauled the water for the mud walls. She and Patrick moved into the house as soon as the first of the two small rooms was ready.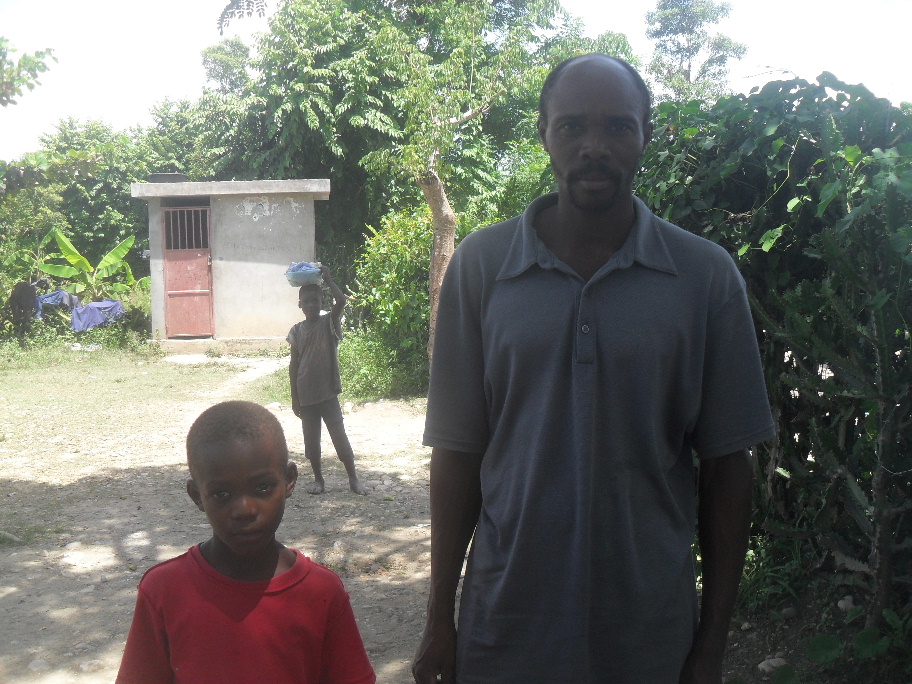 So Jean Manie escaped from Moussa, and began a new life with Patrick in her own house. Looking back, she's come to understand that she was a slave. But when she talks about what makes her maddest about all the years she spent with Moussa, she doesn't mention physical or other abuse. She doesn't mention being hungry or exploited. She talks instead about something that happened one Sunday after church. Patrick was hungry, so he dug up a sweet potato in Moussa garden and boiled it. When Moussa saw, he was furious. He told Patrick never to take anything from his garden again. Jean Manie says, "I was so angry. All the years that I've planted and harvested those gardens, and prepared all the food the family eats, and Moussa can't let my boy eat a sweet potato."
Finally in her own home, things started to look up. She even took money from the sale of meat from her sow, added savings from six months of income replacement stipends, and was able to buy a very young bull. Claude takes care of it for her.
Once the door was up on her house, she was able to start a small commerce. Initially, she sold kerosene. She would give Claude the money to buy it for her in Domon, where it's cheaper, and then she would sell it in the local market in Feyobyen. But Jean Manie felt that it wasn't selling well enough, so she decided to sell kabesik instead.
Kabesik is low-grade rice. It consists mostly of broken grains. It's imported from the Dominican Republic, where it's used mainly as feed for livestock. The Dominicans call it "cabecita," which means "little head." The Kreyòl word comes from the Spanish. In Haiti, kabesik is a staple for those families who can't afford anything else. Jean Manie buys 600 gourds worth of kabesik on Fridays, in the market in Domon. That's about six large coffee cans of it. She's able to sell five of the coffee cans for the same 600 gourds in one or two days in the market. She uses the sixth coffee can to feed herself and Patrick. Between that rice, and the various things she can scavenge, she's keeping the two of them fed — Patrick has even put on some weight — but she's not able to make the kind of progress we hope for.
There is, however, another factor. She is a young woman, and at various times over the years she's had suitors. Nothing much came of the relationships while she was living with Moussa and his family. He acted as her parent. Suitors had to go through him. He would insist that they help her work in his fields, and his demands would eventually discourage them.
Things changed when she moved into her own home. Shortly after she finished her house, a local agricultural laborer moved in with her. Things were going well for a short while. He works at a sugar mill, and would bring her logs of the dark brown sugar called "rapadou," which is popular in the Haitian countryside. She'd sell the logs, and it was a nice addition to her income.
The relationship unraveled when Jean Manie got sick and went to the hospital. The doctor told her that she had an infection and that she should refrain from sex during the couple of weeks of treatment she'd need. The man got angry, and he moved out. A couple of weeks later, he wanted to move back, but Jean Manie said she wouldn't take him. He said that he would have sex with her whether or not she was willing. Fortunately, she told Alancia, who reported him to the police before anything could happen. She also spoke to the guy, letting him know that she'd have him arrested if he carried out his threat.
Eventually, another man started showing interest in Jean Manie. This time, Jean Manie sent him to talk to Claude. She chose to have Claude play the parental role. So Claude talked to the new boyfriend about his prospects and intentions, and he liked what he heard. He's a middle-aged widower with grown children. He shows no interest in having more kids. He has his own productive farmland, so he is able to contribute to the household. He initially wanted to have Jean Manie and Patrick move in with him, but Claude insisted that Jean Manie she stay in her own home, and the guy eventually agreed. For now, the relationship seems promising. Claude seems optimistic: "It hasn't been easy, but I pulled her through. Some day, I want to hear people say, 'Look what Claude did.'"
Jean Manie will graduate in July, though her situation is still precarious. She has goats and a cow, but can't really manage them. Claude does it for her. Her income is small, just about enough for her to feed herself and her son, but it isn't yet likely to grow very much. She hasn't shown much evidence that she's a capable businesswomen. Even with the intensive work she's done with Alancia, it's only support from fellow CLM members that has enabled her to get her little business going. Her best hope right now depends on her new relationship working out.
But her life now is nothing like what it was. "The best thing is," she says, "that when you live in your own house you get up when you want and go to sleep when you want to too. With Moussa, I used to have to get up at 2:00 every morning to make breakfast for the rest of the household before I went out into the fields." The difference is even more visible in Patrick. At Moussa's, he was silent, scared. He was always looking at the ground. Now he's playful, full of cheer. He's a happy, healthy boy. He's about eight, and he finally was able to finish first grade this year. His mother dreams that he'll be able to go much farther than that. And maybe he will.