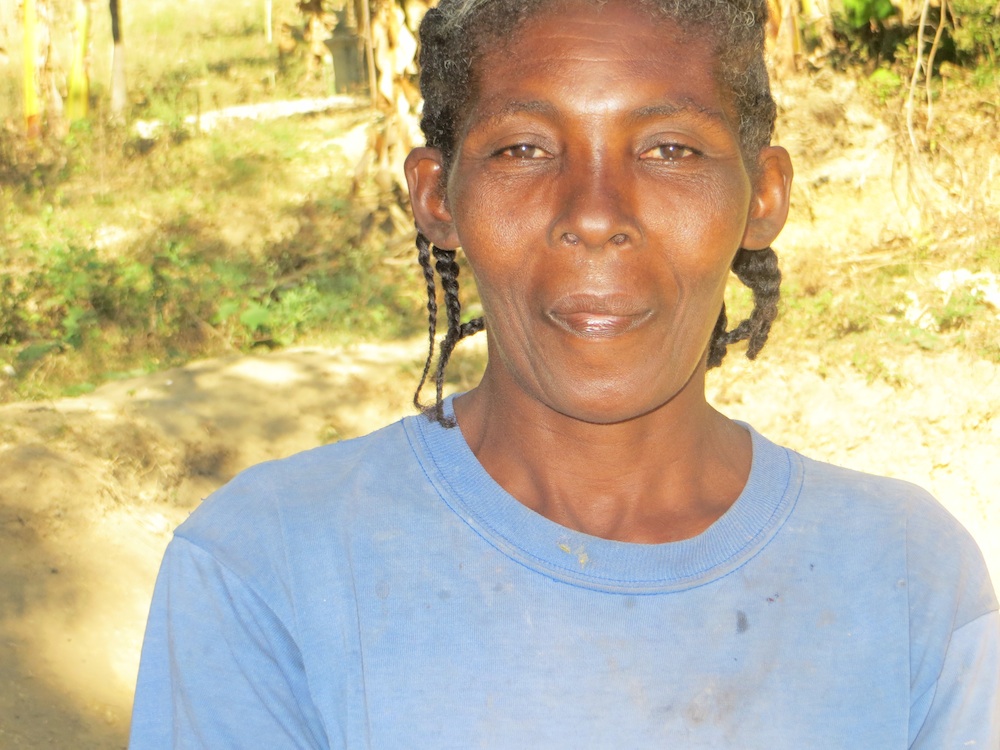 Jésumène Zidor graduated from CLM in June 2012. When she joined the program at the end of 2010, she was one of the poorest women we recruited. She was living with six children and two grandchildren in a straw shack in the upper end of Viyèt, a very poor agricultural area in north central Boucan Carré. Viyèt is all farmland, and the land is fertile, but its concentration in the hands of relatively few ensured that it would be fertile ground for CLM's selection process, too. Viyèt, and its immediate vicinity, is home to around seventy members.
We measure poverty in various ways when we are selecting families for our program. We use Fonkoze's poverty scorecard, a survey designed to evaluate poverty across a range of simple indicators. We don't just look at how much money a family has, but how they live. What kind of house and what kind of land do they have? How many children? What sources of income? What other assets? On this two-page form, Jésumène and her family scored 11.5 out of 63.5. An average score is 31.8. New CLM members sometimes score as much as 20.
Three of those eleven points came on a question about water. Upper Viyèt has a capped spring that gives Jésumène's family fairly easy access to pretty good water. It's important, but it doesn't do much to keep them fed or clothed. In the second section of the questionnaire, which investigates the family's assets, they score only one point. While the family did own two chickens, they owned no other animals. They owned no farmland, so their only sources of income were day labor, sharecropping, and making charcoal out of scavenged deadwood.
The second survey we use is a food security index, which helps us assess a family's nutritional situation. Jésumène's family scored as badly as it possibly could, indicating that they were consistently missing meals, sometimes going for days at a time by foraging, without ever lighting a fire. She had had to send three of her children to live as servants in other families because she simply couldn't feed them.
Most striking was their score on a third survey we used. It's called the PPI, or Progress out of Poverty Index. It was developed by an international team from the Grameen Foundation to allow comparison between levels of poverty in different countries. On this ten-question form, Jésumène's score was zero.
Jésumène described the situation straightforwardly: "We didn't have food to eat. The children weren't in school."
Jésumène flourished in the program. Because she and her husband were so very poor, with so many children on their hands, they qualified for a special benefit. Thanks to a gift from Bothár, an Irish development organization, we were able to offer them a cow as one of their two types of income-generating assets.
The hardest challenge for those who receive cows is establishing a daily income. Cows take a long time to produce anything they can sell. But Jésumène managed her secondary asset — she received two goats — well, and also invested savings from her six-month stipend in poultry. In addition, she took some of that stipend and gave it to her husband to work with. He makes and sells chairs, having used his wife's initial investment to start buying the materials he would need.
Jésumène loves CLM, and her reasoning is simple: "Tout sa yo di, se sa yo fè." That means, "Everything they say they'll do, they do." She adds, "They helped us build a house. We had been getting soaked every time it rained, but now we can stay dry. We have a good house. We have livestock. We even have a latrine."
But the progress that has meant most to her is just as simple. She says, "M gen yon ti kal tè pou m chita." That means, "I have a little spot of land where I can sit down." Before joining the program, she and her family were sleeping on straw mats on the floor of a hut that didn't belong to them on land they didn't own. She was renting, having to figure out each year where to find the money to pay a landowner who didn't really want her on the land. She made a first down payment with sale of some of her goats' offspring and completed payment for the land with the sale of her cow's first calf.
When she was preparing to graduate from the program, she and her case manager considered how she could best move forward. She decided she'd start a small commerce, so they made a plan for her to join Fonkoze's Ti Kredi after graduation. She would use the loan to start her commerce.
Ti Kredi is a six-month introduction to microcredit. Members take out three loans, the first for one month, the second for two months, and the third for three. The loan values increase as well, starting from 1000 gourds, or about $25 and growing to 2500. After graduating from Ti Kredi, members typically go on to standard solidarity group credit, where loans start at 3000 gourds and can grow to more than ten times that.
When Jésumène took out her first loan, she bought bread and sugar and sold them mainly from her home. But when she took out her second loan, she started to discover that simply adding to the amount of sugar and bread she would buy didn't increase her profits because it didn't increase her sale.
So she continued to sell bread and sugar, but put some of the capital aside. She went into the hills behind the area where she lived, and bought a sack or two of charcoal. She then carried the sacks down to the market downhill from Viyèt, where she sold them at a profit. She would only make about 50 gourds of profit on a sack. That's about $1.25. But by turning the money over quickly, a couple of times each week, she was able to make a useful addition to her income. She took out her third loan, the one for 2500 gourds, and with her two businesses working well, she is paying it back easily.
But she is already thinking about her next step, and plans to change her business again. "I don't have a horse yet, so I can't carry enough charcoal to market to make that business grow." She plans to buy a horse with proceeds from the sale of some of her small goats, but isn't ready to just yet. Instead, she will become a voltijè. That means she'll go to the market early in the morning and buy livestock as cheaply as she can. She won't go home with it. She'll turn it over again before she leaves. If she is disciplined and astute, and is willing to hike to several different markets, she will be able to make a good profit three or for times a week. It could turn into pretty good living.
Jésumène dreams of moving forward even farther with her life. She wants to keep investing in livestock and land. She has lots of kids and would like to leave them something when the time comes. And she has good reason to hope for further success. Her willingness to think creatively, flexibly about how to build her business is a promising sign.