Elizabeth lives in Nan Jozef, a hilly area well off the main road in northern Gwomon. When she joined the program, she was not as poor as some of its poorest members. She and her husband Jean had a chicken and a goat. They farmed, and Elizabeth bought fruit in the countryside, which she sold in Pòtoprens.
The couple and the two children still with them would occasionally spend a day without a meal, but not often. And both kids were attending a local community school. Two of her older children had already set out on their own, and her oldest daughter had taken one of her younger boys to live with her in Pòdpè, the coastal city north of Gwomòn.
But things were getting worse for the family. Elizabeth was sick all the time, and the couple found themselves spending all they could on remedies. Elizabeth went to various clinics in the area. but staff could not tell her what was wrong. She also went to see traditional healers, who would keep her on treatments for months, but nothing seemed to help. The expenses really added up. As Jean says, "Elizabeth was getting to the point that she couldn't even buy herself underwear."
In the first weeks that Elizabeth spent in the program, the CLM team did medical screening for all the members of each of the 200 families that were part of her cohort. Elizabeth saw one of the Haitian doctors whom CLM hired to do initial consultations, and he warned her to get screened for cervical cancer. He thought she showed worrying symptoms. She went to get tested a first time, and the results that came back from Pòtoprens a month later were uncertain. She was tested again, and after another month the test came back positive. The cancer was clear.
Elizabeth didn't really know where she would find the help she needed or how she and Jean would pay for it, and that is where membership in CLM really helped. The CLM nurse in Gwomon made arrangements with the CLM team in Mibalè to receive Elizabeth there. Mibalè is home to a university hospital managed for the Haitian government by Zanmi Lasante, the Haitian affiliate of Partners in Health. Zanmi Lasante has worked in close partnership with Fonkoze since CLM was first established to provide healthcare to CLM families, and the hospital in Mibalè has an oncology department where Elizabeth could get care.
Like the CLM team in Gwomòn, the one in Mibalè has a nurse on staff who could help ensure that Elizabeth knows how to get through the processes she has to manage in the large and complex hospital, and when she visited Mibalè, Elizabeth could stay in the CLM office/residence there. She'dd know that she'd be among friends, and it would help the CLM ensure it was covering her expenses. Her second chemotherapy treatment is scheduled soon, and she is getting ready to travel to Mibalè for it.
Like all CLM members, Elizabeth is happy about the support she and her family are getting. She's glad to have livestock, to have a latrine, and to been on her way to having a safer and more secure home. But when she talks about the difference that CLM is making in her life, she understandably mentions medical care first.
But it is not all she mentions. She is quick to talk about how happy she is that she can now sign her name.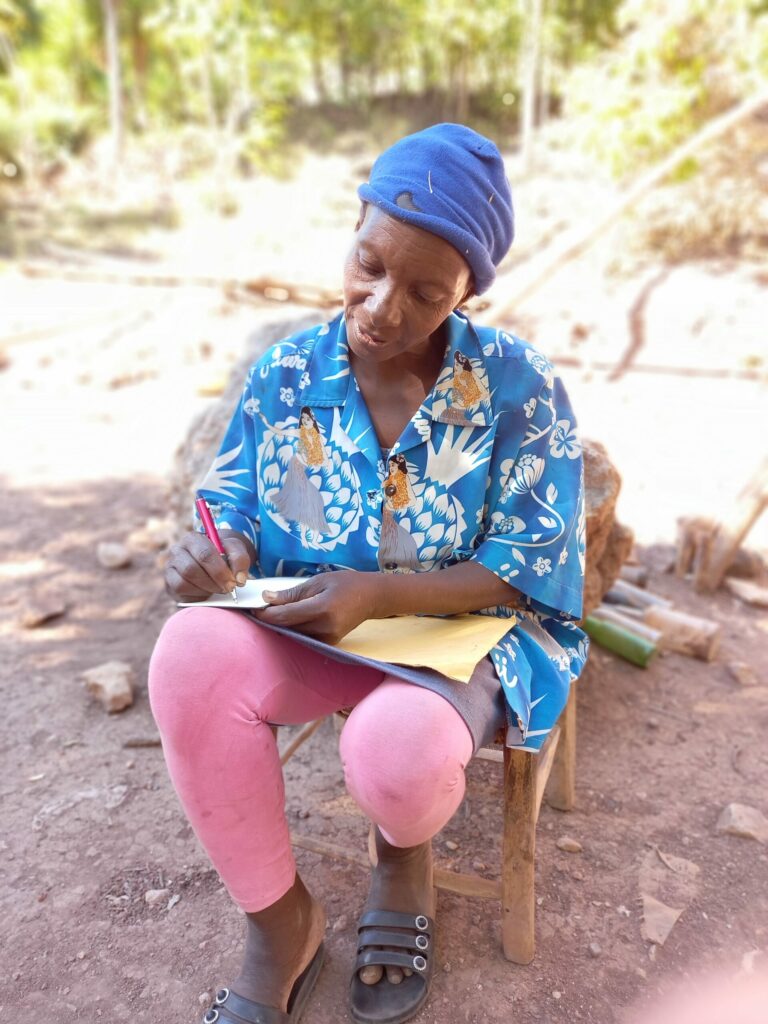 "Even at the hospital, they ask me to sign my name. And now I can. Even my last name."