Eltha lives in Beke, a hillside neighborhood south of the main road that follows the Artibonit River through Verèt Commune, in central Haiti. She lives with her three children. The children's father left her five years ago, though their youngest child is still just three. "I have to be mother and father to my kids."
When Eltha first saw the CLM team walking around her neighborhood towards the end of 2020, she didn really give it a thought. "Other people have come through asking questions. They take your information, some even ask for your ID, but nothing ever comes of it. I went along with it anyway because they didn't ask for my ID, so I had nothing to lose."
She joined the program just over a year ago. At the time, she was really struggling. She and her kids lived in a room in her mother's house. They had no place of their own. She supported her children by selling mabi, an herbal drink popular in Haiti. It was a good business for her in a sense, because it requires only a minimal investment — just a couple of dollars — which is all she had, and it earns small but reliable income. She could spend three days each week at the large markets in Ponsonde and Lestè, leaving the children with her mother and sister, and she managed to get by. "My children ate, but not the way they should have been eating."
Joining the program, she took advantage of the flexibility it now offers members as to their choice of the businesses that want us to provide. She chose to receive only goats. In the past she would have been required to choose a mix of two different businesses. By choosing just goats, she was able to get three despite the increased price of them. Those three are now eight, even though she lost one to disease.
And she has plans for them. "If you take care of them, they can lead to bigger things, like a cow or even land. I built my new house on my mother's land, but I'd like to have my own.
She and her case manager were comfortable with her taking only goats because she already had a plan for her small commerce. She was part of a sòl, a traditional Haitian savings club, with several of her fellow CLM members. When her turn came to receive the sòl's entire 1200-gourd pot, she invested it all in commerce.
But she saw that there was no point in putting all that money into mabi. It isn't a business that can absorb much investment, at least not the way she knew how to manage it. So she took her money to the market to see what she could find. She decided to invest in over-the-counter medications. She would become a traveling pill merchant. She began with a small bucket, mostly containing generic pain killers, like ibuprofen and the like, and the business has steadily grown, from her small bucket to a washtub full of products that she carries around on her head. And she's been able to make it grow it even while using it to support her family, to invest in building her new house and latrine, and buying a small pig as an additional investment.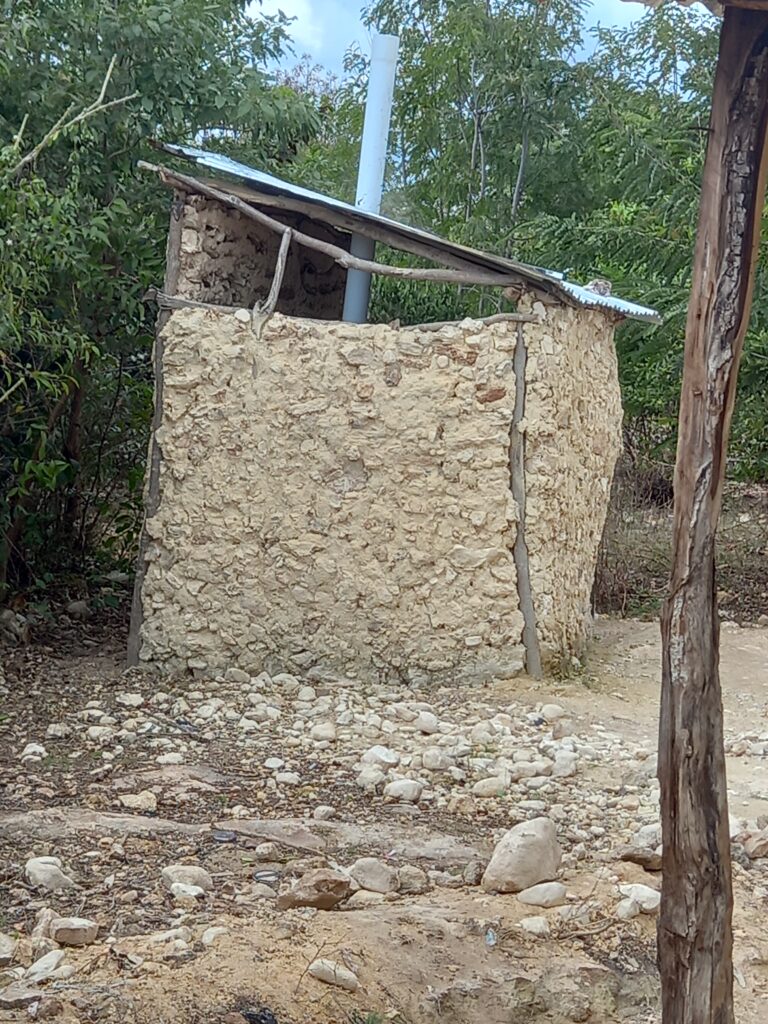 She explains her success simply, and does so in a manner that shine a light on her further ambition. "If you are down in a hole and someone extend a pole to you, you need to use the pole to pull yourself out. CLM offered me the pole, so I have to pull myself out of the hole I was in. Someday I want to be able to offer a pole to someone else in that same hole."