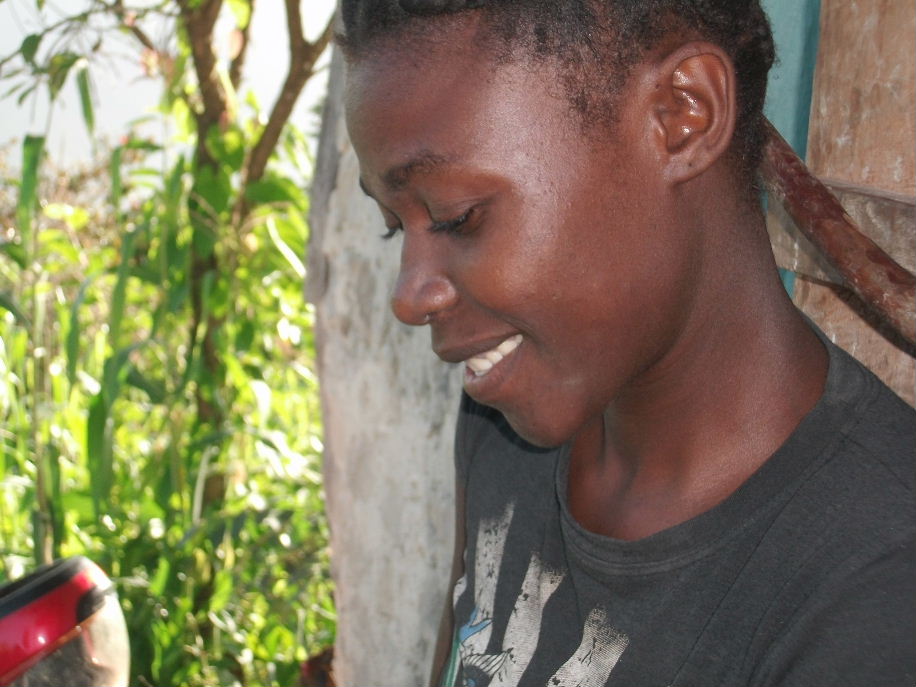 Jasmine isn't from Bwapen, the isolated corner of Opyèg where she now lives. She's from Delmas, the densely populated residential city just north of downtown Port au Prince. That's also where she met the man who is father to her two young kids. "We wanted to have children, but he wanted to have them in the countryside, so he brought me here."
They build a small shack on his uncle's land, and started a new life. Jasmine learned to farm. "They taught me how they plant beans, how they weed." She would earn a dollar or so now and again for a day of labor in her neighbors' fields. She would also wash their clothes or their dishes and get paid in food that she could share with the children. The father returned to Port au Prince to try to earn a living, initially travelling back and forth between Opyèg and the capital. Slowly Jasmine saw less and less of him, and when he would come he'd have less money for his family. By the time Jasmine joined CLM in August 2011, he had stopped coming or sending money at all. She was abandoned.
On entering the program, the first challenge that she and her case manager, Litelton, faced was to find a way for her to build a home. The uncle had been willing to let her continue to live with her children in a straw shack, but when they asked him to sign the small corner of land over to her so that she could build a more permanent shelter, he refused.
This was a significant barrier. CLM helps members build new homes. For us, it's a matter of both health and security. Without a good tin roof over their heads, families are vulnerable to heavy rains. Without a door that they can close and lock, they cannot securely store either the merchandise or the cash that their small commerce requires. But we don't build homes for CLM families. We think it's critical that they do their part. We provide roofing material and nails, and we pay builders, both the one who puts up the frame and the roof and the one who builds the walls. But members must find a piece of land and provide the necessary lumber, rocks, dirt, and water.
Every part of this was going to be hard for Jasmine. She had no land to build on, but also nowhere to cut lumber for posts and planks. And her assets were growing too slowly to help her purchase what she would need.
Litelton would have to help her figure something special out, and that's what he did. He started talking with her neighbors about Jasmine's plight, working to convince them that they should help her out. They began to feel ashamed that a stranger was living so miserably in their midst. One family stepped forward. They would sell Jasmine a small plot of land at a very much reduced price. The land they were offering was right next to the home of another CLM member, so moving to it would also help Jasmine reduce her isolation. It seemed like a good idea.
Litelton got the landowner to lower the price even more by talking to the uncle, making him feel how shameful it would be if Jasmine, mother to his niece and nephew, had to move away. This set off a bidding war between two landowners that eventually got the price down to 4000 gourds, or about $100.
Now, Litelton just had to help her come up with that money. First, he went to the carpenter who would be building the house. We would normally have paid him 1000 gourds. Litelton had already hired him to build several members' homes. He explained the situation to him, and asked him to build this one additional house for nothing, and the man agreed. Then, he talked to Jasmine and the CLM member who would be her new neighbor and got them to agree to building one latrine for both households. The 1000 gourds that would have gone to a builder for Jasmine's latrine could go towards paying for her land instead as well.
Litelton was halfway towards his goal. He and a colleague then contributed another 1000 gourds each out of their own pockets, and the land belonged to Jasmine. He got the lumber by motivating a group of neighborhood teenagers to carry planks and support posts to the construction site. Jasmine earned the money to purchase a front door herself, by working in the kitchen for three days during a CLM training session.
So she and her children have a nice, one-room house. But helping her create a steady income is proving to be a more difficult challenge. She originally chose goat rearing and pig rearing as her two enterprises. We gave her two goats, but one of them died. The other is only now pregnant. "I haven't been lucky with animals." She and Litelton agreed to postpone her purchase of a pig. She didn't have the resources to take good care of what would have been a very risky investment due to the prevalence of Teschen disease around where she lives.
But now that she had another CLM member as a neighbor with whom she could exchange childcare, Jasmine started thinking about small commerce. Opyèg is a major rural market, so it seemed like a likely choice. Litelton authorized her to withdraw about 500 gourds from her savings account, and she invested it in used clothing. Within a couple of weeks, the clothing had all been sold, but most of the money was gone as well.
Apparently, Jasmine wasn't good at bargaining. She buys too high and sells too low. The used clothing business is especially dependent on good bargaining skills because very little about the pricing is fixed. So, she and Litelton agreed that they had to make a new start. She still had 2900 gourds of savings from her six months of stipends and 2000 gourds that would have been used to buy a pig to work with. She had invested that money in beans, but had been able to harvest it at a small profit, and it was now available for a new investment.
Here's their plan. They will take one thousand gourds and buy a new commerce. They'll make a point of buying merchandise that requires little bargaining. They're thinking of rum or kerosene, whose prices tend to be fixed. They'll also use a thousand gourds to buy a very young pig. It will be risky, but could be very profitable if it works. That leaves her 2900 gourds, and they plan to use it to buy a pack animal. This will permit Jasmine to earn money both at Opyèg, but at the other very different markets in other parts of the region.
We don't know yet whether the plan will work. Our record of success suggests that Jasmine's chances are very good, but each case is a new case, and there are no guarantees. Jasmine's example illustrates clearly how important an enterprising and devoted case manager can be for the families that are most needy. Without Litelton's commitment and his smarts, Jasmine could never have come as far as she has so far.