About a month and a half ago, the literacy teachers whom Fremy and I had been working with in Fayette decided to take on an additional challenge. They each made a commitment to establishing Wonn Refleksyon groups in local primary schools. Today I visited Dorlys, who started meeting with sixth-graders in the school he teaches at in Jan-Jan just up the river from Fayette.
Here's the school: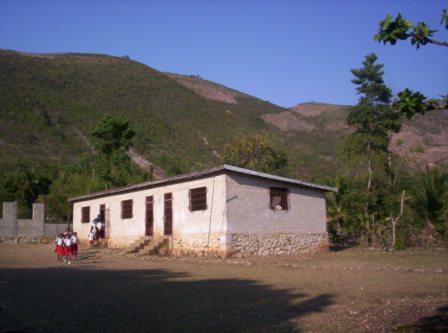 Dorlys had invited me to come visit the class, and I was very anxious to do so. The main reason was that he was not himself leading the class. His students were taking turns doing so. Today's leader was Estephanie.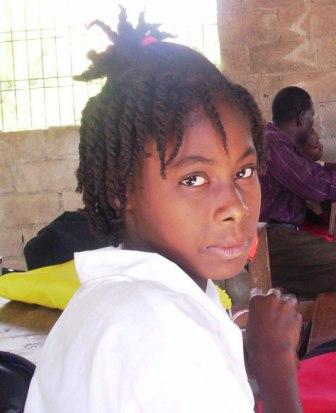 Apparently, after the very first meeting that he led, the kids said that they wanted to take over. He convinced them to let him lead the second meeting, but they've been in control ever since. When I asked them what made them want take over, they gave all sorts of reasons: from a desire to learn how to lead discussions to a desire to make Dorlys, whom they are very attached to, proud.
After reminding her classmates of the groundrules of discussions, and reading and then having them read the day's text, Estaphanie sent them to work together in groups of three or four to establish what they wanted the group to discuss.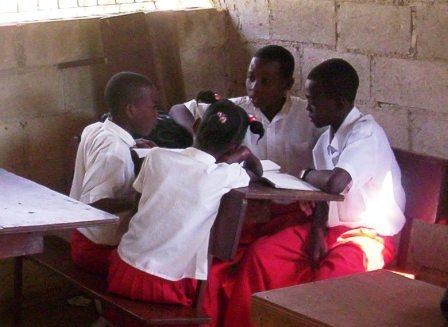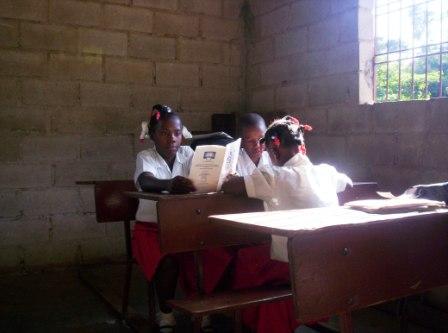 Small group work is helpful as a way both to teach those who do not listen well in a large group to listen better and to help those who are shy about speaking up to gain confidence. Estephanie did what any good leader does during the small-group phase: She circulated in the class, assuring that her classmates were clear about her expectations and that all small groups were functioning well. Here, she's working closely with one of the small groups.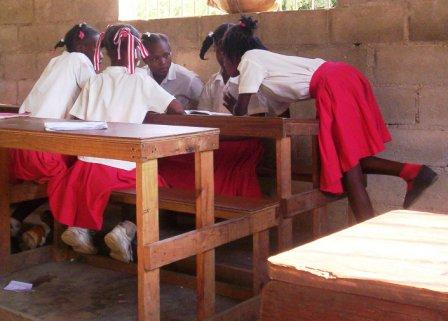 Dorlys spent the class as a participant. Here he is working with the small group he was assigned to.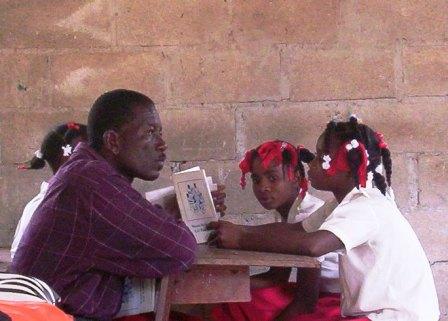 After the small group work, each group presents its thoughts to the class as a whole. These reports are important. They give the small groups the sense that they have a real responsibility, and they give the class a way to get the large-group discussion started. Here's one boy reporting.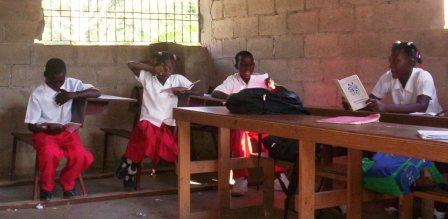 At this point, Estephanie's hardest job began. She was ready to lead the large group discussion.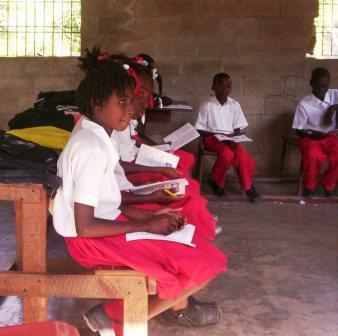 This is Dorlys. I was just stunned by the rapport that allos him to turn over control of his class this way.