The CLM members from Lawa have now been in the program for nine months. Each has made some progress since she started, but all still have major problems to overcome.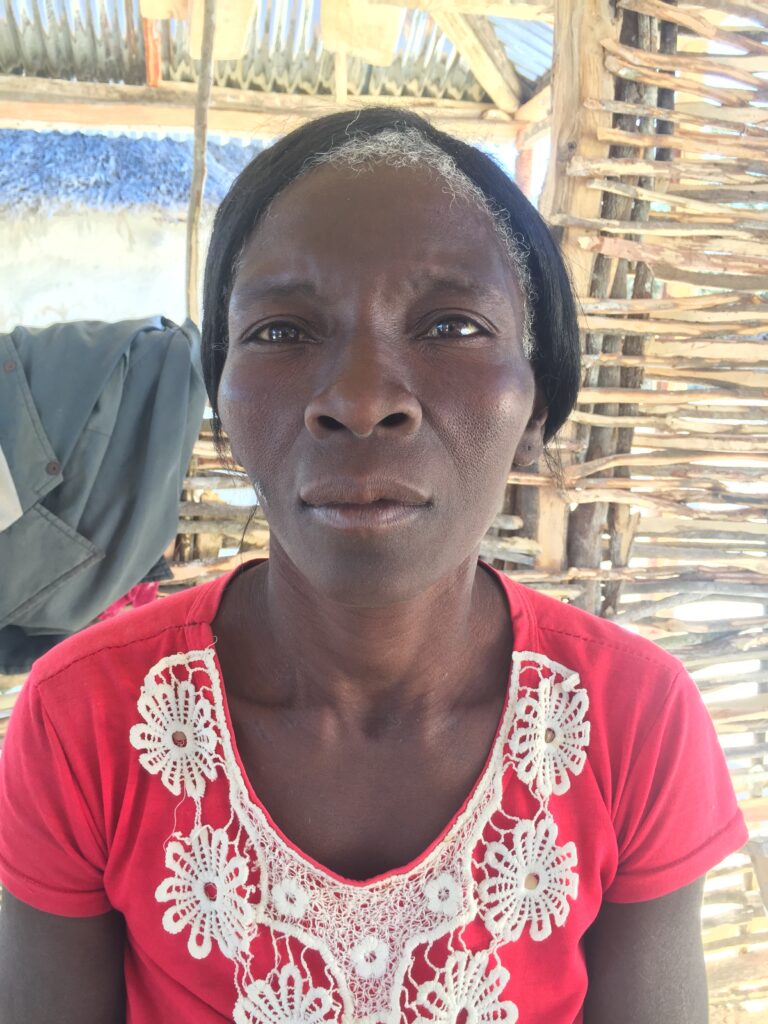 Itala and her daughter Italène, who is also a CLM member, are working hard to build their new homes. They have completed installation of their latrine already, and they are very happy about it.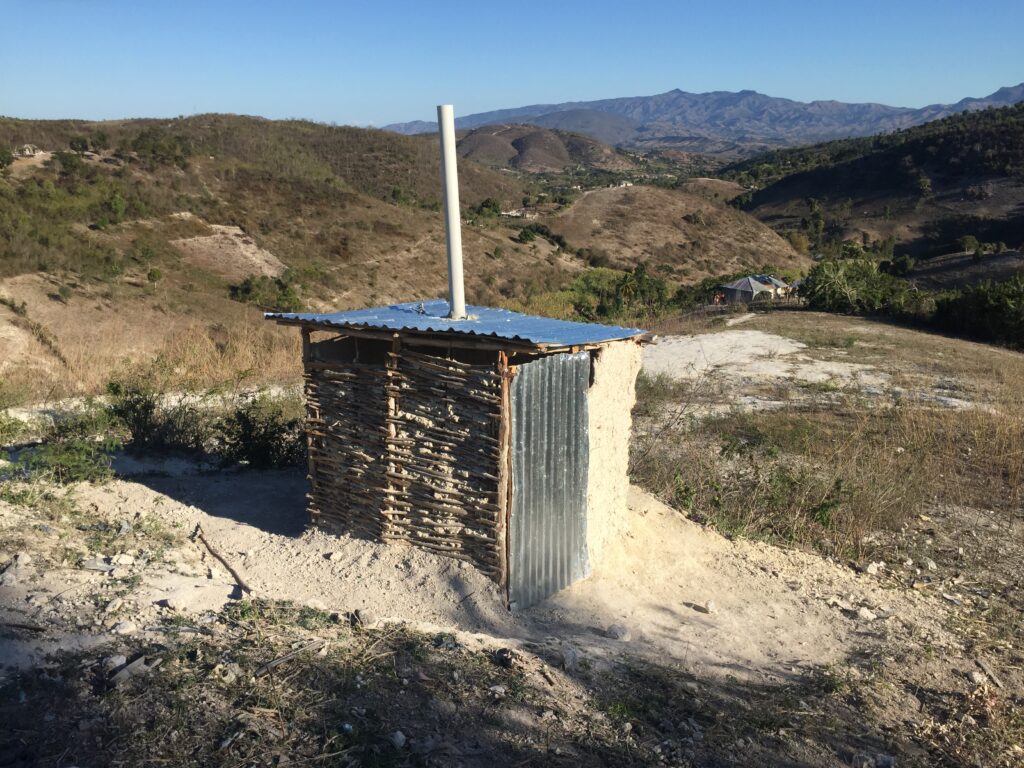 Itala's roof and frame are up, and the builder is working on the walls, which will be woven out of sticks. She made it slightly larger than the program intended. "I have to have someplace to put visitors if people come to see me." The program provide 22 sheets of roofing tin, and Itala bought six additional ones to cover the larger house.
The extra sheets cost her 2100 gourds, or about $23, and she explained where she got the money. "My son had a small goat he earned by taking care of a grown nanny-goat for a neighbor. I borrowed it from him." She sold her son's goat for 2250 gourds, which was just about enough to pay for the tin and transport it as close to her home as possible. She isn't yet sure how she will repay her boy, but she very much thinks of the transaction as a loan from the boy to her. "The boy is my child. Everything I have is his."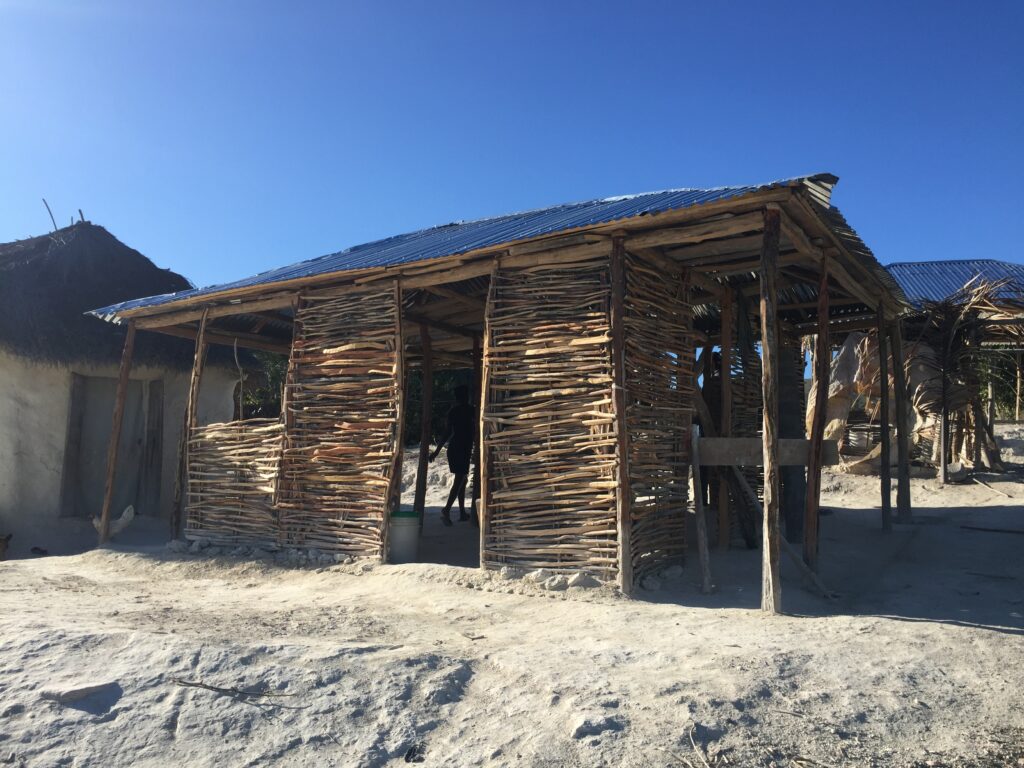 Her own goats are making progress. The two that the CLM program gave her are now five. The two mothers are healthy, and the three kids are, too. She knows what she'd like to do with them. If the kids survive, she plans to sell her two young males to buy a donkey. Such a purchase could change her life, since it would enable her to get the mangoes and avocados that grow on her land to the market for sale. "Right now they rot on the ground because I can't get them to Gwomòn."
She thinks that her ewe might be pregnant, but she isn't sure. She was glad to get training on the care of sheep at the last refresher training. This initial training hadn't included sheep because the program wasn't then used to providing them. But the training helped her recognize when her ewe was in heat. She also learned, however, that it can be hard to tell whether a sheep is pregnant. So she's just watching. At the very least, it seems healthy.
She has sent three children to school this year. They started in January, when the school opened after a couple of months of socio-political unrest. She hasn't been able to pay their fees yet, however, so she's counting for now on the principal's patience. The school costs 250 per session per child, plus a 50-gourd registration fee and a 100-gourd entry fee. So, she owes 1200 gourds right now and will owe another 1500 by the end of the year. She's not sure yet where that money will come from. Right now, all the household's income still depends on the money her husband makes helping people mill their sugarcane. But there are a couple of problems with that. First, the work is irregular and both poorly and irregularly paid. Second, he has a second family to support, so Itana can't count on even the little that he earns. What he brings in is just enough to allow her to make minimal weekly investments of 50 – 100 in her Village Savings and Loan Association.
She knows that the best solution for her is to establish her own business, and her focus on acquiring a donkey as a first larger investment shows that it is in her plans. But she is afraid to start right now. And that brings us back to her new house and a problem she's facing.
The CLM program encourages members to recruit the builders who will work on their house. The program then is supposed to meet with the builder, negotiate a fee, sign a contract, and pay the builder. But Itana dealt with the builder by herself, and owes, as a result, 10,000 gourds, which is much more than she can think of paying right now. She and her case manager will need to figure this out. If she really has to pay all that money, especially if she has to pay it soon, it will make it hard for her to invest in other important areas of her life.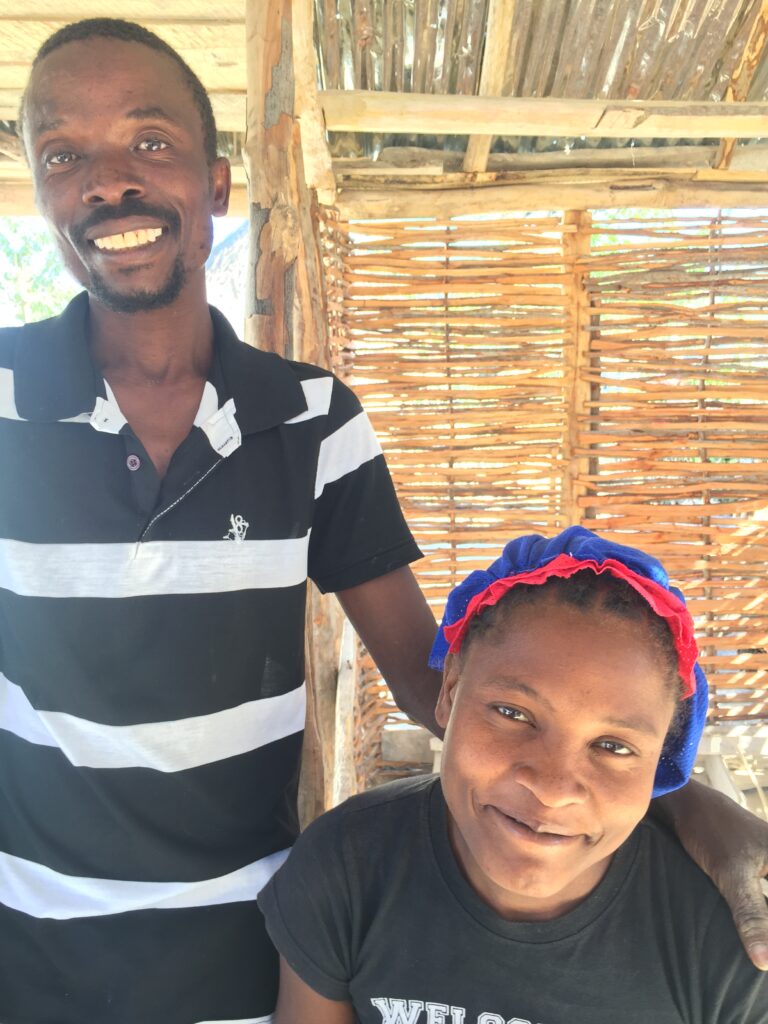 Jeanna and Nelso are also working hard on their new home. They have an advantage over Itana, because Nelso himself knew how to set up the frame and put on the roof, so the couple can receive the small stipend that the program provides to the home builders it works with. That will help because, like Itana, they decided to make their home larger than what the program foresees. Their house will eventually need 36 sheets, so they'll have to buy 14 themselves. They've purchased 11 so far.
It is understandable for a couple with seven children that they'd like a little extra space, but it creates challenges. They are struggling to manage the housing-related expenses. They've paid 4000 gourds for the planks they need, 3850 for roofing tin with three sheets left to buy at 350 gourds each, and 3000 gourds for the support posts that hold up the roof. That's 11,900 gourds, or about $128, which is a lot of money for them. And they'll have additional expenses when the are ready to have the doors made and installed.
They've covered most of the expenses so far from two sources. They managed to sell ten coffee cans full of pwa kongo, or pigeon peas, from last year's crop for 2000 gourds. They also got lucky. Nelso won 5000 gourds in a lottery. But that still leaves a pretty substantial balance.
For now, Nelso continues to be the source of all their income. Jeanna is an experienced business woman at a very small scale, but she still nursing their baby, and they want it to get bigger before she goes back to earning money outside the home. Making enough to feed them both and their seven children is a lot to ask, and they sent their two oldest children back to school in January, which is another big and important expense. But the couple is managing for the moment. They have some yams in their garden, and though they need to reserve some for the land's owner, they've been depending on them a lot lately.
One of their goats had two kids, and though they lost one, the other seems to be doing well. The other goat lost its litter. "It was pregnant when I got it, but it was so small. It was all I could do to get it home. It miscarried after that." It is, however, doing well now. Jeanna crossed her sheep with a male on December 8th. She remembers the day and is counting the roughly five months until the ewe should produce a lamb.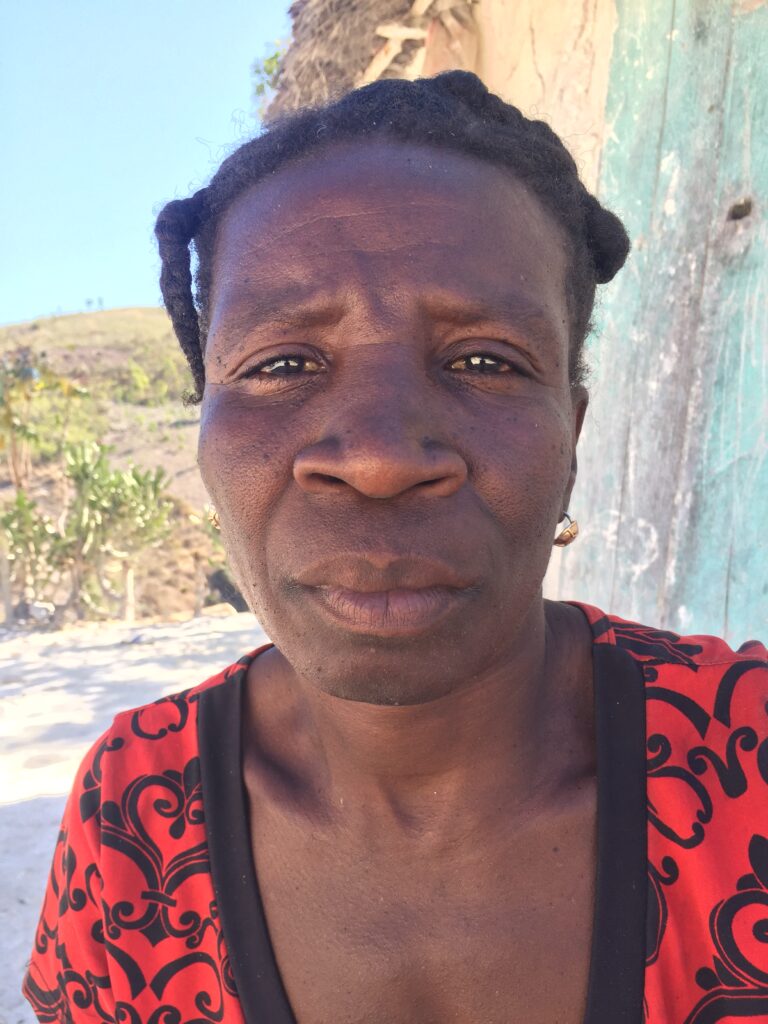 When Clotude joined the program, the supervisor in Gwomòn, Gissaint César, put her mentally on his "lis wouj," his red list. That means that he thought of her as someone who might need extra attention to succeed. She seem to have so little, and as a widow she would not have anyone around to help her. Things are, however, turning out differently than he expected.
Part of her progress has to do with assets that we were not aware of when she joined the program. We knew that her main source of income — even of sustenance — was her own farming. But her garden had more to it than we were aware of. She is currently cutting a crop of sugarcane, a valuable cash crop. She doesn't know how much it will bring it, but her last harvest, almost two years ago, was worth 10,000 gourds. She also harvested crops of mangoes and avocados, enough each time that it was worthwhile to a merchant to buy them from her and bring them to market. And each of those two sales was enough to allow her to buy a pig. She now owns two small ones, a male and a female. She used a harvest of pigeon peas to buy two goats to add to the ones CLM gave her, but both those goats died.
At the same time, she is not saving in her Savings and Loan Association because she says she doesn't always have the 50 she needs each week to buy a share. So the state of her finances is a little bit mysterious. Her case manager will need to clarify things with her to make sure he is giving her all the help she could use.
Like both Jeanna and Itana, she is working hard on finishing her home. Hers, too, is larger than the 22 sheets of roofing that the program provides would permit. It needed 30 sheets. Its roof is up, and now it's time to build up the walls. Unlike the other two women, she's decided to have hers built with rocks and clay, rather than wood. "I don't have anyone to help me buy the wood." Rocks she can collect a few at a time from the ravine below her home. Still, she will have to figure out the building costs. "The frame and the roof cost 7500 gourds. I don't know what the walls will cost." Like Itana, she made an agreement with her builder by herself, and that will end up being expensive if her case manager can't help her.