Louimène's path into the CLM program was an unusual one. She agreed to join the program in May 2013, when we were selecting 360 families in southern Mirebalais.
At the time, she and her husband Lucner were eminently qualified. They were living with their two young boys in a small ajoupa, a tent-like structure made out of straw. The land their ajoupa stood on didn't belong to them. A farmer whom Lucner did work for let him put it up in a corner of one of his fields. Louimène and Lucner had no productive assets and no land of their own to farm. The depended entirely on the fifty gourds Lucner could earn on days he could find work as a field hand. At the time, that was just about $1.
It wasn't at all the way they had started their life together. The two met in Port au Prince. Lucner was a trader, selling soap or rice or women's underwear. As he put it, "Anything I thought I could sell." Louimène was working as a maid in a home next to where Lucner's sister lived. Lucner liked Louimène as soon as he saw her, but he decided to get to know her better. One day, Louimène was sent to Lucner's business to buy some rice. Lucner volunteered to deliver the rice himself, leaving the business and his wallet with Louimène for the monent. The wallet had all the money from the business in it, over 7000 gourds. "I wanted to see whether she was honest." When he returned to his business, he found that all the money was still there.
He gave her 500 gourds as a thank-you gesture, and she used that money to buy cookies and crackers, which she began to sell. Soon she had turned that 500 gourds into more than 1000, even while she was working as a maid. "I liked her right away, but when I saw how smart she was I decided to try to make her mine."
They've been together ever since, first in Port au Prince, then back in Mirebalais, when he decided to return to care for a sick brother. That brother's illness was life-changing because it ate up all the capital the couple had. Lucner could only look for work as a field hand. And they were able at first to live in his family's yard, that didn't last long. Louimène and Lucner's sister could not get along.
So the couple really needed something like CLM. But when the program started, Louimène was unavailable. She had returned to her own home, in Bouli, a remote corner of Boucan Carré, to take care of her sick mother. Initially, Lucner went to the six-day enterprise training workshop in Louimène's place, but when it appeared that Louimène would not be able to participate in the program herself, the CLM team selected another woman to replace her. Weeks later, when Louimène returned to Mirebalais, she found that her place in the program had been taken.
Fortunately, the couple got a second chance. A woman who was selected with Louimène decided to abandon CLM and move to Port au Prince. The CLM team was able to recover the pig and one of the goats that we had given her. We took back the roofing material we had given her as well, climbing onto the roof to pull the nails one-by-one. Finally, we took back 1000 gourds she had saved out of the cash stipend CLM members received during their first six months in the program.
So Louimène received far less support than members of the CLM program normally do. She got one goat, rather than two, and one flat transfer of 1000 gourds rather than six months of weekly 300-gourds payments. In addition, she received just nine months of weekly coaching, rather than eighteen.
But Louimène and Lucner made good use of what they were given. Lucner kept working hard in in their neighbors' fields, even as he took primary responsibility for their livestock. Louimène invested the 1000 gourds in a small commerce. She would buy spaghetti and canned milk, put it on her head in Labasti, and walk the five miles into Mirebalais, making sales on the way. Normally, she'd sell out by the time she got to town, and she'd buy merchandise there for the next day. Her business began to grow as she invested some of the proceeds into additional products. On Thursdays, she would find a busy corner of the Labasti market place, and her sales would be strong.
Meanwhile, she and Lucner talked to the landowner about letting them improve the structure they were living in. Often farmers who are open to allowing a poor squatter put up an ajoupa on their land will object if the squatter adds a tin roof. It makes the structure seem more permanent. And Louimène and Lucner wanted to add not just a solid roof, but a cement latrine. But they were eventually able to get permission to do so, in part because of their case manager's help in the negotiations.
In December 2014, Louimène graduated from the program after having spent only nine months in it. By that time, she had sold her original goat and its young. She had acquired a second smaller pig, but had sold the first one. She used the proceeds from the sales to buy a cow, which she wanted because she had a plan. "We needed land, and if you buy a small cow you can hold onto to it. While it grows, you wait for someone to sell a piece of land, and when the chance comes along, you can sell the cow and buy the land."
And that's exactly the way that things turned out. After graduation, the landowner began to resent the family's presence on his land. He started pressuring them to leave. Since they had no place they could go, the couple put up with his humiliations as best they could. But eventually they found another landowner with a sudden need for cash. They were able to buy enough of a plot to put their little house on for 12,750 gourds. They even spent the extra money and effort to install a simple latrine, having learned of its importance while in the program. One of Lucner's brothers bought a neighboring plot for a similar amount. It was Lucner who made the purchase, but he was careful to put Louimène's name on the receipt, rather than his own. "If anything happened to me, I wouldn't want Louimène to have problems with my family."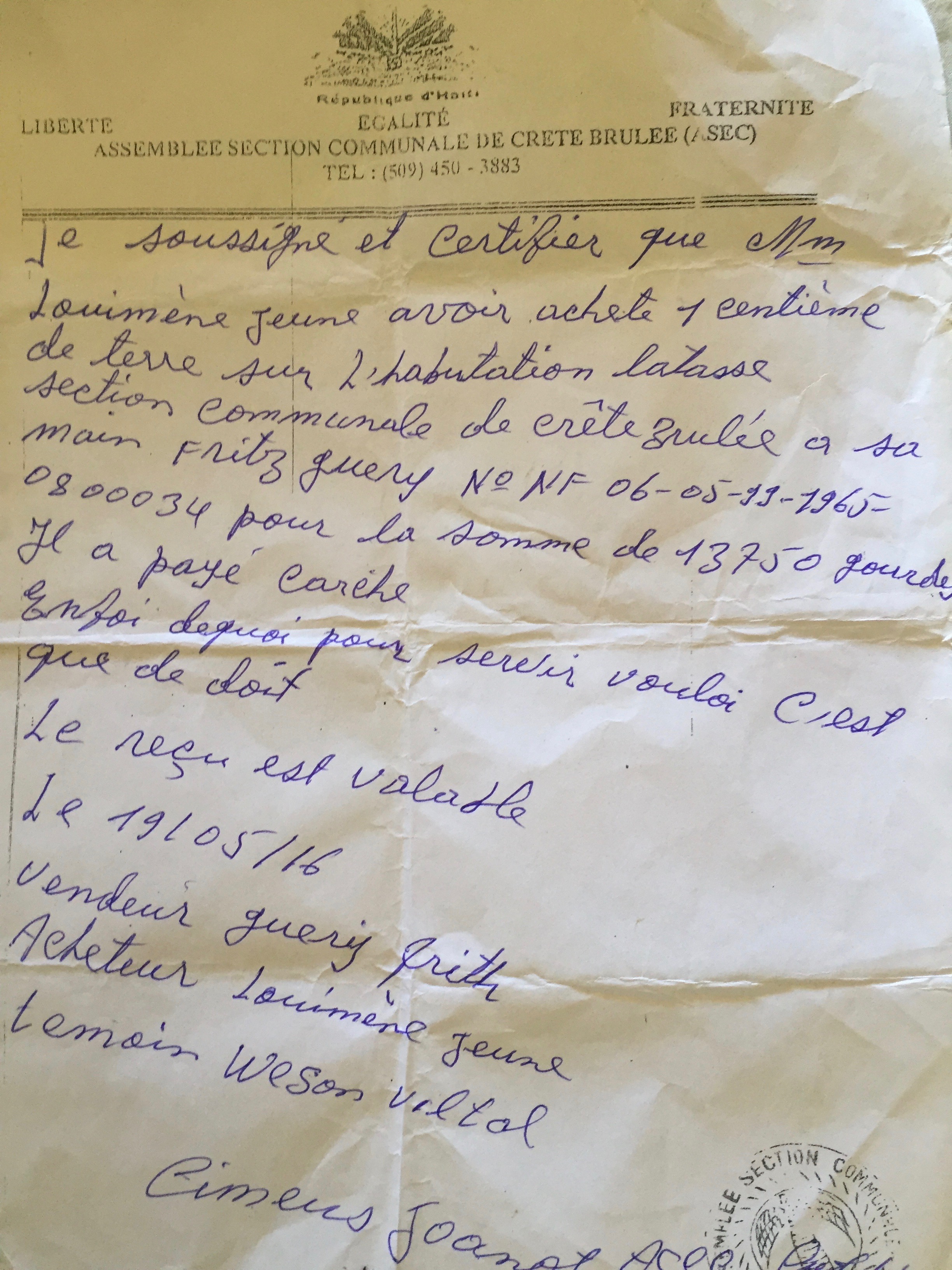 That is when things started to get more difficult. Lucner got sick. He was unable to work for a couple of months. The couple sold off their second pig and, eventually, their small commerce. By the time Lucner was working again, the couple was back almost to square one. They had their own house, and it was covered with a good tin roof, but they had no assets and no small commerce. Eventually they made a difficult decision: Their children would move in with Louimène's mother, who lives in Bouli. Louimène would seek work as a maid in downtown Mirebalais until she could save enough money to return to business.
For two months, now, Louimène has been working for 2000 gourds-a-month. Her employer doesn't normally eat a home, so Louimène is on her own for her meals. Louimène goes hungry much of the time so that she can send money to her mother for her children's upkeep while she saves up as much as she can towards the day when she can go back into business. But after two months, she's saved 1000 gourds. And now that Lucner is healthy, they may not be far from their dream of bringing the family back together and sending the kids to school.