Perrona and her family are probably unique among the roughly 7000 families who have participated in the program so far. As far as I know, she is the only member to have been part of two different cohorts. I wrote about her once before. (See: here.)
When we first selected her, she, her husband Soiye, and their two boys were living in a small shack he had built on her cousin's land in the outermost corner of Lalyann, a small community on the northern edge of Mannwa, in Boukankare. Perrona spent a few weeks in the program at that time, but eventually decided to drop out. I remember the conversation we had when she announced her intention. She said that she and Soiye had decided to "fè yon to kanpe." I understood that to mean that she wanted to take a little break from the program, and answered that we did not offer "breaks." They were either in the program or out of it.
We went back and forth a number of times. I felt strongly that the family needed us, so I wanted to see whether I could change Perrona's mind. She is a very short woman, so I normally tower over her. But I was standing downhill, and the slope was steep, so she was looking down at me for a change. When I realized that I wasn't getting anywhere, I accepted her ID card and her pink information book, and made the long hike back to Viyèt, where I had left my motorcycle.
Within months, she a Soiye were sorry they had left the program. They both came from poor families, and both had relatives in the program. Soiye's older sister lived in nearby Boukankola, and Perrona's mother near Zaboka. Both were making real progress. Perrona had allowed jealous neighbors to convince her that the program was the devil's work, but now both she and her husband were seeing the good it was doing for people they knew very well.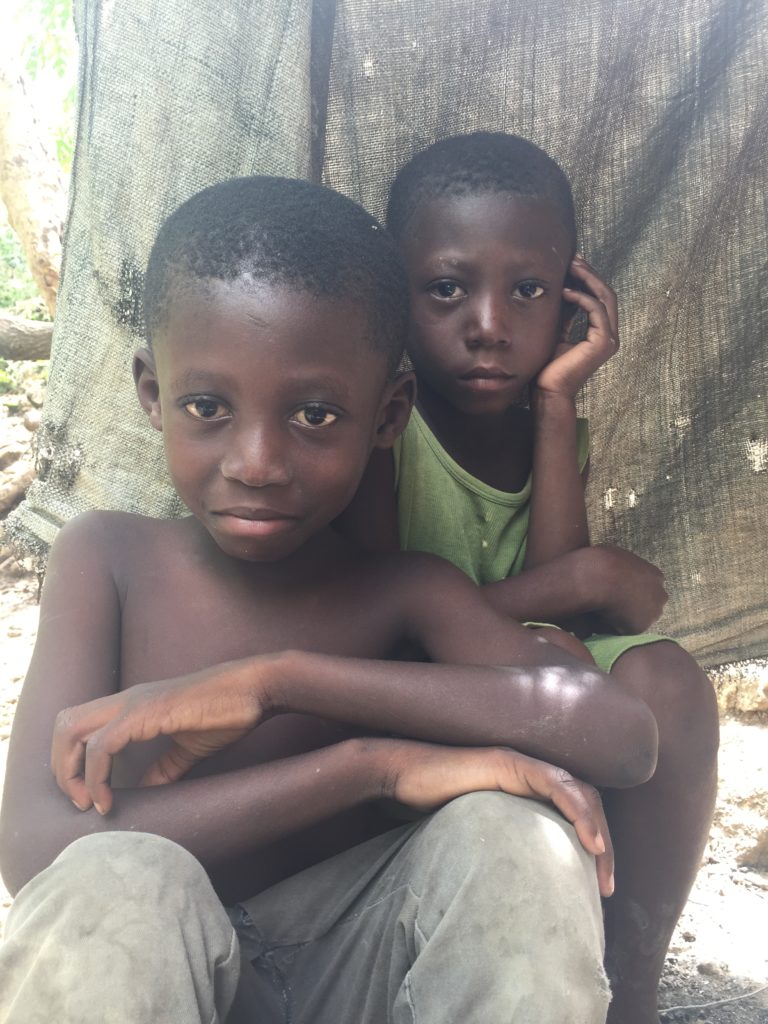 Normally, there would have been nothing we could do. We serve one region after another, and when we've passed through a neighborhood we do not return. But Perrona had been forced out of her home in Lalyann even before she left the program. She and Soiye had approached her cousin about the opportunity they had as CLM members to build a better house. The cousin had been apologetic, but she had said, "No." The land was inherited, and she was not the only person with claim to it. She couldn't allow a permanent structure on it because the others might object. Perrona and Soiye then moved to Nan Joumou, which was right next to an area where we were already selecting a new group of members. So, we simply invited them to join the new group.
Their 18 months in that second cohort were challenging. They were able to build a small house on land owned by Soiye's family, right next to one of his older brothers. And they took good care of the livestock the program gave them. Soiye even established a business that continues to serve as their main source of income even five years later. He buys livestock, primarily poultry, at rural markets and resells them, either at other markets or sometimes even at the very same one.
Their biggest challenge had to do with their relationship with each other, and at first the CLM program might have made things worse. They had a very bright and motivated case manager, Titon, who wanted only the best for them. He hit it off with Soiye, and included him in his work with Perrona. As Soiye's business took off, he and Titon spent extra time together, Titon feeling perhaps that work with Soiye was the most effective way to help the family progress.
But the close relationship between the two men only seemed to add to Perrona's frustrations. She felt left out. She wanted to leave her in-law's land in Nan Joumou. She wanted to establish her own small commerce. She wanted to feel more an equal partner. Eventually, she abandoned Soiye and their children, and moved to Mibalè, where she quickly found work as a maid.
At this point our situation was complicated. We needed to continue to support the family, but we couldn't be sure how to do it. Our inclination was to think that they would be best off if they could stay together. We had never, whether from Perrona or elsewhere, heard any suggestion of either abuse or infidelity in the relationship. But Perrona needed to have the freedom to decide what she wanted. And, unfortunately, her case manager had more-or-less disqualified himself from talking her through the issues by having appeared, in her eyes, to have lined up with her husband.
So, we called on another case manager, a woman named Sandra. Perrona already knew Sandra slightly because Sandra had worked on the first cohort that Perrona had been part of. She was very happy to talk with her. Sandra first confirmed that Perrona had not suffered abuse and was not accusing Soiye of infidelity. She talked to Perrona, trying to understand what Perrona really wanted. As it turned out, she didn't want to leave either Soiye or her children, but wouldn't live in Nan Joumou. She felt trapped there.
Now it was time to talk to Soiye. He was angry and hurt that Perrona had left him, but he didn't want to split up either. He presented two practical problems, however. On one hand, he had crops in the ground. He didn't want to lose them. He didn't think he could afford to. On the other, his business involved long hikes through the mountains to distant markets in Nan Sab and Regalis. These markets would be much harder to reach from Mibalè. But the couple eventually reached a compromise. Perrona would return to Nan Joumou and stay there with Soiye through the upcoming harvest, then they would leave the area together.
I'm making the path they took look much straighter than it was. There were setbacks and other complications. But five years later they live together in their own house in Mibalè. Soiye still deals in poultry, but instead of hiking to Nan Sab and Regalis, he rides trucks and motorcycles to Mayisad and Nan Kas. Perrona has learned to do business, too. She buys beans in Difayi on Mondays and Domon on Fridays. On Tuesdays, she hikes through Mibalè, selling her beans as she goes, and on Saturdays she sits selling them in the Mibalè market. She buys about 25 cans of them, at 55 gourds per can, and sells them for 60 to 70. "It's not much, but it helps buy the things we need," she explains.
When I ask them whether they are glad they moved to Mibalè, they say that they are. When I ask Soiye in particular whether he sees that Perrona was right and he was wrong, he says he does. "When two people live together, they have to listen to each other." He adds, "If I hadn't moved to Mibalè I never would have made enough money to start to buy the land we're living on."
The couple still has problems. They have four children now, and with their fifth due this month, their expenses are higher than they've ever been. Two of their three older children are in school this year, but they are not yet sure how they will send their second boy. And it will be a struggle to pay what they still owe on the land that they are purchasing. They say their fifth child will be their last, but they hadn't planned to have four, either.